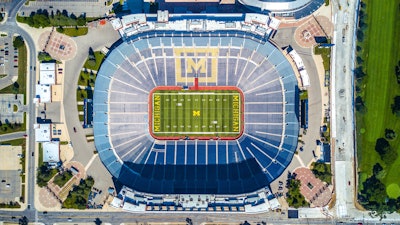 There were administrative apologies and player suspensions, but could criminal charges result from Saturday's post-game attack by Michigan State University football team members against at least one University of Michigan player that occurred within Michigan Stadium tunnels?
One video appears to show Michigan State players shoving a Michigan player to the ground near a doorway.
Another shows State players bludgeoning a Michigan player along a hallway wall, with one assailant appearing to use his helmet to beat his bent-over target across the back.
Michigan defeated MSU, 29-7, in this historically intense in-state rivalry. In doing so, the Wolverines remained undefeated this season and poised to make a run at the College Football Playoff.
"Yeah, two of our players were assaulted," Michigan head coach Jim Harbaugh told reporters after the game, as reported by Yahoo!Sports. "You saw the one video — the 10-on-1. It was pretty, pretty bad. I'm going to let our athletic director, Warde Manuel, address it with the authorities. I'd like to talk about the football game the rest of the way. Maybe Warde will come up and talk after and give more detail to it. But it was pretty open and shut."
Manuel said the Big Ten commissioner, Kevin Warren, and Ann Arbor police were investigating the matter.
"What happened after the game was completely unacceptable," Manuel said. "I've talked to the commissioner; he is looking into it. We have the police also looking into it because they've seen the video. And so they're addressing it. We'll leave it in their hands. But this is not how we should interact after a game. This is not the way another team should grab a player and do what they did. It's completely and utterly unacceptable. We will let the Big Ten and law enforcement handle it, but this is not what a rivalry should be about. This is not how it should be remembered. We won on the field, this man and his team and his players went out there and won and for that to happen is unacceptable.
"That's all I'm gonna say. I'll leave it to Kevin and the law enforcement to handle from here on out."
Hours after the game, a joint statement was released.
"The University of Michigan Police, in partnership with Michigan State University Police, Michigan Athletics and Michigan football, is actively reviewing footage and investigating the postgame incident," the statement said. "Situations like these, and the safety of the community, are taken very seriously."
It was the second Michigan Stadium tunnel confrontation between opposing teams in as many weeks, calling into question the stadium's design deficiencies and whether post-game protocols need to be re-examined or at least enforced.
As reported by CBS Sports, Michigan Stadium opened in 1927 and still has only one exit from the field to both locker rooms. Typically, the visiting team heads up the tunnel first with Michigan following. During the fight on Saturday, according to CBS, the unidentified Michigan player appeared to be in the tunnel while the rest of his teammates were still celebrating on the field.
On Sunday, Michigan State head coach Mel Tucker suspended four players for their roles in the post-game chaos.
No word yet as to whether those individuals or others could face additional, legal consequences.