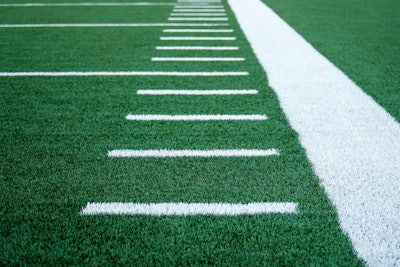 A Texas high school football coach has been relieved of duty and is under investigation after multiple players were sent to the hospital following a particularly intense workout that may have resulted in rhabdomyolysis.
"On Monday, Jan. 9, 2023, several parents reported that their student(s) subsequently needed medical attention, and in some cases, hospitalization," read a letter obtained by the local NBC affiliate from Rockwall-Heath high school principal Todd Bradford to football team parents about the Friday workout.
Players were reportedly instructed to do sets of 16 pushups with a 20- to 30-second rest, according to players who participated in the workout. The player who spoke with NBC said the instructions from the coach were just "normal football stuff."
The mother of one of the players hospitalized said her son was not given water breaks and was diagnosed with rhabdo.
In that same letter sent to parents, the school confirmed Harrell will remain on administrative leave as a third-party agency investigates the case.
Below is the full, unedited, letter sent to parents.
Dear RHHS Hawk Football Parents,As parents of student-athletes in the Hawk varsity football program, I want to make you aware of a situation that occurred last Friday, January 6, 2023, during the football off-season program. It came to our attention Monday, January 9, 2023, that during the 8th period athletic class with Rockwall-Heath High School Head Football Coach John Harrell, student-athletes were required to perform multiple push-ups.
On Monday, January 9, 2023, several parents reported that their student(s) subsequently needed medical attention, and in some cases, hospitalization. Please know the District immediately implemented measures to address the situation and provide support for our students. To thoroughly investigate any connection between the activities in class and student illnesses, the District is retaining an independent third-party to investigate the event. The District is also taking interim action, including but not limited to, placing Coach Harrell on administrative leave while the investigation is pending and notifying appropriate outside agencies. District administrators and campus personnel have been in contact with the affected families and student-athletes.At the beginning of Monday's January 9th athletic class, the campus athletic trainer reviewed the following symptoms and advised student-athletes to see the trainer should they experience any of the following:
Unable to bend or extend your arms, Unable to lift arms above your head, Dark urine (tea or cola colored), and Sharp arm pain. Additional symptoms to watch for include lack of urinating, abdominal pain, nausea, vomiting, confusion, lethargy or loss of consciousness. The athletic trainer and campus nurse will continue to monitor students.Student-athletes attending class yesterday participated in a recovery workout with a light warm-up and light stretching that was non-strenuous.If you or your child have concerns regarding your child's health, please don't hesitate to contact your child's physician as well as the RHHS Head Athletic Trainer at 469-698-2636 ext. 2637. Finally, please contact campus administration, the District Athletic Department at 469-698-7364 ext. 7363 and/or District Student Services Department at 972-771-0605 ext. 7071 if you have any additional questions.Student safety is a top priority for Rockwall ISD and we will continue to take immediate and appropriate measures in the best interests of our students as we address this situation.Sincerely,Principal Todd BradfordRockwall-Heath High School