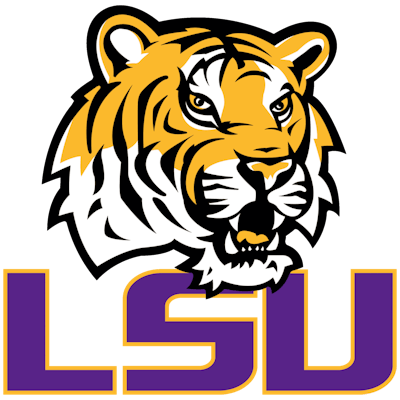 The Louisiana State University gymnastics team's preparation for today's meet at the University of Kentucky must have felt a little different in one key aspect — security.
One week removed from a scene that unfolded at the University of Utah and described as disturbing by a former Olympic gymnast, the Tigers are taking extra precautions with the safety of their athletes. At the season-opener in Utah last week, fans of LSU star and social media sensation Olivia Dunne disrupted other competitors' routines by waving posters of Dunne and chanting "We want Livvy! Give us Livvy!"
RELATED: LSU Gymnast and Social Media Phenom Asks Fans for Respect After Post-Meet Mob
As reported by ESPN, Dunne, a TikTok influencer with 6.7 million followers and the highest-earning woman in college athletics, was not even in LSU's lineup due to injury.
A day after the meet, ESPN analyst Sam Peszek, a member of the 2008 U.S. Olympic gymnastics team, tweeted a video of a group of mostly male fans lined up outside the arena last Friday shouting, "Livvy, Livvy! We want her!"
"This is actually so scary and disturbing and cringey," Peszek wrote. "I'm embarrassed for them."
In response, LSU is increasing security around its gymnastics team — home and away. "We will have security detail with us now when we go on the road, and we will be working to create a perimeter around where we get on the bus, where we load," head coach Jay Clark told reporters. "I take our team's safety and security very seriously."
On Sunday, Dunne responded to the incident on Twitter, writing, "I will always appreciate and love the support from you guys, but if you come to a meet, I want to ask you to please be respectful of the other gymnasts and the gymnastics community as we are just doing our job."
"DISTURBING AND CRINGEY" —

"This is actually so scary and disturbing and cringey. I'm embarrassed for them," sports broadcaster @samanthapeszek said in a social media post that included video of teenage boys yelling obscenities outside the arena...https://t.co/NWB0M5JW7Z

— Athletic Business (@AthleticBiz) January 10, 2023
A spokesperson for Kentucky told ESPN the school's policy is not to disclose security plans publicly but said, "as we would at any home athletic event, we would deal appropriately with anyone acting improperly."
LSU's home opener is Monday against defending national champion Oklahoma. Clark said security will look largely the same as it has in the past at home meets, with minor modifications, reported ESPN's Alyssa Roenigk.
"We are going to change some of the policies of allowing the girls to go into the stands immediately following a meet," he said. "We've always allowed them to go up there post-meet with their families and interact with them. We want to make sure we still provide them with that time with their families, but there won't be any more going into the stands and there will be a limited amount of time that they can interact with the fans in the stands over the rail and that will be monitored closely."