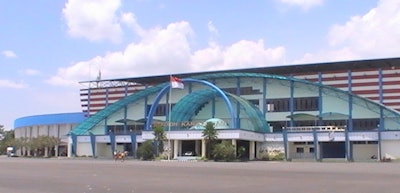 By Nur Cholis, CC BY-SA 3.0
Police officers and match officials in Indonesia are on trial this week in connection with a stadium stampede that killed more than 100 people in October.
Al Jazeera reported that three officers and two officials are being tried on charges of negligence over their alleged roles last year in the deaths of 135 people at a football match in East Java.
According to the report, they each are facing a maximum prison sentence of five years if convicted over the disaster, one of the world's worst stadium stampedes.
The trial, which began on Monday, is being held via teleconference due to security concerns, said court spokesperson Agung Pranata.
On Oct. 1, police fired tear gas inside Kanjuruhan Stadium in Malang, where fans had run onto the pitch after Arema FC, the home team, lost its match. Al Jazeera reported that there were not any supporters from rival Persebaya Surabaya because of previous crowd issues. Amid the clouds of smoke, panicked people rushed for the exits, some of which were locked.
Police described the incident as a riot and said two officers were killed, but survivors accused them of overreacting, according to the Al Jazeera report. Videos showed officers using force, kicking and hitting fans with batons, and pushing spectators back into the stands.
An investigation team set up by Indonesian President Joko Widodo amid national outrage over the deaths concluded that the tear gas was the main cause of the crowd surge. The investigators said police on duty did not know that the use of tear gas was banned as a crowd-control measure at football matches and used it "indiscriminately" on the field, in the stands and outside the stadium, causing more than 42,000 spectators inside the 36,000-seat stadium to rush to escape.
An investigation by the country's human rights commission also blamed the police use of tear gas.
Lead prosecutor Ari Basuki said the three police officers had given clear instructions to their subordinates to fire tear gas.
A lawyer for the match organizer from Arema, one of the officials on trial, said his client denied all charges.
National Police Chief Listyo Sigit Prabowo has removed the police chiefs of East Java province and Malang district and suspended 20 other officers over violations of professional ethics since the tragedy.
The Indonesian government plans to demolish and rebuild the stadium. Al Jazeera reported that League games have since resumed but without spectators.
The next hearing before the panel of judges is scheduled for Jan. 23.