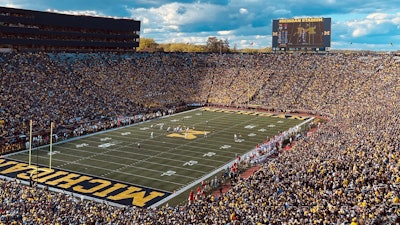 The Big House will get a little smaller, but perhaps a lot safer. That's the hope after the University of Michigan decided to remove nearly four dozen seats from Michigan Stadium this offseason to create a larger entrance into to the Lloyd Carr Tunnel.
The tunnel was the site of a violent scuffle involving players from visiting Michigan State and the Wolverines in late October.
Michigan athletics spokesman Kurt Svoboda told the Detroit Free Press the decision was made as "a direct result of a thorough safety review that occurred following the season."
As reported by Tony Garcia of the Free Press, 45 seats will be taken out of the movable stantion that is brought onto the field for football games. Those season-ticket holders have already been contacted by the university to alternatively accommodate them, but there will not be a "domino affect" from the seats being removed, according to Svoboda.
"It's being done to widen access to the field for the competitors and all the game personnel that enter and exit from the tunnel," he said. "Our goal obviously is to ensure that safe and healthy environment for everybody who has to have access to the field."
The Michigan State melee was one of three separate incidents involving three different conference opponents that took place in and around the tunnel since the final game of the 2021 season, but the Spartans visit was arguably the most violent. Multiple Michigan players were roughed up in a fight that broke out after the Wolverines dominated their in-state rivals on the field, 29-7, on Oct. 29.
Garcia reported that in addition to the brawl, a fan reached over the railing of the tunnel and touched MSU coach Mel Tucker's head as he exited the field that day.
In response, Michigan increased security for its home finale against Illinois to ensure the teams did not enter the tunnel at the same time, according to Garcia..
"Working with law enforcement, university, outside vendors and experts, we kind of run tabletop exercises all the time around safety at Michigan Stadium," Svoboda said. "Obviously this issue raised its head this year, and we basically thought this was the best course of action coming out of it."