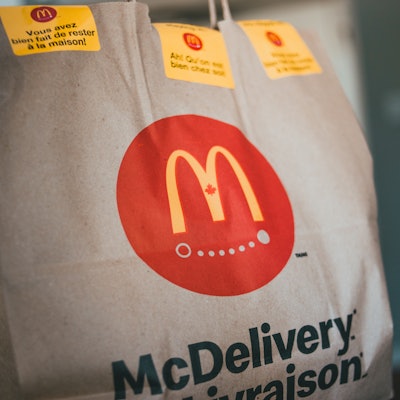 The prank of a seemingly clueless food-delivery guy wandering onto the court during a college basketball game, captured in a video clip that made the internet rounds this week, has prompted Duquesne University to take security as seriously as ever.
The Dukes men's basketball team hosted Wednesday's game, during which a man in a yellow jacket carrying food from McDonald's entered the boundaries of play at UPMC Cooper Fieldhouse — mere feet from Loyola player Philip Alston, who was chasing down a loose pass in the right corner.
As reported by Front Office Sports, the man appeared to extend his arm holding the bag toward one of the referees before the game was momentarily paused while the individual was escorted off the court by security.
The Duquesne athletic department issued the following statement Thursday, as reported by Front Office Sports.
"This was a prank, planned in advance, done for internet exposure. We determined that the individual was wearing a mic while someone filmed him as he walked on to the court during active play. While the incident may have seemed funny at the time, and no harm was done, we are mindful that incidents like this can put players and officials at risk."
The bizarre episode, which produced a second video of the man wandering the concourse with the McDonald's bag still in hand, led some to question how it happened in the first place.
"The University has reviewed its safety protocols and tightened its security measures to ensure conditions for our players and fans are safe and meet the standards for the highest level of competition in college basketball," the Duquesne statement said.