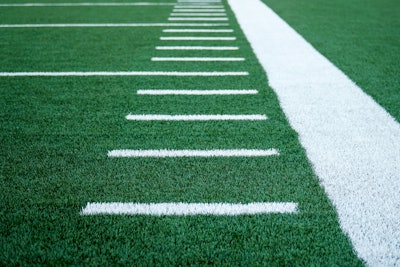 As the Philadelphia Eagles and the Kansas City Chiefs prepare to face off in the Super Bowl this weekend, the NFL has reported that concussions were up 18 percent across the league in 2022.
According to data released by the league and obtained by ESPN, there were 149 concussions over 271 games this season, amounting to an 18 percent jump from 2021 (126) and 14 percent higher than the three-year average (130) between 2018 and 2020.
NFL chief medical officer Dr. Allen Sills on said the rise could be attributed to a new protocol that "broadens and strengthens" the definition of a concussion.
"We continue to become more cautious and conservative in our evaluation and diagnosis of concussions," Sills said. "That's not just an opinion. That's backed up by the data."
Sills said league medical staffs performed an average of 1.6 evaluations this year, and there were nearly twice as many medical timeouts in 2022 as compared to 2021.
The NFL's data also showed that position groups required to wear Guardian Caps experienced 52 percent less concussions over the same period in 2021, a stat that may lead the league to expand the use and duration of Guardian Caps during training camp moving forward.
ESPN also culled the following notes from the report:
• The total of all preseason and regular-season player injuries was down 5.6 percent, according to NFL executive president Jeff Miller.
• Injuries on punts and kickoffs continue to be "disproportionate" to the frequency of plays, Miller said. The NFL competition committee decided not to act on similar data last season, but it will be a topic of conversation again in 2023.
• The helmet industry is getting close to having a model designed specifically for quarterbacks, Miller said, and could be on the market this fall to help address a rise in concussions at that position. VICIS has previously tested helmets designed specifically for offensive linemen.
• Sills and Miller will present data to the competition committee regarding several tackling techniques, including the "hip drop," that might be contributing to lower extremity injuries, especially high ankle sprains. Overall, though, Sills said that injuries to the lower extremities fell by 14% in 2022.