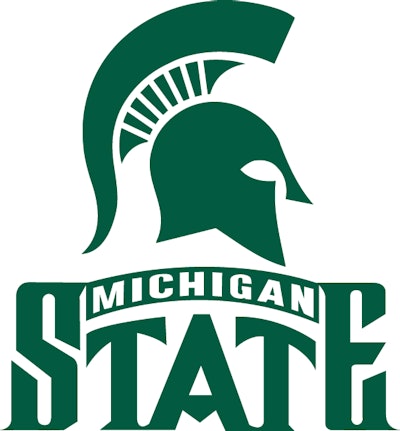 Michigan State University teams will return to action this weekend following a brief interruption after three students were shot and killed on the East Lansing campus Monday.
"The safety and physical and mental well-being of our students and staff is the primary focus of Michigan State athletics," said MSU athletic director Alan Haller, according to a statement posted Thursday afternoon on the athletic department's website and Twitter. "In consultation with mental health professionals and in conversations with our student-athletes it became apparent that a return to practice and competition is a crucial part of their recovery. Student-athletes were given an active voice in the decision to return to competition, as well as the autonomy to make their own individual choices about participation.
"Athletics can be a rallying point for a community in need of healing, a fact many of our student-athletes have mentioned to me. The opportunity to represent our entire community has never felt greater. I also recognize that everyone grieves in their own unique manner, and there are some who aren't ready to return to athletic events. Those feelings are incredibly valid, and as Coach Izzo so eloquently stated last night, I hope that we will all focus on taking care of one another."
Related: MSU Cancels All Activities After Shooting Leaves Three Students Dead
Some teams will compete as scheduled, while others are still coping with schedule disruptions.
The women's basketball team will host Maryland on Saturday afternoon as originally scheduled, and the men's basketball game will play at Michigan later that night. The men's hockey team traveled to Madison, Wis., on Wednesday in advance of its weekend series with the Badgers.
MSU's softball, baseball and women's golf teams traveled Thursday to weekend road contests, and wrestling and the men's and women's track and field teams hit the road today.
However, two women's tennis matches scheduled for this weekend have been canceled, and the women's gymnastics meet at Illinois scheduled for today has been postponed.
Michigan State men's tennis will not travel to Virginia for matches at Virginia Tech and VCU as originally planned. Instead, the Spartans will remain home and host Drake Saturday in a rescheduled event which was initially slated for Wednesday.
Clearly, the marquee matchup in the wake of Monday's tragedy, which also involved the gunman taking his own life when confronted by police, is the men's basketball game at cross-state rival Michigan. The decision to play the game was made following discussions between Haller and Michigan athletics director Warde Manuel.
As reported by Lansing's NBC affiliate WILX, Michigan has planned to welcome the Spartans in several ways:
Specially designed team warm-up shirts for the players
2,000 specially designed t-shirts for Maize Rage & student ticket holders
A 12-by-8-foot "Spartan Strong" flag in the Maize Rage student section
The UM Pep Band is learning how to perform MSU's alma mater
A moment of silence lasting approximately 30 seconds
Lighting at the Crisler Center will be green and white during the moment of silence and programmable LED wristbands will be distributed to all fans upon entry
Michigan State's legendary head coach Tom Izzo delivered a heartfelt and personal address to a large vigil gathering Wednesday.
"I'm also a father of two Spartans of my own. I can't begin to imagine what all of you are going through," Izzo said, as reported by Sports Illustrated. "But I do know that we, as a campus community, can offer our support, both to you and to each other. Look around. Look next to you. Shake somebody's hand. Introduce yourself to somebody you don't know. That's who we are. That's who we need to be at this time."
According to Nick Selbe of SI, Izzo referenced his reputation for being emotional while coaching on the sidelines, and encouraged everyone affected to not try to keep their feelings hidden.
"If any of you need help, please speak up. Be vulnerable. Don't be afraid," Izzo said. "It's no secret that I do wear my emotions on my sleeve, so I'm not afraid. Our hearts are heavy, our loss has been great. Our lives have been permanently changed. But with a shared commitment to help each other, and a promise to remember those we have lost, we will learn to find joy once again."
Izzo then closed with a call to action.
"I think everybody spoke that something has to be done in our society. Gun violence is insane right now," he said. "We all have a platform — some are small, some are high — but we all have a platform. And I hope each and every one of you use your platform to help others, so other families don't have to go through what these families are going through now."