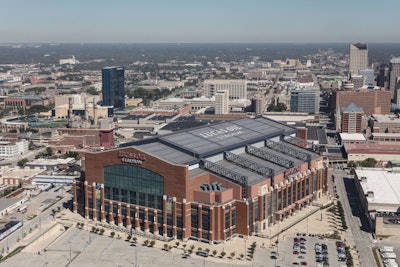 By Carol M. Highsmith - This image is available from the United States Library of Congress's Prints and Photographs divisionunder the digital ID 40934 highsm. 40934.This tag does not indicate the copyright status of the attached work. A normal copyright tag is still required. See Commons:Licensing for more information., Public Domain, https://commons.wikimedia.org/w/index.php?curid=62118315
A temp employee working setup for a motocross event at Lucas Oil Stadium was shot dead Monday night.
Donnie Lee Sanders was working through a temp agency and setting down plywood and dirt for the upcoming motocross event at the stadium when he was shot and killed around 10 pm. Monday just outside the stadium.
The suspect fled to the Indiana Convention Center across the street.
"IMPD officers were able to review camera footage, slow everything down and we did understand that the alleged suspect did enter the convention center," said IMPD Officer William Young on Monday night, according to the local NBC affilaite. "He quickly exited the convention center; however, he was not able to get back into the convention center due to the doors being locked."
Dave Bilodeau, who was working with Sanders Monday night, said after the incident he and his co-workers were told to take shelter.
"We were in the very, very bottom of Lucas Oil," said Bilodeau. "We were next to the Colts locker room."
Employees were released around 12:30 a.m. and they did not return to work Tuesday.
IMPD said Tuesday afternoon they are making progress in their investigation but have not yet announced the arrest of a suspect.