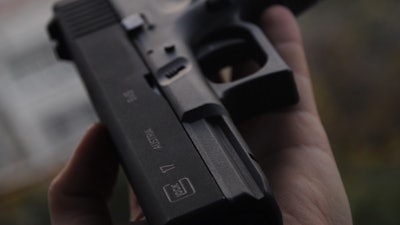 In the wake of shootings at the University of Alabama, New Mexico State University and Michigan State, as well as one involving a Louisiana State student-athlete, The Associated Press analyzed more than a dozen schools participating in NCAA tournaments and found a wide range of policies that govern guns at those schools and uneven efforts to regulate them.
As reported by AP national writer Eddie Pells and colleagues, the NCAA has no written gun policy, other than to ban guns at its championship events, calling it a law-enforcement issue. "That means rules for sports teams, if they exist, are derived from a mixture of state laws, university policies and, in some cases, supplements to those policies in the student-athlete handbooks," Pells wrote. "In some instances, coaches implement their own team rules. But as cases across the country have shown — just in the past four months alone — there is confusion, mixed messages and what some perceive as seat-of-the-pants decision-making on issues that can have life-or-death consequences."
"I have no idea," Tom Izzo, head men's basketball coach at Michigan State, where three students were shot dead Feb. 13, told the AP when asked what he should say to players who legally possess a gun. "Whatever the law is, you can't supersede the law on your team or in your program."
Shaka Smart, the head coach at Marquette, a No. 2 seed that opens tournament play Friday, said he's been "yelled at by my superiors" over the years when he brings up sensitive topics such as guns to his players. So, he told the AP, he treads lightly on the subject.
"Now, should you be driving around with a gun in your glove compartment or whatever?" Smart said. "I'm not passing judgment on anyone anywhere else as it relates to that. But no, our players should not be doing that and I should not be doing that. And so I don't, and they don't."
And while the NCAA bans guns on the premises of its championship events, campus policies vary widely. At Marquette, located in downtown Milwaukee, guns are not allowed in campus buildings. At Kansas State, meanwhile, concealed weapons are allowed on campus, so long as they are legally owned.
"We have to explain to them why we feel like one decision may be, in this moment in time, a little more prudent than another decision in another moment of their life," K-State coach Jerome Tang said. "Like, later on in life, if they want to get a license, that's fine. But right now, in this moment, it may not be as wise for you."
The AP's analysis found that in many instances, school policies differ from state to state, and sometimes from campus to campus within the same state. Most student-athlete handbooks simply reiterate school policy regarding weapons.
In Texas, open carry is not allowed at either the University of Houston or at the University of Texas in Austin, but concealed carry is allowed in some areas of each campus, the listings of which are available on the school websites.
In Alabama, a state law that went into effect this year made it legal to openly carry a gun without a permit, yet guns are still prohibited on the University of Alabama campus. Police say Alabama star Brandon Miller delivered a gun to a teammate and another person who are charged with the Jan. 15 fatal shooting of 23-year-old Jamea Harris less than a mile from campus. Miller has not been charged with a crime, and will represent the tournament's top overall seed on the court later today.
New Mexico State officials appeared unprepared to deal with a shooting that resulted in the death of a student from the University of New Mexico. NMSU forward Mike Peake said he was acting in self-defense when he shot and killed Brandon Travis last November while the Aggies were on a road trip in Albuquerque. Guns are prohibited on New Mexico State's campus and on school road trips, but police say Peake brought the gun with him on the team bus anyway. It took the school 16 days to permanently suspend him from the team after the shooting, the AP reported.
LSU receiver Malik Nabers was disciplined by the school but will not miss games this coming football season after being arrested for illegally carrying a weapon on Bourbon Street in New Orleans last month. Had the incident happened on a busy street in Texas, where permits are not required to carry a concealed weapon, he wouldn't have been arrested in the first place, according to the AP.
Regardless of the law in a given jurisdiction, it's often up to coaches and athletics administrators to provide moral guidance to their student-athletes.
"The violence is right there with drug use and other sorts of things we hope to guide them away from," Mike Marlow, athletic director at Northern Arizona, where guns are not allowed, told the AP. "You hope that you have the type of culture in place that discourages the behavior, even if there is some legality to it."