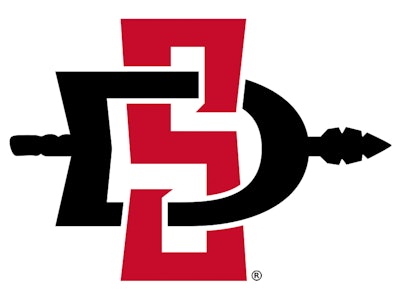 San Diego State University fans on Monday stormed the gates at Viejas Arena, where the school was broadcasting the NCAA Men's Basketball Championship game against University of Connecticut.
According to The San Diego Union-Tribune, at least one person was injured as the crowd pushed past security guards in an effort to enter the arena.
San Diego State University police on Monday night released a statement, saying they were "appalled" by the incident, and that they had to work with other law enforcement agencies to manage the crowd outside the arena.
"The actions of a few should not and do not take away from the many who are celebrating safely," police said in the statement. "Our university has a high level of expectation of safe and responsible fan engagement, and we urge all community members to place safety above all priorities."
No property damage or arrests were reported in the incident.
Thousands of people lined up outside of the arena prior to the game, which was scheduled to start at 6:20 p.m. At 6:19 staff tweeted that the venue had reached capacity and they were not allowing any more people into the venue.
After the arena was closed off, fans started climbing the fence and opening doors for others. Security guards tried but failed to stop the crowd. Video of the incident shows fans climbing the fence as security guards try to contain the crowd.
UConn ended up winning the game 76-59.