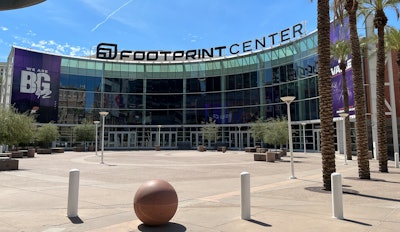 Troutfarm27/Creative Commons
The Footprint Center, home of the Phoenix Suns, is making a change to improve security after an incident between a fan and Clippers guard Russell Westbrook on Sunday went viral on social media.
During Game 1 of the first-round Western Conference playoff series, Westbrook was heading back to the court for the second half when a fan shouted at Westbrook, CBS Sports reported. FanDuel TV reported that the fan called him "Westbrick," a nickname that Westbrook has previously said he does not like and finds demeaning. A video posted to social media that captured part of the incident shows Westbrook telling the fan to watch his mouth multiple times. Security stood in between the two and Westbrook eventually walked away.
Previously at the Footprint Center, players were able to use the Club Gila River lounge area as a shortcut to get from the visitors' locker room to the court, but the facility is making a change so players will have to walk a longer way. In addition to blocking off the two doors connecting the Club Gila River lounge area and the visitors' locker room, the Footprint Center now has signs on the door that say players do not have access.
The Clippers defeated the Suns 115 - 110 on Sunday. Westbrook struggled to score, going 3-for-19 from the field, but he was still impactful regardless of the box score, CBS Sports reported.
After Game 1, The Suns said in a statement that the team was aware of the Westbrook incident and that it was conducting a review. No incidents were reported after Game 2, which Phoenix won, 123-109.
The teams, now tied 1-1, will go to Crypto.com Arena in Los Angeles for the next two contests. Game 3 of the series is scheduled at 10:30 p.m. ET on Thursday.