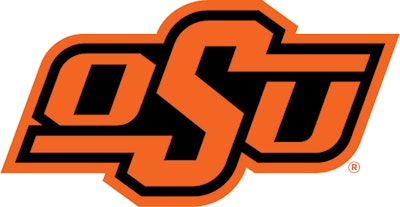 Two Oklahoma State University students have been charged with allegedly breaking into Allie P. Reynolds Stadium and stealing a number of items, including memorabilia.
According to the Stillwater News Press, which obtained court documents, an OSU Police officer was patrolling the area around the stadium around 3:30 a.m. on Saturday when he observed two electric scooters parked in front of the stadium's southwest gate.
"Scooters are often seen parked at various spots on campus, at various times of night, so I did not think much of it initially," officer William Patterson wrote in his probable cause affidavit. "A few moments went by, and two males appeared walking westbound on the sidewalk along the south side of the complex, carrying several items with them."
Patterson commanded the two men, later identified as Champ Wright and Even Kennedy, to the ground. Wright complied, while Kennedy ran. Wright said he and Kennedy were drunk and wanted to look around the stadium.
"As Wright talked, I smelled an overwhelming odor of an alcoholic beverage from his person," Patterson said in his affidavit. "Wright stated he and Kennedy took items from inside the stadium because he thought it was cool memorabilia and he was a wrestling fan."
Wright and Kennedy were found to be in possession of several OSU wrestling warmups, a framed picture of the 1974 OSU baseball team, a poster, a book and a "white wooden 'Cowboy Wrestling Legend'"
The two have been charged with felony burglary.