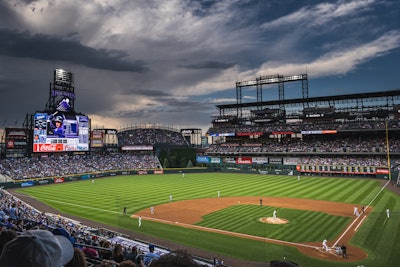 Owen Lystrup, Unsplash
The Major League Baseball Players Association released a statement Tuesday indicating it plans to review safety protocols and security measures at MLB stadiums following two troubling incidents within four days.
As reported by NBC Sports Chicago, a 42-year-old woman suffered a gunshot wound to her leg Friday while attending a game at Guaranteed Rate Field, home of the White Sox, before being transported to the University of Chicago Medical Center. Another woman, 26, was grazed by a gunshot in the abdomen.
According to ESPN Chicago reporter Peggy Kusinski, it was later discovered that the latter woman had actually smuggled the gun past the stadium's metal detectors by concealing it within the folds of her own belly fat. It later discharged accidentally, causing her injuries.
The discharge occurred during the fourth inning of a game against the Oakland A's, and police reportedly wanted the game to be suspended, but changed their mind. "We allowed the game to continue not to create a panic," Chicago's Interim Police Supt. Fred Waller said, according to NBC 5 Chicago.
The other incident happened Monday night, when two men ran onto the field at Coors Field in Colorado and accosted Atlanta Braves star Ronald Acuña Jr. According to Sports Illustrated, the Denver Police Department announced Tuesday that it arrested the men, both from Denver, on charges of trespassing and disturbing the peace.
Related: Two Fans Detained After Rushing Field, Making Contact With Braves Star Acuña
Another individual, a juvenile, was cited with trespassing after he was apprehended by Coors Field security for entering the field and returning to the stands.
"The Players Association takes player safety very seriously," the MLBPA said in its Tuesday statement. "Following security incidents, including those on field, our director of security is in immediate contact with MLB security and local authorities where appropriate. In addition to our security experts, our PA player services staff is in daily contact with players — providing updates and any relevant information. While the details of the recent incidents in Chicago and Denver are still under investigation, we will be reviewing the club and stadium protocols currently in place, as we do throughout every season, to mitigate the possibility of similar future incidents."