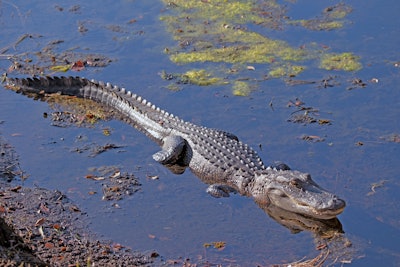 David Cashbaugh, Unsplash
The Philadelphia Phillies had to turn away an unlikely guest for their matchup against the Pittsburgh Pirates at Citizens Bank Park Wednesday.
Wally, a 5-foot emotional support alligator, was denied entry to the game, despite the Instagram account of Jon McCann highlighting Wally giving hugs to fans outside the stadium prior to the game.
Alligators apparently do not figure into Citizens Bank Park's animal policy, which states: "Certified service dogs or service dogs in training for guests with special needs are welcome. All other animals are prohibited."
According to the BBC, Wally was rescued by from Orlando, Fla., by Joie Henney in 2015.
Henney says Wally has helped him "dramatically improve" the deep depression he was experiencing before he found Wally.
"I've never met an alligator that will not bite you," Henney told CBS News. "You fool around the head like this (Joe puts his hand in Wally's mouth), their instinct is to grab you [with their teeth] - but he does not do it."
"You can reach in and rub his tongue, he refuses to close his mouth, but we don't know why," added Henney.