What do you need to know about diabetic athletes? More than you think.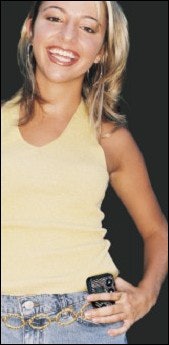 For a few chaotic minutes, the life of an assistant soccer coach at The Kinkaid School in Houston was in the hands of 12-year-old Caroline Rowley. Prior to a spring 2002 match between The Kinkaid School and Rowley's team, Houston's River Oaks Baptist School, the coach became disoriented and collapsed - the result, it turned out, of a Type 1 diabetes-related hypoglycemic reaction caused by too much insulin and not enough food in his system. Kinkaid's head coach, apparently aware of his colleague's condition but unaware of how to respond to it, cried out for help.
That's when Rowley, who has lived with Type 1 diabetes since age 6, stepped in to talk Kinkaid's head coach through a procedure that involved injecting the victim with a form of sugar known as glucose, rubbing glucose gel on his gums and shutting off a pump programmed to deliver insulin to his body. The assistant coach was then taken to a local hospital, where he was treated and released.
That incident demonstrates just how little many coaches, athletic directors and physical education teachers probably know about diabetes, a chronic metabolic disease caused by insufficient insulin - a hormone needed to convert sugar, starches and other foods into energy. One of two types of diabetes affects one out of every 300 children, according to the American Diabetes Association, which estimates that 17 million Americans have the disease - even though about 6 million of them may not even know it.
Type 1 diabetes, although uncommon in adults, is rampant in young people, affecting about 85 percent of all child diabetics. It results from the body's failure to produce insulin and requires several daily insulin injections or the use of an insulin pump for survival. More than 13,000 kids - usually between the ages of 10 and 14 - are diagnosed with Type 1 diabetes in the United States every year.
Type 2 diabetes, on the other hand, results from the body's resistance to insulin and is becoming increasingly common in overweight and inactive youths - although they may not be aware of their diabetic condition for years. It is especially common among Native Americans, African Americans and members of the Hispanic and Latin communities. Previously, Type 2 diabetes usually only affected adults age 40 or older. "We're calling the change from Type 1 to Type 2 in children an epidemic," says Francine Kaufman, the 2002-03 president of the American Diabetes Association, as well as an endocrinologist at Children's Hospital of Los Angeles and a professor of pediatrics at the University of Southern California. "The lack of physical education programs in schools has led to an explosion in obesity, which is a factor in Type 2 diabetes."
That's why it's imperative for all athletic department staff members to understand diabetes, how it affects kids and what to do in case a situation occurs like the one last year in Houston - involving either a student-athlete, a coach or even a spectator. "Diabetes affects everybody in one way or another," says Randy Wexler, a clinical assistant professor in the Department of Family Medicine at Ohio State University and a team physician at Walnut Ridge High School in Columbus, Ohio. "If you're a high school coach, you need to know what you're getting into with a Type 1 diabetic, and that a kid who is fat could be displaying early signs of Type 2 diabetes."
No wonder the National Diabetes Education Program - a partnership of the National Institutes for Health, the Centers for Disease Control and Prevention, and more than 200 public and private organizations - has developed an 88-page guide, titled Helping the Student with Diabetes Succeed: A Guide for School Personnel. (Download it at www.ndep.nih.gov.) Also, hospitals and medical clinics nationwide are sponsoring training sessions like the one held this month by Elkhart (Ind.) General Healthcare System, titled "Care of the Child With Diabetes in the School Setting." Among those encouraged to attend: athletic directors.
While it is ultimately the responsibility of the diabetic child and his or her parents to inform a school's athletic department about the condition and how it affects health and performance, they sometimes don't. And because the law prohibits inquiring about whether a young person has diabetes, the disease often goes unnoticed until it's too late - although sometimes school nurses can detect diabetic symptoms during preseason physicals.
Wexler says coaches and physical education teachers should note if a student or player undergoes rapid weight loss and complains of excessive thirst and urination, constant hunger, increased tiredness or blurry vision. Don't be afraid to recommend that a child be tested for diabetes, Wexler says, because if it goes undiagnosed without insulin treatment, Type 1 diabetes can lapse into a life-threatening state.
Symptoms of Type 2 diabetes develop slower but are similar to those displayed by Type 1 diabetics. Additional signs to look for include frequent infections and slow healing of wounds or sores.
Diagnosed diabetics are encouraged to wear a medical-alert bracelet and to let coaches and teachers know what type of diabetes they have, how it's medicated, special dietary considerations and any other potential side effects. Typically Type 1 diabetics need to check their glucose levels before, during and after practice and competition, and they should have some fast source of glucose readily available - a bite-size candy bar, orange juice or honey, for example. Wexler keeps glucose tubes in his Walnut Ridge medical kit.
A word of warning: It's possible for a student-athlete to overdose on insulin or not eat enough of the right food prior to exercise. When that happens, blood sugar levels fall and may bring on a hypoglycemic attack, similar to the one that struck The Kinkaid School's assistant soccer coach last year. Symptoms of an attack include sweating, loss of concentration, heart palpitations and nausea, but they can be controlled with glucose.
Given the seriousness of keeping diabetes in check, athletic personnel shouldn't hesitate to enforce a diabetic athlete's routine, Wexler says. "The parents and kids are responsible, but coaches can also have rules," he says. "If they don't check their glucose levels, they don't play."
Use of an insulin pump or insulin injections often aren't necessary during competition because the body reacts to exercise the same way it does to insulin. "Anybody who tells children with diabetes they shouldn't be playing sports should be shot," says Carol Rowley, Caroline's mother, adding that she's "very concerned" about how her daughter, now 13, will be perceived by her future coaches in high school. "I know Caroline's already been discriminated against."
In fact, a Christian-based youth sports camp in the Southeast did not accept Caroline as a camper this summer because of her diabetes. Instead, she enrolled at a diabetics-only sports camp in Gainesville, Texas.
Portland Trailblazers center Chris Dudley, diagnosed with Type 1 diabetes when he was 16, runs an annual basketball camp every August in Vernonia, Ore., for diabetics between the ages of 10 and 17. The first of its kind when it debuted in 1996, the weeklong camp - staffed with two endocrinologists, three nurses and athletic instructors trained in the care of diabetes - aims to show young players that the disease does not have to prevent them from leading normal and active lives.
Similarly, the Donnelly Youth Tennis Awards, given annually by Billie Jean King World Team Tennis Charities Inc. in cooperation with the American Diabetes Association, presents 11 male and female diabetic players between the ages of 14 and 21 with $2,000 each to be used for education, tennis development or medical care. Honoring two longtime World Team Tennis executives, Diane Donnelly Stone and Tracey Donnelly Maltby - diabetic sisters who earned full tennis scholarships to two Big Ten universities - the awards are for players in tournament, high school and college competitions.
The public profile of diabetes has increased in recent years, thanks to the number of professional athletes such as Dudley, King and Seattle Seahawks defensive end Michael Sinclair who have the disease - and even some who don't.
Philadelphia Eagles quarterback Donovan McNabb lost a grandmother to diabetes, and his father was diagnosed a few years ago. That was enough to get him involved, becoming a staunch advocate for the American Diabetes Association.
The association's efforts at the top are trickling down to the grassroots level, where task forces strive to raise awareness of the disease in local school communities all over the country. At Westbury (N.Y.) Middle School, where four of its 850 students have diabetes, students raised more than $2,000 for diabetes research by each walking during regularly scheduled 40-minute physical education classes. As part of the event - organized in part by a 12-year-old student with diabetes - the school nurse distributed informational packets defining diabetes and suggesting preventive measures involving diet and exercise tips.
"It definitely raised awareness in the building," says Raymond Williams, one of five physical education and health teachers at the school. "It hit home because many of these kids have relatives with diabetes. And for me, this is definitely something new. I taught at a different school three years ago, and the issue of diabetic students did not ever come into play."