SRI Sports files for bankruptcy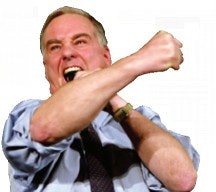 On Feb. 12, SRI Sports was the leading supplier of sports surfaces in North America. The next day, it had ceased to exist.
Even now, weeks later, awestruck industry veterans are experiencing feelings familiar to supporters of Howard Dean's candidacy, say, or anyone who witnessed the fall of the Berlin Wall. AstroTurf, SRI's most prominent product, had dominated its category since the 1960s, and while there are few people around who can remember clearly the surfaces industry before it, the abruptness with which SRI collapsed made the company's supremacy all that harder to fathom.
That was primarily true for people with short memories. After all, in the mid-1990s, a similar fate befell St. Louis-based Balsam Corp., which in the late 1980s had bought AstroTurf Industries Inc., Pitzer Products Inc. (maker of Proturf polyurethane gym floors), Rekortan Corp. (a track surface company) and Connor•AGA (a maker of basketball floors), among others. An overextended Balsam unexpectedly declared bankruptcy in 1994, after which AstroTurf was among Balsam's assets purchased by SRI, a relative upstart then known as Southwest Recreational Industries. Just as Balsam had, SRI's parent, American Sports Products Group, spent the 1990s gobbling up related businesses (such as Martin Surfacing and Sport Court), until falling prices caused by increased competition and an inability to obtain financing forced SRI's hand. (While SRI's track and synthetic turf divisions are being discontinued, ASPG plans to sell its Sport Court, AAI and BPI divisions.)
In truth, SRI's sudden death should have been easy to foresee. For example, last year's departure of SRI President and CEO Reed Seaton, who had founded SRI precursor Southwest Track Builders Inc., is now being seen in a different light. At the time, Max Chapman Jr., who only six months earlier had become SRI's chairman (replacing the retired Bill Sorenson), characterized Seaton's departure as necessary "to enhance our position for future served markets," while predicting that the synthetic turf market could grow by as much as 40 percent this year.
Not surprisingly, SRI's lack of future served markets is prompting some behind-the-scenes snickering. One of SRI's primary sales pitches - that only a big, well-established company like itself could be trusted to be around in five years to stand behind its warranty - is a principal object of derision. Beyond that, much hay is being made of SRI's frequent boasts about its huge market share - even though the boasts happened to be true. As Dave Demey, vice president of business development with Sprinturf, puts it, "They went after every job they could, and they lowered their pricing through the floor, and it really forced the whole industry to become commodity driven. So yeah, they were the biggest, but at what cost to the company?"
Adds a less-charitable industry insider, asking not to be identified, "When you start giving away fields, it's amazing how many more fields you can sell."
Competitors' gloating notwithstanding, many of the effects of SRI's failure are no laughing matter. More than 500 people are looking for work. The company listed more than 1,000 creditors when it went under, led by Blackstone Mezzanine Partners LP of New York (which is owed $19.6 million), Martin Surfacing (an SRI subsidiary that is owed $6.3 million) and General Electric Capital Corp. of Chicago ($3.3 million). And hundreds of facility operators now own recently installed sports surfaces with warranties that might be worthless. (More worthless than they realize, says an anonymous source. Many installations bear the corner-cutting stamp of the recent low-bid mentality; those projects are "time bombs ready to go off," he says.)
The most immediate effect was a mad scramble by facility operators who had installations scheduled with SRI to line up new fields and installers (most notably, the Hubert H. Humphrey Metrodome in Minneapolis was trying to replace its turf before the Twins' home opener on April 5). This was more than matched by a mad scramble by the remaining scores of turf companies to pick up the slack. Noting that Sprinturf is now North America's second-largest turf company, Demey says, "Whatever's in the realm of being legal, we're looking into it. We're doing everything we can to bolster our position."
Interested industry watchers can expect to see two further effects of SRI's demise: rising prices for turf, and an expansion of the litigation that heretofore pitted FieldTurf, the new overdog, against SRI.
The Metrodome project offers a glimpse of the future. According to a report in The Minneapolis Star Tribune, SRI's AstroPlay was selected by the Minneapolis Sports Facilities Commission at a bid of $715,157, more than $150,000 lower than FieldTurf's bid. Although no papers had yet been filed, FieldTurf CEO John Gilman had threatened a patent-infringement lawsuit against the commission if it went ahead with the AstroPlay installation. Within days of SRI's bankruptcy filing, however, the commission contacted Gilman, who the paper said wouldn't commit to installing FieldTurf at the price the company bid last October. (On Feb. 26, FieldTurf did agree to do so after a bankruptcy court hearing that voided the MSFC's contract with SRI.)
"Our prices will be going up," Gilman says now, "because our margins were not sufficient as a result of SRI's underbidding everyone, and as a businessman I'd like to make more money."
Gilman says he hopes - though he knows better - that SRI's departure will spell the end of turf salespeople claiming that their products are the same as other people's, only less expensive. One thing's for sure, Gilman won't hesitate to back up his talk with legal action against turf companies that supply - and customers who purchase - "infringing fields," as he calls them. "Some people view us as the big bad guy. I don't view us as the big bad guy," Gilman says. "We have patents, we earned the patents, we paid for the patents. We spent millions of dollars developing this product. We will vigorously defend the technology we invented."