Baseball and softball players extend their seasons at versatile indoor training facilities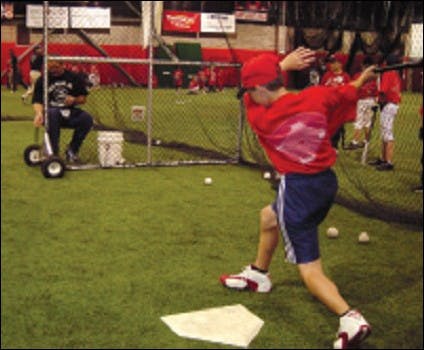 When the snow begins to fall in Highland Park, N.J., more than 1,500 players turn to the Baseball Warehouse, a 5,200-square-foot facility that opened three years ago and features wall-to-wall synthetic turf, three 90foot-long pitching tunnels and three 50-foot-long hitting tunnels. Though the facility caters primarily to youth baseball players, everyone is welcome at the Baseball Warehouse, including those with big league dreams (former customers have been drafted by Major League teams and others have earned college scholarships) and those without. "We don't have signs saying, 'Only serious baseball players here.' You don't have to be serious to be a baseball player," says Baseball Warehouse owner Mike Garlatti. "We want those kids who struck out in Little League last season and don't want to be embarrassed anymore."
Serious or not, baseball players aren't the only boys (or girls) of summer seeking indoor instructional programs. As a result, indoor fastpitch softball facilities are forging inroads into a market that until recently had been dominated by baseball. Since hiring a director of softball instruction last year, the Baseball Warehouse's fastpitch program has grown by "leaps and bounds," says Garlatti. "She started it from the ground floor. We've gone from 12 girls to 50 coming in on a steady basis."
Likewise, Amber Conrow, facility manager and head pitching instructor at Total Fast Pitch in Phoenix, Ariz., has seen that facility's client list nearly double in the two years it has been open. Total Fast Pitch currently counts 85 to 90 girls age 9 to 18 as regulars. Many of these girls participate on year-round club teams, and look to indoor practice facilities like Total Fast Pitch to escape the Valley of the Sun's triple-digit temperatures from April to October. "We have a couple of teams come in to use the cages, but our main thing is instruction," says Conrow, one of Total Fast Pitch's two female coaches, adding that her facility's greatest draw is its ability to provide "coaching from a female perspective, girl to girl."
Garlatti, too - who describes the Baseball Warehouse as a "no-frills" facility - finds that ultimately, what his customers and their parents demand is good coaching. "They want people who can teach. That's what they're coming back for," he says. "There are an awful lot of places out there much fancier. My place is no gimmicks, old-school baseball. Parents come here because last time they were in, their 8-year-old son got a great lesson."
But even the fancy facilities place an emphasis on offering quality instruction. Take, for example, The Diamond Training Center, which opened approximately 25 miles north of Pittsburgh this past fall to rave reviews from area residents. The facility is a ballplayer's dream, encompassing 30,000 square feet of indoor space and featuring nine batting cages, four pitching tunnels, a 10,000-square-foot throwing and fielding area, a weight room and a video room. Three of the batting cages are equipped with 8-by-10-foot video screens that simulate a pitcher's delivery. The pitching machine in one cage can throw balls as fast as 100 mph and as many as nine different pitches to nine different locations within one inch of the target.
There isn't a facility quite like The Diamond within a 40-mile radius, giving the facility an ample marketplace. "There are four or five different school districts in this area," says general manager Kevin Green. "That's a lot of kids."
But it also heaps upon The Diamond immensely steep expectations. The facility is owned by University of Pittsburgh head baseball coach Joe Jordano, whose semi-celebrity status in the Steel City (Jordano has run clinics from the Pitt campus for the past seven years) has helped his facility attract a clientele made up of hundreds of big-league wannabes, as well as the attention (and scrutiny) of individuals who have already found success on baseball's biggest stage. "We have some good connections," says Green. "Former Pittsburgh Pirates manager Jim Leyland stops in with his son. Kris Benson and Ryan Vogelsong (who are both Pirates players) and a couple of minor leaguers in the Pirates' system train here in the off-season. The Pirates' front-office staff brings in their kids. If we can keep those guys happy and keep them around, it's good for our customers."
Why? Because, says Green, it motivates The Diamond's coaching staff to deliver the same quality instruction to 6-year-old Little Leaguers as it would to pro ballplayers well into their 20s. "Big-league coaches can take what they're working on with their kids in their own backyards, and then go to the stadium the next day and teach their players the same thing," he says. "If you can teach a young kid to keep his hands inside and hit the ball on a line, I think you'd be pretty accurate in saying that you can teach a 16-year-old to do the same thing."
Depending on what amenities they offer, indoor training centers can accommodate anything from individual batting practice to team infield practice. By Garlatti's own admission, the Baseball Warehouse's accoutrements are less sophisticated than those found at facilities like The Diamond. However, Garlatti does boast about his facility's pitching tunnels that are equipped with raised dirt mounds that allow pitchers to fine-tune their mechanics while wearing baseball cleats.
Also considered a plus by facility users are high-ceilinged spaces that allow small groups of players to conduct throwing drills. The Diamond gets plenty of use out of its 50-by-200-foot throwing and fielding area, which features a 24-foot-high ceiling and a synthetic turf floor to accommodate groundball practice. The field is available for rent by the hour and can even be divided into smaller sections to accommodate simultaneous practices. "We went for length, as opposed to width," says Green. "In baseball, if you can get 150 feet for an indoor throwing lane, especially here in the Northeast, you have a hot commodity."
The Eau Claire (Wis.) Indoor Sports Center - a 48,000-square-foot facility accommodating a variety of sports, including baseball, softball, flag football, soccer and inline hockey - tries to meet its baseball and softball players halfway. The center has a synthetic turf field and a multipurpose activity court, each of which measures 85 by 120 feet, a pitching machine and a hitting tunnel that retracts into the 35-foot-high ceiling rafters when not in use.
All programs and leagues use reduced injury factor balls, which are softer and lighter than regulation balls. Indoor hitting leagues - which consist of teams of five to 10 players competing in games in which players score points by hitting the ball to various target zones - make use of the synthetic turf field. Participants in the Eau Claire Center's winter softball leagues use both the field and the multipurpose activity court. "Games run all day Sunday, from 8 a.m. to 2 p.m.," says operations director David Lee of the two girls' leagues. "We play on both surfaces and have the teams rotate so any one team doesn't have to play on the hard surface all day."
Thanks to these winter leagues, the Eau Claire Center, already popular among local youth soccer and hockey leagues, has bolstered its reputation as a baseball and softball training facility. "This facility opened in November 2001, and we've just now started marketing these programs in the past couple of months," says Lee, who last year joined the facility's staff after operating his own baseball training facility for eight years. "Until now, the general public has never had serious baseball programs available to them."
The first to learn of Lee's baseball programs have been the dozens of youth sports league administrators who use the center for other activities. "I've been going to all of the leagues and organizations. We allow them to utilize our facility for meetings or registration sessions," he says. "It has given me the opportunity to tell them, 'Here's something else we can do for you.' "
When Total Fast Pitch first opened in 2002, the facility's owners ran several TV spots and sought free exposure in the local press. In the two years since, Conrow, who coaches a club team in her spare time, has found that the best method to advertise her facility is through tournament appearances and word of mouth. "The softball world is pretty small here in Phoenix," she says.
In the Ohio River Valley, baseball is king. In just 10 years, Champions Baseball Academy has grown from one 12,000square-foot facility in Louisville, Ky., to one 32,000-square-foot, state-of-the-art baseball and softball training facility, and two more centers of similar stature in Cincinnati and New Albany, Ind. The Cincinnati facility shares a 65,000-square-foot building with a sports-injury rehabilitation clinic.
The immediate future entails opening a $9 million, 93,000-square-foot Champions facility near Orlando, Fla.'s Universal Studios next month that will include instructional centers for baseball, softball, basketball and volleyball, as well as a fitness center, a sporting goods store and a restaurant. Three more facilities on a much smaller scale are planned to begin construction by year's end. Over the next few years, Champions intends to forge a permanent presence in the Midwest and the South, and expand its network of preseason satellite training camps, which were held for the first time this January in California, Texas, Arkansas and Utah.
Champions managing partner Ron Hinners attributes the growth of his company to three things: "First of all, we try to provide quality instruction. Second, we offer a variety of programs to choose from. And third, we take the Disney approach. We keep our facilities clean, well-lit and all staff members wear Champions shirts so they can be easily identified."
Plus, Champions hasn't been afraid to take its show on the road, a move suggested for operators of any indoor training facility with hopes of staying busy after the weather warms and their clients take to the outdoors. "Partner with local colleges so you can use their facilities for leagues and camps all through the summer," says Lee. "If people don't want to come inside your facility, you have to take it outside."