Purdue University introduces a four-year degree for those entering the personal-training profession.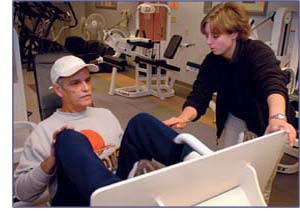 Despite the myriad certifications purporting to prove what today's personal trainers know or should know (see "It's Getting Personal," July 2004), no college in the country to date has offered a four-year degree designed specifically to educate those entering the personal-training profession. But that's about to change.
Beginning this fall, the Health and Kinesiology Department at Purdue University in West Lafayette, Ind., will include a degree track that emphasizes personal training. But why Purdue? Why now?
Ken Baldwin, the program's architect and coordinator, owned a personal-training business for six years in the 1990s. It was then that Baldwin began to realize how little most aspiring personal trainers -- even those with degrees in exercise science, exercise physiology or kinesiology -- actually knew. "We had a lot of students from different universities coming to interview with us, and it was apparent that they really didn't have a good understanding of how to develop exercise programs or how to perform exercise movements," Baldwin says. "They didn't have any idea how to manage a facility, how to communicate with a potential client or how to conduct proper health assessments."
Baldwin examined traditional health and kinesiology programs at roughly 250 colleges and universities, looking for common themes that he thought contributed to the educational disconnect exhibited by the recent graduates he'd met. Too often, he found, instructors lacked any practical personal-training experience to impart to their students.
Based on this research, Baldwin created templates for certificate, two-year, four-year and master's degree programs. He left his business to coordinate a certificate program in personal training at San Diego State (a duty he still carries out today via the Internet). After arriving at Purdue in 2002, Baldwin educated the faculty on the need for better preparation of aspiring personal trainers and spent the next two years shepherding his proposal through the university's policy and curriculum committees. "We found that 70 percent of our students in the department wanted to become personal trainers. That was incentive right there, to make sure that our students are well-educated," he says. "But our second goal was to set a national standard -- a model degree program that can help other colleges and universities shape this profession that is so scattered and undefined."
Purdue's personal-training emphasis is defined by a freshman year devoted to teaching and testing knowledge of basic exercise movements, a sophomore year that introduces students to the training of different populations, followed by eight clinical rotations of four to six weeks each spanning the junior and senior years. These rotations will place students in such diverse personal-training environments as private health clubs, YMCAs, corporate fitness centers, retirement facilities and physical therapy and cardiac rehab units. Not only will students learn how to communicate with clients, but with nurses, physicians and physical therapists, as well. "They'll learn how to put together programs using a team approach," Baldwin says.
For Purdue sophomore Catherine Taylor, the new program represents a welcome head start in a fast-growing field. According to U.S. Department of Labor statistics, the number of fitness professionals is expected to increase 44 percent by 2012, from 183,000 to 264,000. "To have a degree that covers exactly what I want to do once I graduate is just amazing," says Taylor, a West Lafayette native who hopes to one day open her own health club/spa.
Released in November, news of Purdue's curriculum shift is quickly spreading nationwide. One parent in Florida spoke with Baldwin by phone for 45 minutes about the prospect of her college-age daughter transferring to Purdue. Frank Aguirre, a 70-year-old retired high school Spanish teacher and football coach, is already planning to move from California to West Lafayette to begin his pursuit of a personal-training degree. "I figure I can be an asset to fitness clubs at my age," says Aguirre, whose self-guided workouts helped him drop more than 100 pounds following a crippling accident. "I'm not going to get the best money, and I don't expect to. I'm doing this because I want to. I want to be useful."
Baldwin, who intends to rigorously screen program applicants and admit only 15 students to the personal-training track each year, will be looking for "outgoing, motivated and sincere" individuals with a "passion to help others." "I've found that the best personal trainers really care about people," he says. Can these qualities, like business skills, be enhanced in a classroom? Purdue administrators and students will be the first to know.