The fine art of moving softball from outdoor diamonds to indoor arenas.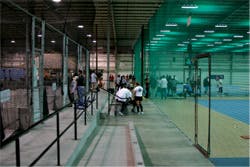 Indoor softball Greg Joseph hails from South Africa, where he witnessed the transformation of cricket into an indoor pastime that could stand on its own as a sport. Since coming to America, he has seen indoor soccer and arena football emerge as solid, if lower-caste, indoor versions of outdoor sports.
You might say he put two and two together when he brought softball into a Roseville, Calif., warehouse to create arena softball, but it turns out that adapting the sport for a 200,000-cubic-foot field was a much trickier equation.
That sounds like a lot of room for players to run and hit, but in fact it encompasses just a regulation softball infield and a 40-foot outfield - 100 feet down both lines, in other words - under a 20-foot ceiling. (Joseph's building is large enough to accommodate two such fields, as well as batting cages and other amenities.) Enabling the ball to ricochet within the field of play is a net stretched tight with industrial-strength springs on all four walls and the ceiling. Adding to the game's pinball-like speed is outdoor carpeting in the outfield and a rolled vinyl on the basepaths.
Joseph concedes that the first couple of years (arena softball has just concluded its third winter season and is beginning its third summer season) were a little touch and go from a rules standpoint. "Oh gosh, there was nearly a fight every night," he says. "The rules changed on a regular basis; we thought we'd worked it all out, and then something would happen. People had paid money to play and things weren't sorted out."
In the last year, however, the rules have solidified into four major alterations from the outdoor game: Like cricket, there's no foul territory; every ball hit is in play. Rather than getting three outs per inning, each side gets 16 legal pitches per frame. All surfaces are in play, meaning that outs can be recorded on balls caught after striking the net. The fielding side scores half a run for each out it records.
This last little wrinkle allows offenses or defenses to stage their own final-inning rallies, putting the results of most games in doubt until the very end. The size of the field and the careening of balls off the net means that double and triple plays are fairly common, and quadruple plays even occur from time to time. On the offensive front, two "home run windows" (actually 8-by-25-foot vinyl advertising banners) hang in the upper reaches of right and left field, within range only of balls struck on a line and high in the air. Players earn their longballs, in other words, and get a free item from the concessions stand besides.
Joseph has patented arena softball, and now he's hoping to open a second location in Portland, Ore. The reason is the rain; the Sacramento area is cursed (from an indoor facility owner's perspective, anyway) with beautiful weather eight months out of the year, and Joseph sees an opportunity further north. This past winter saw his Roseville facility's fields accommodate a total of 96 adult teams, and he expects that number to drop to around 40 during the summer. Joseph makes do by renting the facility for birthday parties, and now he's making his first concerted effort to market to youth leagues.
"I think it could be a year-round sport in a place like Portland," he says. "As I look at the success of indoor soccer, it took 10 or 15 years for there to be real demand for indoor fields. These days with indoor soccer, as soon as the outdoor season ends, everybody moves indoors."