Wartburg College designs a Hall of Fame room around the reuse of an old gymnasium floor's center logo.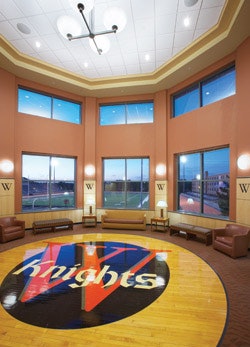 Basketball courts often enjoy a second life. Final Four floors, for example, are resold after the event to tournament teams and typically either reused in full or commemoratively hung, in part, on a wall. In Wartburg College's Waverly Community Wellness Center, an alcove in the Hall of Fame Room was designed around a reuse of the center logo of the displaced competition court. Removed with care and installed in a recessed portion of the concrete slab to match the height of the surrounding carpet, the reclaimed floor was then repainted and refinished, giving the vintage logo a fresh appearance.

Designers with Hastings & Chivetta Architects Inc. of St. Louis note that reuse isn't always a money-saving gambit and, in fact, isn't strictly necessary - new maple strip could have been specified and the old Wartburg logo applied exactly as you see. Authenticity, though, is important - and in this case it can be verified by the presence of a metal plate that once covered a volleyball-standard sleeve.