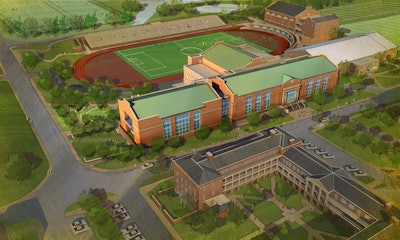 My name is Max Floyd, and I have spent the last 22 years as the Director of Campus Recreation here at Wake Forest University. I was born and raised on Kodiak Island in Alaska where I grew to love sports, the outdoors and the ever-quest to learn and experience new things. My journey from the Alaska snow to tobacco road had several stops along the way.
I played Division I baseball at Arizona State University and the University of Texas at El Paso. I left college early, signing with the Philadelphia Phillies after being drafted in the 14th round.  After a short stint with the Phillies, I returned to UTEP, gaining a Bachelor of Science degree in Education. Following graduation, I went to The Ohio State University where I earned a Master of Arts degree in Sport Management.  After four years at Ohio State, I landed in my current role at Wake Forest.
Though academic preparation and being at the right place at the right time did play a big role in my road to responsibility, my position here at Wake Forest has done the most to prepare me for such a time as this in the life of the university.  
Exciting challenges have been in front of me during my entire time here at Wake Forest. Whether it was beginning with no full-time staff members, not having any lighted grass recreational sports fields or not having everyday sports equipment such as jerseys, flagbelts or officials shirts, I had the opportunity to build a program from close to scratch. It's been the chance of a lifetime.
Nevertheless, as in life, there is no such thing as having a perfect program. Though we have experienced great changes and improvements over the years, one major area where Campus Recreation at Wake Forest has come up short is the necessary attention given to our indoor facilities. Though it has taken many years to address this gap in our indoor offerings, the time is finally upon us to make the long-awaited change.
The Reynolds Gymnasium Renovation and Transformation project is underway. It is a three-phase undertaking which started in the summer of 2014. Phase I is now complete, adding two new gymnasiums and an outdoor pursuits trip planning and equipment distribution center to the existing Reynolds Gym. Phase II began in February of this year and will focus on the front half of the existing Reynolds Gymnasium. Phase III will finish out the project which will be the renovation of the back half of the facility.
Phase II is an expansive project taking three old gymnasiums, numerous exercise labs and office spaces and transforming them into 15,000-square-feet of fitness space, a climbing facility, a wellbeing suite as well as a central entrance foyer. The project is unique in that it will be inserting a floor into a gymnasium doubling the square footage of our existing footprint.
Phase III will be just as aggressive taking existing spaces and transforming them into a larger swimming pool and whirlpool, a new volleyball varsity gymnasium as well as multiple group exercise rooms, a group cycling studio, function training spaces, multipurpose rooms fitness rooms, personal training locations, a boxing and martial arts room, staff offices, a classroom and multiple locker rooms for students, faculty and staff.
Phase II and III will take just under two years to complete. In this blog, I'll bring you on the journey. You'll get a sneak peak into what the transformation process looks like from a recreational sports professional's point of view.  
As rec professionals, most often we invite our colleagues to the Grand Opening when all of the work, frustrations and decisions have been made. Here, you'll get to be a part of it now: when the old walls are still up, when the old wood floors are still down, when the paint is still in the buckets and when the facility management software is not ready for opening day. It will be a fun ride, and I hope you enjoy it! I can hear the jackhammers already.