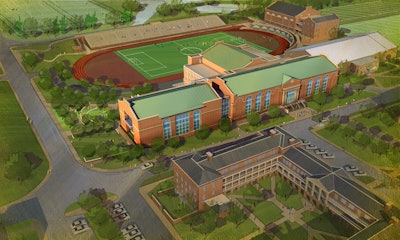 Here at Wake Forest University, we are embarking upon a major recreational sports facility construction project.
On January 27, 2016 we made great strides towards completion by opening the 40,000-square-foot Sutton Center addition.Over the next two years we will be renovating the existing Reynolds Gymnasium adding over 207,000 square feet of revitalized indoor campus services space.
This grand endeavor will take place in three phases. As stated earlier, Phase I was the building of the Sutton Center. Phase II, which is in full swing now, will involve the renovation of the front half of the existing Reynolds Gymnasium. Phase III will follow thereafter encompassing the renovation of the back half of the Reynolds Gym. Since Phase I has been completed and we are now operational, I would like to go back to the beginning. We'll review the key steps which took place on the way to occupancy.
Recognizing Need
When I first arrived as the Director of Campus Recreation 22 years ago, it was obvious that our indoor recreational spaces were gravely outdated. The Reynolds Gymnasium was one of the original buildings constructed at Wake Forest University in 1956, and it was very apparent. Over time we came close to gaining the necessary support to improve our indoor spaces but it always seemed to come up just a bit short. Finally, after a consistent and strong outcry from students, faculty and staff as well as the endorsement of some key university and non-university leaders, approval was finally given to build a new campus recreation facility on campus.
Every project has a proper sequence of essential elements which moves it closer to the day when the doors are open for all to enjoy. The steps to opening day are fairly universal — though the time spent on each of the steps may vary from institution to institution. From concept to completion, the following were the essential steps which took place at Wake Forest and are occurring at institutions across the US: consultant selection, needs analysis, programming, master planning site location & preparation, schematic design, design development, construction documents, bidding and negotiation, construction and post-occupancy checklists.
Step #1 – Consultant Selection
When the topic of constructing a recreation facility was at a feverish pitch, the selection of the consultant became critical. Talented and experienced individuals had to be brought on board who would be able to gather our thoughts, paint an accurate budget picture and satisfy the needs of our primary stakeholders. To accomplish this first step, requests for proposals (RFP's) were sent to all architectural firms who were in the campus recreation facility domain. From the RFP, we were able to develop a short list of architectural firms who would be asked to present before a selection committee of key decision makers. After a thorough review of every presenting firm, a selection was made and fee negotiations were arranged. Four architectural firms presented, and we ultimately selected RDG Planning + Design out of Des Moines, Iowa.
Step #2 – Needs Analysis
Immediately following the selection of our architectural partners, we proceeded to perform a needs analysis. Though we knew for years what we felt we needed, it was still important to show the need through a very deliberate analysis to ensure that we were making data-driven decisions. In the needs analysis, we performed a thorough audit of the existing facility, sent out a needs assessment survey to user groups and did site visits comparing peer institutions. We finished the needs analysis steps by briefing key campus partners which lead to some hard discussions around funding realities.
Step #3 – Programming
The most valuable time in the building process was the programming step. This critical process occurred when we as future operators and tenants sat down and shared what spaces had to be a part of this new facility. We not only pulled from our professional facility management experiences, but called up the needs analysis and examined the data. We began by looking at the larger scale elements like gymnasium spaces and then gradually worked our way down to smaller spaces such as storage and vending. We considered social spaces. We looked at safety zones, spectator areas, multi-use courts, the set up when we host varsity volleyball matches, discussed whether there was going to be food, debated the size and number of fitness areas, defended the importance of technology and even discussed whether to have a whirlpool in the aquatics area or not. Since the Student Health Service and the Office of Well-being were to occupy spaces in the facility, their programming feedback was gathered as well. Though we initially did the programming for all three phases, the decision was made to divide the project into phases to soften the financial burden placed upon the university. Our sites shifted away from 250,000 square feet of space to Phase I, the 40,000-square-foot Sutton Center addition.
In succeeding articles, I will continue to explain our experiences with the steps which came after programming. We'll continue the process from step #4 Master Planning and will finish with step #10, the all-important post-occupancy checklists and training.
Expectations will be high for any university who decides to build a state-of-the-art recreational sports facility. Program areas and service offerings will be expected to be improved and expanded. Since real needs and strong demands outgrew the previous spaces, every supervisor with responsibility over a project of such magnitude must be strategic and cover the aforementioned steps for the project to be a success.
Being involved the construction of a campus recreational sports facility from concept to completion is a privilege and an experience no Campus Recreational professional will want to miss. Until your dream becomes a reality, please join us as our story continues to unfold here at Wake Forest.