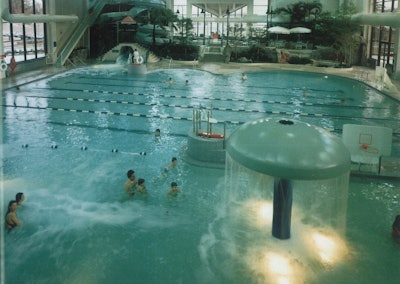 This article originally appeared in the December 1991 issue of AB.
Aquatic facility construction dates to the times of the Roman empire. At the start of the Christian era, many baths were built throughout the Mediterranean and even the United Kingdom. The facilities built at that time were referred to as "thermae" and were the centers of leisure and recreation, with people of all economic orders using the baths for cleansing, sport and enjoyment. Bathing has passed through many stages of development through the ages. At times, it has been completely prohibited and denounced as a sin; at other times, it has been regarded as a medical necessity—a prerequisite of well-being.
In general, swimming pools in North America have traditionally been characterized as athletic facilities. Typically developed in 25-meter, 25-yard or 50-meter lengths, pools have been governed in design by the prescriptive rules of sport. While innovation is certainly possible in designing these fixed-format competition facilities, these pools generally lack flexibility and serve a relatively small portion of the population. Combining the lack of revenue generated because of low usage with the high operating costs of aquatic facilities has caused some pools to become financial albatrosses that hang around the necks of their owners.
In the 1990s, leisure time is increasing. To serve the growing portion of our society that is demanding leisure activity space rather than formal, programmed activity areas, and to offset the high cost of aquatics facility operation, free-format, free-play leisure centers are being constructed and successfully operated.
It is interesting to note that in one study in Sweden, the average usage of selected leisure centers was 4.2 visits per resident per year, whereas the usage of traditional swimming pools was 2.5 visits per resident per year. This, combined with the fact that the entry charge per person in a leisure pool is normally four to five times higher than that of a traditional pool, clearly shows the economic advantage of leisure pools.
These leisure complexes offer a sense of wonder, enjoyment, excitement, stimulation and sense of discovery that is often lacking in more traditional competitive facilities. Pools where the "contents" matter more than the "container" can become adventure playgrounds for adults as well as children. Designing a leisure complex is often less a science applied to building than a science applied to people.
Unlike facilities for sport, where the attraction is the activity itself, leisure facilities are much more dependent upon physical or facility attraction. How does one attract usage in a leisure complex?
The answer is twofold. First, the facility must be environmentally comfortable. Second, there must be water in motion. Moving water will create the initial appeal, but unless the pool is a comfortable, warm (both physically and philosophically) area, there may not be a second visit.
There are a variety of ways to create moving water in order to stimulate usage. The most expensive, but clearly a very popular feature, is a wave pool. In Europe, where leisure pools have been a fact of life for many years, the appeal of wave pools has been overwhelming.
The objective of a wave machine is to create waves indoors that will break along a shallow "beach." Waves are created by pneumatically or hydraulically powered equipment forcing air through a chamber into the water, creating a rolling or wave motion. Typically, three or four chambers are provided, which will allow for a variety of wave patterns to be formed, such as parallel, angled or diamond patterns.
To be effective, a wave pool should be a minimum of 26 meters (28 yards) in length with a more desirable length being 35 meters (38 yards). For safety reasons, the pool should have an average maximum depth of approximately 1.2 meters (4 feet.) To make the waves break, the pool tank floor must be gently sloping upward toward the zero-level beach. The maximum slope should be about 1:12 with a more preferred, but more space-consuming, slope of 1:20.
To add additional interest along the edge of a wave pool or as a stand-alone feature, it's possible to create a water rapids channel. Normally, people will sit in an inflatable flotation device such as an inner tube and float through the channel. In order to create excitement, the water should move at about 2.5 meters (3 yards) per seconds.
In order to maximize usage potential, it's also possible to incorporate a 25-meter or 25-yard lap swim or competition course into a wave pool facility. Doing this makes it possible to stage swim competitions or, at a minimum, support lap swimming activities.
A very popular attraction at virtually all leisure centers is a water slide. There, users slide down a fiberglass-reinforced, molded trough or tube on a current of water. In general, the higher, longer and steeper the slide, the more attractive the device will be. Certainly, the design should also provide for curves, twists and turns to attract the attention of users. Ideally, a water slide should be about 60 meters (65 yards) in length to give a suitable ride. The slide can run both inside and outside the building to expand length potential and to become an external feature of the building.
If possible, a number of slides should be provided to allow for a variety of experiences. In Europe, where water slides have been in use for many years, major concerns over injuries associated with landing in the water at the end of the slide have arisen. It has been shown that most injuries in a leisure pool area result when water slides drop users in to water at an unsafe angle or into water that's too shallow. Obviously, for small or young users, landing in deep water also presents a safety hazard.
To combat these problems, water slides now usually terminate with an on-deck deceleration or slow-down lane. The user does not actually land in a pool of water, but rather gradually slows at the end of the slide as the slope reduced to a horizontal along the deceleration area. Thus, injury is virtually impossible and people of all ages can safely use the slide.
The attraction of water slides can be seen in an example from Edinburgh, Scotland, at the Royal Commonwealth Pool, which was originally constructed in 1970 to host the Commonwealth Games. In a recent renovation project, three water slides were constructed, all at a length of approximately 40 meters (44 yards). When opened for public use, the water slides attracted more than 35,000 users over a two-day weekend.
Within a leisure pool area, the need for a warm-water swirlpool cannot be overemphasized. This feature element typically becomes the social nucleus of the leisure center. To provide a space that serves their social need, the swirlpool should be designed to allow for conversation between users. In addition, it's useful to have the swirlpool raised out of the deck so that a raised curb is formed, which allows people on the deck to sit and converse with people in the pool.
Experience has shown that building two separate pools is best if it's affordable. This allows programmed activities such as learn-to-swim classes to be staged in one pool, while the other is used for leisure activities. As with other multi-use facilities, an operational dilemma is presented if group of people want to use a facility at the same time. Building separate areas allows this operational compromise to be reduced or eliminated.
Currently in Australia and New Zealand, an interesting "leisurizing" of existing outdoor 50-meter pools is now occurring. In those countries, many people are becoming aware of the increasingly harmful effects of the sun's rays. Many municipalities are now enclosing outdoor 50-meter pools built during the 1960s, reducing the pool to 25 meters in length and converting the remainder to a leisure pool. Western Australia, with its Southern California-type climate, is leading the way in this regard.
Although it has not happened extensively in the past, there is now interest being shown by colleges and universities in providing not only competitive-format aquatic areas, but also leisure spaces. As operating dollars for educational institutions become scarcer, many schools are looking for increased public usage and perhaps increased public awareness. Constructing leisure areas in addition to competition facilities allows the facility to be used by students who cannot swim or who merely want an area to socialize or relax.
In terms of operating costs, the differences can be quite dramatic. Traditional competitive pools often operate at between 35 to 50 percent return, whereas leisure pools can operate at between 75 and 90 percent return.
In North America, the leisure pool phenomenon is most profoundly felt in Canada. Because of the harsh climate, many communities have seen the advantage of building leisure-based facilities. Doing so creates a year-round resource that will serve not only the 5 percent of the population involved in competitive swimming, but all ages, including those interested in fitness, recreation and socializing.
While it is common to see leisure pools being developed, it is also typical to renovate or retrofit existing facilities to include leisure elements. With an investment of $500,000 to $1 million, it's possible to create a leisure facility that will see operational returns jump from 35 to 75 or 85 percent. Most of these renovation projects do not involve the creation of a wave pool, but consist of providing other water devices, such as slides, water cannons, a tots' pool, water mushrooms or bubble machines.
The development of leisure facilities is a recent but powerful force. The United States has yet to feel the impact of the leisure pool revolution—but brace yourself, because leisurization is on its way.