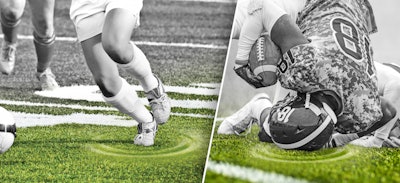 This sponsored content was provided by Brock. What is sponsored content?
The NFL ran a series of short commercials this past season highlighting advancements in technology, treatment and training techniques in football. The "Future of Football" campaign acknowledged that shock pads play a crucial role in reducing risks of concussions and other injuries for athletes playing on artificial turf fields, but they were mistaken by using the future tense. Shock pads have been protecting athletes for over a decade and recently have become a key element in the majority of new-build field specifications, according to historical bid data.
Shock pad adoption has steadily grown as research continues to shed light on the correlation between sports turf and concussions. One in five concussions occur from the head hitting the playing surface, stated a report by the Concussion Legacy Foundation. A study done for the NFL in 2015 found the playing surface was the primary cause of concussions in 24 percent of the cases from that season. Of course, shock pads only affect injury rates on artificial turf and concussions still occur on natural grass, so why would the NFL get behind shock pads? The answer lies in a study published in the Journal of the American Academy of Orthopaedic Surgeons that found injury rates are higher on third-generation artificial turf fields (turf-over-stone, rubber/sand infill) versus natural grass fields.
The issue was brought up recently by DeMaurice Smith, executive director of the NFL Players Association, "There is a statistical significant difference between injuries that occur on grass and injuries that occur on artificial turf," Smith said. "And nobody's talking about that. I mean, we've said that now for almost two years!"
The NFL Playing Surfaces Opinion Survey found players overwhelming prefer natural grass over artificial turf. One of the most reoccurring comments was, "Artificial turf is much harder on the body with joint soreness and makes for tougher work." This demand for artificial turf fields to closely mimic natural grass is the driving force behind shock pad advancements, according to Dan Sawyer, CEO of Brock USA, America's leading manufacturer of shock pad systems.
In order to create comparative data analyses, the University of Tennessee Turfgrass Science Department studied the performance metrics of pristine natural grass. These benchmarks have become the goal for artificial turf system designers and provide the data necessary to conduct side-by-side comparisons.
Three tests are used characterize the performance and safety data for sports fields correlating to three primary impact regions of the body: Head = Head Injury Criterion (HIC), Body = G-Max, and Feet = Vertical Deformation.
HIC is the internationally recognized test standard to estimate the risk and severity of potential head injuries. The test drops a 10-pound hemispherical weight (mimicking the human head) from increasing heights to determine Critical Fall Height (CFH). This test is used for playgrounds, automotive crashes, wall padding, pole vault and the World Rugby standard for artificial turf. The higher the CFH, the more protective the surface is for head injuries.
The American Society for Testing and Materials (ASTM) is scheduled to vote on a new test standard within the United States that will include the already adopted HIC method. Many are calling for the standard to meet the World Rugby Critical Fall Height of 1.3 meters, while others are lobbying for a standard near or below one meter in order for their current turf systems to meet the requirement without installing a shock pad. The question at the heart of the issue is, "how high should a person or child be able to fall without risking a critical head injury?" The simple response: The higher the better.
The chart below shows a two-inch turf system utilizing the leading shock pad on market (Brock PowerBase/ YSR) versus a two-and-a-half-inch turf over stone with sand/rubber infill. Even with a shorter turf, the system with the shock pad outperforms the thicker system over stone.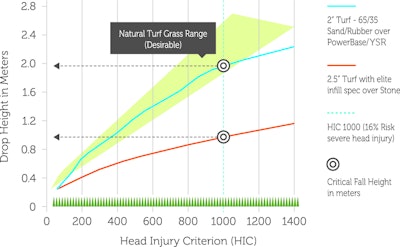 Adopting a HIC standard is a much needed advancement of the current field safety testing protocol that relies solely on the G-Max Test; a testing standard established in the 1970s. The G-Max is a repeatable, predictable test that can be used to generically compare surface hardness between natural and artificial playing surfaces, but it does not correlate to head injury. It drops a 20-pound flat missile from 24 inches. G-Max is a useful measurement when used with the HIC test, but as a stand-alone test, it fails to adequately measure field safety.
The final test, Vertical Deformation, reports how a field feels under foot. It measures the vertical compression under a running impact to determine surface firmness during play. A quality natural sports turf field produces the "sweet spot" of an optimal narrow range for surface firmness while at the same time having low G-Max and high Critical Fall Height.
These three tests combined can provide an understanding of a field's safety and performance, while also comparing the metrics directly to a pristine natural grass playing surface. The NFL's "Future of Football" campaign brought attention to the current trends in artificial turf and their endorsement of shock pads could prove to be a driving force for full industry adoption in the years to come.
Josh Palubicki serves as the Chief Media Officer for Brock USA – America's leading manufacturer of shock pads for artificial turf fields. For more information, visit www.BrockUSA.com.