AB readers always come back to us for what we in the media business call evergreen content — things that will remain relevant and useful for years. For example, did you know that one of the most widely read items of all time has to do with cleaning and sanitizing fitness equipment?
Still, our commitment to keeping our readers informed with news from across our industries goes beyond those kinds of nitty gritty details. In our email newsletter AB Today, we share content from our award-winning print publication, and cover quick-hitting industry stories — not just for their news value, but for the lessons they might provide to our readers. It's our hope that you can extract value from these stories, and apply what you learn to your own work.
So, which stories most captivated our audience in 2018? We compiled the most-read items of the year, including both print and web-only stories.
Thanks for reading on athleticbusiness.com in 2018. In the New Year, we hope you'll continue to count on us as a resource.
#10: Two Nebraska Football Players Hospitalized with Rhabdo
Shortly after taking the head coaching job at his alma mater, Nebraska's Scott Frost had to take responsibility for an intense workout that landed two Cornhusker football players in the hospital. The hospitalizations were precautionary, but rhabdo is serious. Read more about the condition and the incident in our tenth-most-read story from 2018.
#9: Basketball Team Attacks Ref in Amateur Tournament
Officiating can be a thankless job, that all-too-often puts officials at risk of physical harm. That was the unfortunate situation that unfolded at an amateur basketball tournament where a frustrated player took a swing at a referee, with the incident quickly devolving into a brawl.
Here is another clip I received! Unbelievable!!!! @aau_bingo pic.twitter.com/tNxcaBsYNE

— Doug Jones (@djones8301) July 8, 2018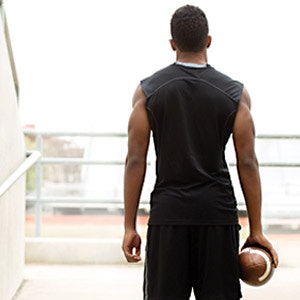 #8: Focusing on Student-Athletes' Mental Health
Colleges invest heavily in ensuring that their student-athletes remain physically healthy, or rehab quickly when they're not. But these days, it's increasingly important for athletic departments to provide their student-athletes with tools to manage their mental health, as well. This article from our April issue details why focusing on student-athlete mental health is more important than ever.
#7: Inside the Modern High School Weight Room
It's not just the pros and big-time collegiate programs that are going all-in on weight rooms. High schools across the country are giving their weight training facilities a lift as well. Our May cover story dives into the trend, exploring five ways high school weight rooms are raising the bar.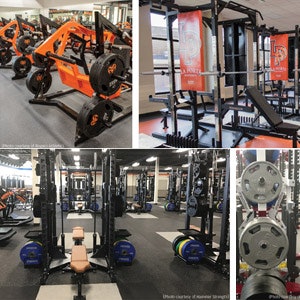 #6: How to Stop Sexual Abuse in Sports
High-profile cases like the one involving former Michigan State and USA Gymnastics team doctor Larry Nassar have forced sexual abuse in sports into the spotlight — but these issues have been simmering for years. In this column from our January/February issue, former Olympian Nancy Hogshead-Makar details why these problems keep recurring, and suggests solutions for putting an end to them.
#5: SDSU Headed to Kansas Despite Travel Ban
The worlds of politics and sports have always been intertwined, but in 2018 this nexis made a number of headlines. In this story from March, there was some question as to whether California would allow state-funded travel to a number of other states based on certain policies California deemed discriminatory. In the end, San Diego State made its way to Kansas to participate in the NCAA men's basketball tournament.
#4: Racist Boy's Basketball Jerseys Draw NAACP's Ire
Athletes of all stripes, even those competing in recreational leagues, need to be wary of the messages they put forth — perhaps especially when they're wearing them. An Ohio basketball team of prep-aged players learned that lesson the hard way in 2018. The team, who called themselves "The Wet Dream Team," wore jerseys bearing racially offensive language on the back. The game the jerseys were worn in was called, and after the NAACP got involved, the team was banned from the league.
#3: LSU Coach Punched Following Seven-OT Loss
Breaking at the end of the college football season, this story generated pageviews in part because of the epic game that preceded the scuffle. The on-field incident seemed to pop up out of nowhere, but ultimately cooler heads prevailed. Our story includes tweets with photos and video of the incident.
POSTGAME | #LSU director of player personnel Kevin Faulk and an unknown man with what appears to be an #Aggie bench credential throw punches on the field after @AggieFootball defeated @LSUfootball in 7-OT @theadvocatebr pic.twitter.com/H7EvCNmoIv

— Hilary Scheinuk (@hscheinukphoto) November 25, 2018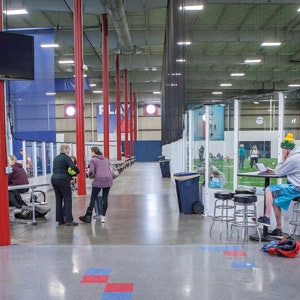 #2: How to Program Every Inch of Your Indoor Sports Complex
In our first issue of 2018, we took you inside the KEVA Sports Center in Middleton, Wis. Operators of the 100,000-square-foot facility — which features indoor soccer fields, basketball courts, volleyball courts, meeting rooms, party space, concessions, locker rooms, outdoor sports fields and sand volleyball courts — work hard to ensure the facility is in use. Through local partnerships and programing for everyone from those in strollers to the over-50 crowd, the facility makes sure that not an inch of space goes to waste.
#1: Does Absence of Athletic Trainers Constitute Negligence?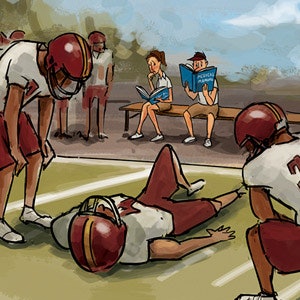 We dedicated the Legal Action column in our July/August 2018 issue to the case of Feleccia v. Lackawanna College, 156 A. 3d 1200 – Pa: Superior Court 2017, in which two football players injured during practice sued their school. The school had players sign injury waivers, but failed to provide certified athletic trainers during the practice in question. The case hinged on whether failure to meet industry standards for student-athlete care constitutes a level of negligence that leaves a school liable for injuries, even if it has signed waivers in its possession.