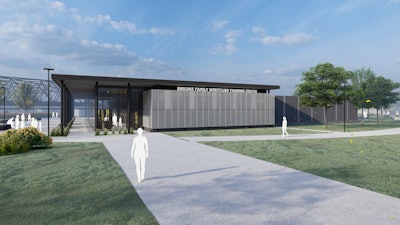 Courtesy of the University of Iowa/Hawkeye Sports
The University of Iowa's new home for wrestling has been named.
The Board of Regents approved the naming of the wrestling training center at its meeting on Nov. 9, 2022. The new world-class wrestling training facility is named in honor of Doug and Ann Goschke, who provided a $7 million gift commitment to the Carver Circle campaign.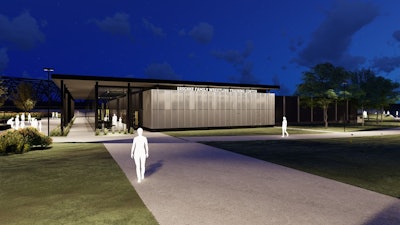 Construction of the proposed Goschke Family Wrestling Training Center began in June and is being built adjacent to Carver-Hawkeye Arena, the home of Iowa wrestling for almost 40 years.
The next phase of the Carver Circle campaign is closing in on raising $31 million for a new 38,500-square-foot training facility for Iowa's men's and women's wrestling squads.
"Our vision was to build the best training facility in college wrestling," UI head coach Tom Brands said. "As Doug and Ann Goschke's relationship with Iowa athletics grew—and they started to understand our vision—they were 100% on board. They recognized why this project was a must for our program and were eager to get behind it. The Goschkes have helped us reach the finish line. They are great Hawks, and we are proud to have their name on this facility."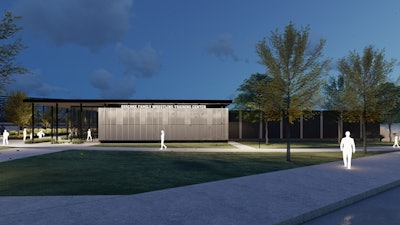 The proposed Goschke Family Wrestling Training Center will be equipped with a 13,000-square-foot wrestling room, a strength training area, team locker rooms and athletic training facilities. The facility also will include staff offices, a student-athlete lounge, recruiting meeting rooms, and a street-level hall of champions dedicated to the success of Iowa wrestlers of past, present, and future.
The new wrestling room will double the amount of training space and will allow Iowa's collegiate wrestlers and members of the Hawkeye Wrestling Club to train at the highest level. That space will be named in honor of Bob Nicolls and Kathy Nicolls of Franktown, Colo. — UIowa.edu
---
The University of St. Thomas on Tuesday announced the $75 million lead naming gift from Lee and Penny Anderson of Naples, Fla. — two long-standing benefactors of Minnesota's largest private university — to construct a multi-use, on-campus arena in St. Paul that will be home to its Division I men's and women's hockey and basketball programs. The donation is one of the 10 largest known collegiate athletics gifts ever received nationally.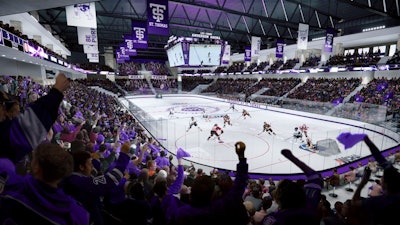 Designs are still being finalized for the Lee and Penny Anderson Arena, but the historic gift officially kicks off fundraising to raise $131 million for the venue on the university's south campus.
Project costs are estimated to be $175 million.
Partnering with design-build specialists Ryan Companies US Inc. and Crawford Architects, St. Thomas aims to break ground on the new facility in 2024, with a target opening of fall 2025.
Aside from hockey and basketball games and hosting special events, the arena is being envisioned as the new home for St. Thomas commencement ceremonies, academic convocations, speakers, career fairs and other events for the university and broader community.
The arena will also provide potential opportunities for St. Thomas to partner with local schools, youth sports organizations, nonprofits, businesses and other organizations.
"This is about more than just hockey and basketball games – this is a gift that will be transformative for our entire St. Paul campus, enhance the experience of our students, and raise visibility for the university as a whole," said St. Thomas president Rob Vischer. "It also creates a new community and economic asset for the Twin Cities, the state of Minnesota, and the region." — Stthomas.edu
---
Madonna University in Livonia, Mich., announced the construction of a 5,000-seat athletic complex after approval by the Vatican in Rome, Italy. The stadium (in partnership with Gold Star Detroit FC Soccer) will host Gold Star Detroit FC, Madonna athletic events and top entertainment events including concerts.
Madonna University President Ian Day noted that the construction project comes at no cost to the university.
The stadium is set to open in the fall of 2023 and will be located where the former Ladywood High School soccer field existed. Along with athletic events it will also be used for university events and ceremonies.
Stadium naming rights and corporate sponsorship opportunities will be handled by Gemini Sports. Gemini Sports has worked in this capacity for some of the world's top venues, including Oracle Arena in Oakland, Honda Center in Anaheim, CA., and Estadio Omnilife in Zapopan, Mexico. — Madonna University