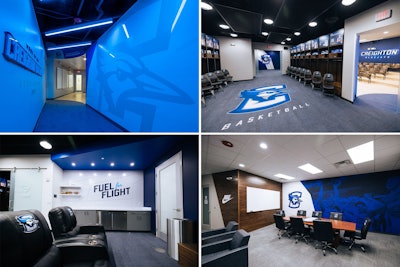 The Athletic Branding Co.
Creighton University in Omaha, Neb., recently completed a renovation of its men's basketball locker room inside the CHI Health Center.
Revitalizing one of the largest locker room footprints in NCAA men's basketball with a grand entrance, modern finishes, new branding, and a better open flow for players, coaches and guests of the program.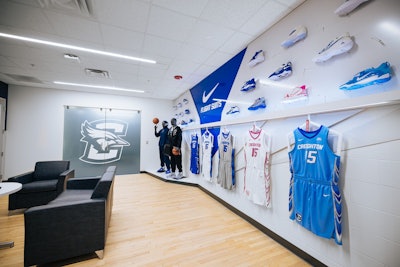 Renovations included new high-impact entrances, the opening up of ceilings and walls, new paint and flooring, all complementing the new branded graphics and displays in the arena corridor, interior hallway, athletic training area, team meeting room, locker room, and player, staff and guest lounges.
The project was designed and managed by The Athletic Branding Co., with help from MCL Construction (GC) and Renze Display (graphics production and installation). — The Athletic Branding Co.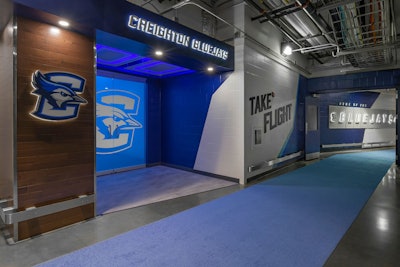 ---
A major milestone in the construction of the O'Loughlin Family Champions Center took place on Jan. 23, with the placement of the final steel beam on the primary structure.
Members of the University community were on hand for the event. Speaking at the Topping Out Ceremony were SLU Director of Athletics Chris May, University Trustee Bob O'Loughlin, and University President Dr. Fred Pestello.
The 25,000-square-foot O'Loughlin Family Champions Center is being constructed on the northwest corner of the Chaifetz Arena footprint. The best-in-class facility will impact all 400+ Billiken student-athletes, delivering programming related to academic advising, spiritual development, sports performance, nutrition, wellness, and sports psychology.
Construction of the O'Loughlin Family Champions Center is expected to be completed in October 2023. — Billikens
---
Sacred Heart University's new 122,580-square foot Martire Family Arena has the standard amenities like a training room, gym and locker room, but in that training room is an underwater treadmill, and with that locker room comes a stocked kitchen.
For the fans, the arena comes with not one, but two bars, bookending a row of luxury boxes.
The $75 million arena — which seats roughy 4,000 — was financed in part by private donations, took about two years to complete, finally giving both the men's and women's ice hockey programs a home on campus.
The rink will see its first game action this weekend when the men host Boston College, followed by the women hosting Harvard on Sunday.
Leaders anticipate that the facility will extend beyond just the Pioneers, from hosting Connecticut Interscholastic Athletic Conference games to teams on the greater Connecticut hockey circuit. — WVIT-TV NBC Connecticut