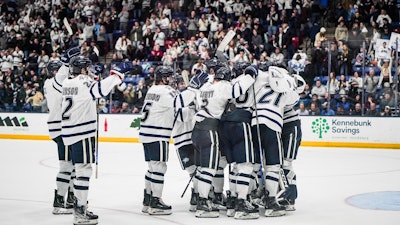 Jess Speechley via UNH Athletics
A $450,000 new sound system is planned to upgrade the Whittemore Center Arena in Durham, N.H., in a project this spring.
The Whittemore Center Arena, also called The Whitt— a multipurpose arena on the campus of the University of New Hampshire — was originally set to get a state-of-the-art sound system as part of a $6.3 million renovation at the arena last spring. However, supply chain issues delayed the sound system portion of the project, according to University of New Hampshire athletic department.
Allison Rich, UNH's director of athletics, said the request for a better sound system came from Wildcats fans, who reported volume issues with The Whitt's PA announcements and music at men's and women's hockey games.
"While it took longer than we would have liked, we are delighted to let our fans know they will be hearing our music, PA announcer and all videoboard content crystal clear and at a suitable volume in time for next season and beyond," Rich said.
In a news release Wednesday, the UNH Wildcats said that last year's renovation project added modernized ice-making equipment and reconfigured the playing surface with improved boards and glass.
The existing main arena audio system will be replaced with a total of 18 Fulcrum, full-range coaxial loudspeakers. The loudspeakers will deliver clear, controlled, powerful full-range audio.
The system will also include new wireless microphones and production communication systems. Careful considerations were also made for the broadcast side that will integrate the needs of UNH Wildcat productions, the university said. Loudspeakers will also be installed in each of the luxury boxes along with a new distributed audio system in the Skybox Lounge.
PC Construction will manage the installation performed by CAVT Solutions LLC. The audio project is scheduled to begin in April. The sound system ties into the life safety arena evacuation system and was funded as part of the overall ice making equipment replacement through the university's deferred maintenance allocation, according to the release.