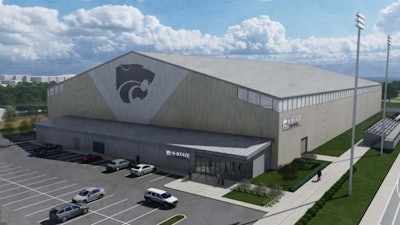 Courtesy of K-State Athletics
Kansas State University announced last week that construction has begun in Manhattan, Kan., on a new indoor track and field complex as the athletics department will transition the original football indoor building into a new facility for track and field.
"When we announced our facilities master plan back in 2018, we anticipated transitioning the football indoor into a new track and field venue, and we feel like when it is completed, it will be a tremendous home for both training and competition," athletics director Gene Taylor said. "I know our coaching staff and student-athletes will benefit greatly from this enhancement, and we look forward to hosting more meets in the future."
Progress began several weeks ago on phase one of the project with the removal of the football turf playing field and will continue through the summer with upgraded lighting, paint and HVAC.
Wildcat athletes are expected to begin training in the new facility in December. The department will fund the project, which will cost approximately $12 million, through private gifts and department dollars.
The department has partnered with Mondo to provide the new indoor track surface in the facility. The new 200-meter, 6-lane oval, permanent banked track will feature Mondo's Super X 720 surface, which provides the optimal blend of energy return, comfort, safety and durability for everything from daily training to the toughest competitions.
An eight-lane sprint straightaway, a pole vault lane, two long jump/triple jump lanes, throw areas, a four-lane warm-up straightaway and non-competition areas around the track also will be Mondo's Super X 720 surface. The competition surfaces, as well as the warm-up lanes, will be in a shade of purple Mondo custom created for the program.
Phase two of the project will include a new exterior facade on the north end of the building as well as new locker rooms, team rooms and training rooms. A timetable for completion of phase two has yet to be finalized. — K-State Athletics
---
Work is complete on an athletic center at Terra Linda High School in San Rafael, Calif., that will also double as a community refuge in an emergency.
The $27 million competition-size gymnasium has been in preliminary use since the beginning of the year. An official grand opening was held in April.
Unlike the school's former outdated and deteriorating athletic center, the new 22,000-square-foot gym complex can host league sporting events. It is also big enough to accommodate the entire 1,300 high school student population for assemblies and other gatherings, said Katy Dunlap, school principal.
"Student-athletes now have two full-size gyms on campus to utilize for practices and games," Dunlap said. "This provides much greater flexibility — we can run two sporting events simultaneously, thus allowing students to finish at an earlier hour."
The facility, financed with voter-approved Measure B bond funds, offers a gymnasium that is a regulation-size competition venue for basketball, volleyball and other athletic teams.
The complex includes three team rooms, a weight and cardio conditioning room, an athletic training center, office space, conference rooms and enhanced parking.
The gym meets regulations set up by the California Interscholastic Federation to qualify to host athletic events and league games. It is also designed as a safety refuge for the community in the event of emergencies, Hogeboom said.
Rebecca Ellecamp, a spokesperson for project architect Quattrocchi Kwok Architects, said the facility meets state standards for resource conservation, renewable energy and sustainability set up by the nonprofit Collaboration for High Performance Schools. — Marin Independent Journal
---
A $12 million athletic facility was proposed for Hillcrest High School in Evergreen, according to a release from Conecuh County Schools.
Plans for improvements include the football field, baseball field, training facility, track and field facility, tennis court and softball field.
Phase 1 will include improvements to four of the facilities and is estimated to cost $7 million.
"The goal is to build an unified and connected athletic village unrivaled in high school sports," reads the release. "Student athletic facilities are long overdue. With Hillcrest High School's history of wins and titles, for us to continue to achieve championship results, now is the time to honor those accomplishments by pushing forward and providing adequate facilities."
Baseball field
Next to the Workforce Development Center
Upgraded facility to be build on the site of the current softball field
Training facility
Student-athlete development
Strength and conditioning programs
Locker room and offices
Proposed site is at the football stadium
Track & Field facility
Proposed site is across from the tennis courts
Improvement will include all track and field sports
Tennis court
Three courts proposed to center other facilities on Jaguar Drive
Softball field
Proposed site is at the entrance of Jaguar Drive
To fund the project, $6 million will come from federal and state funds, while the other $6 million is "undetermined at this time," according to the release. — WKRG-TV
---
Take a look through and share these recent Facility Friday highlights: