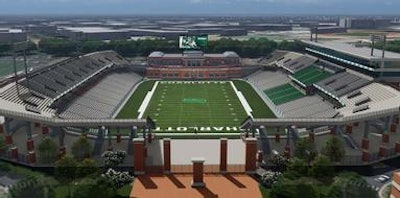 UNC Charlotte Athletics
The University of North Carolina at Charlotte board of trustees recently approved $750,000 for advance planning, an initial step toward expanding the football team's stadium.
Advance planning includes exploring renovation design options and developing a project timeline. It will also help establish projected expenses.
The 49ers' stadium expansion should take two-and-a-half to three years once funding is in place. Funding will come from corporate and donor giving. It will cost around $56 million to increase stadium seating from more than 15,000 to more than 21,000. The expansion will include a tower to house the press box, suites, game operations and event space.
Charlotte will enter the American Athletic Conference this fall with the smallest stadium in the Football Bowl Subdivision — or FBS, which also includes schools like Michigan, whose stadium is known as The Big House and seats more than 100,000. Plus, new conference rival East Carolina's stadium seats 50,000.
Charlotte's Jerry Richardson Stadium, however, seats 15,314.
The stadium name will remain in honor of late Carolina Panthers founder Jerry Richardson, who donated $10 million for its original construction. — Axios Charlotte
---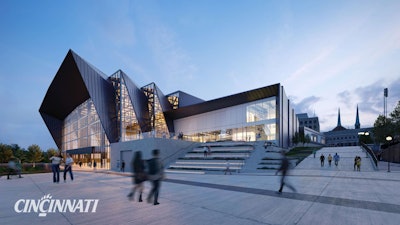 The University of Cincinnati Athletics Department and the UC Foundation held an on-campus groundbreaking ceremony for the game-changing, multimillion-dollar Indoor Practice Facility and Performance Center project this week.
Larry and Rhonda Sheakley's transformational gift spearheaded the project and marked the largest single gift in UC Athletics history.
The new state-of-the art facilities will elevate the Cincinnati student-athlete experience, giving Bearcats an unrivaled advantage on the playing field and on the recruiting trail.
The 84,000-square-foot Indoor Practice Facility will feature a 120-yard football field that will give Cincinnati's perennial championship-contending football program a year-round, permanent, all-weather home. The facility will also be used by other UC programs. It is being built on the site of the current Sheakley Athletic Center at Corry Boulevard and Jefferson Avenue.
The Indoor Practice Facility is scheduled to be completed in time for the 2024 football season.
The 96,000-square-foot performance center will include offices for the football program, and feature performance nutrition stations, a dining hall, sports performance weight room, athletic training room and mental health services. The performance center will be constructed next to the indoor practice facility. It is scheduled to open prior to the 2025 football season. — University of Cincinnati Athletics
---
The Greater Lowell Technical High School Tyngsborough, Mass., broke ground this week on a new $3.4 million athletic complex, which will be fully accessible and ADA compliant.
The new Gryphon Complex will include a 1,000-seat grandstand built around a multipurpose turf field with a subsurface infiltration system and an eight-lane, 400-meter running track.
A new press box and sound system will also be constructed. Most importantly the new sports complex will be fully ADA-compliant and accessible to all spectators and fans with a new handicapped parking area near the entrance. \
The complex is expected to be complete and open by November, in time for the Gryphons' Thanksgiving Day football game. — John Guilfoil Public Relations
---
Take a look through and share these recent Facility Friday highlights: