In Decorah, Iowa, the Robert and Ann Naslund Sports and Recreation Center has recently undergone a $1.2 million renovation, and a dedication ceremony was held at the revitalized Luther College facility in late April.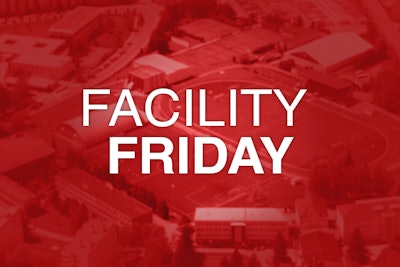 The improvements to the 45,000-square-foot facility include new floor surfacing that combines performance and safety, replacement of the multipurpose netting system to maximize space utilization and installation of a videoboard to enhance the student and spectator experience.
Along with the renovation project comes the commemorative naming of spaces to honor Luther coaches who have made a lifetime of impact on their student-athletes. These former coaches include Bob Naslund, Su Oertel, Rich Leake, and Kirk Neubauer. — Luther College
---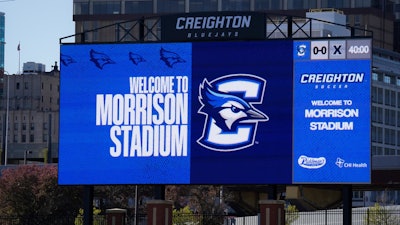 In April, work was completed at Creighton University in Omaha, Neb., on a new digital videoboard in the south end zone of Michael G. Morrison, S.J., Stadium. The digital space is more than 500 percent larger than the previous board in the stadium, which opened in 2003, and one of the three largest in the country for a soccer-specific college facility.
The new board is entirely digital and stands 24 feet tall and 56.4 feet wide (compared to the previous version that was approximately 20 by 40 feet). Made by Daktronics out of Brookings, S.D., it was installed locally by American Lift and Sign and Miller Electric.
The board will support Creighton's men's and women's soccer programs as well as university and other external events.
The videoboard made its public debut in mid-April at the annual Kicks for a Cure event.
Adjacent to Morrison Stadium, D.J. Sokol Arena also completed an LED sports lighting project in April as Ephesus Lumadapt 8 lights were supplied by Echo Supply Omaha and installed by Miller Electric.
The lighting system will allow for the ability to adjust the lights to change the color temperatures for an athletic event, compared to a non-sporting event such as a graduation or special event. The lighting system will also save money on energy costs.
"The new lighting system gives us the ability to go from light to dark in the matter of a second and have color changing lights for intros, timeouts and post-game celebrations," assistant athletic director Brandon McCarville said. "Our fans and student-athletes will enjoy these new lighting improvements as they will undoubtedly add to the overall experience at D.J. Sokol Arena." — Creighton University
---
A high school in Newport, Ky., has announced its football stadium is in the first phase of a $3 million renovation project after failing a building inspection in 2022.
Phase one of the project began in early May as crews started to demolish the bleachers at Newport High School's 86-year-old stadium.
"After the demolition has been completed, we will begin the site preparation for the installation of the new 1,500-seat bleachers," the district's director of facilities and transportation Dennis Maines said. "Our goal for completion is generally late September or early October. Our first home game is scheduled for Sept. 22, and we are hoping we are advanced in our project timeline to keep that as a home game."
Last season, the Newport Wildcats played their games away and practiced at Holmes High School due to the stadium's notwithstanding condition.
Once phase one is complete, the next step is building locker rooms, restrooms, a concession stand and new field lighting. The school district says they plan to seek private donations through fundraising efforts.
Phase two dates have not been announced yet, but demolition is expected to last four to six weeks, Maines said. — WXIX-TV
---
Take a look through and share these recent Facility Friday highlights: