Check out these products as seen in the October 2021 issue.
Matrix Fitness
Designed for training efficiency, the Magnum PRO Configurable Rack from Matrix provides a customizable solution that meets the demands of today's strength coaches, athletes and trainers. It comes with adjustable safety arms, J-hooks, a chin bar and four-post plate storage, and can offer even more training versatility with additional attachments. It can be combined with a PRO Rack to create a combo rack that includes extra storage shelves and weight horns. The rack is available at heights of 7 and 8 feet.
www.matrixfitness.com
info@matrixfitness.com
(866) 693-4863
---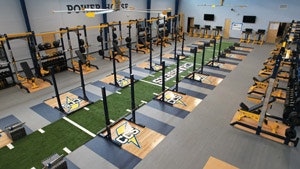 Mondo
The MondoLIFT PRO Platform System combines a prefinished hardwood insert that has antimicrobial technology with drop zones made from MONDO's nonporous vulcanized rubber. Dampening foam technology in the crash zone subfloor reduces sound and weight rebounds, providing athletes with a safe, hygienic lifting option. This completely customizable platform allows users to create the best strength-and-conditioning space to fit any facility's needs. Single platforms can be joined together with the system's interlocking panel inserts to create multiple lifting stations. Endless design options enable customizable platforms. Coordinate hardwood and graphic decal designs with available Mondo rubber surfacing colors.
www.mondoworldwide.com
mondo@mondousa.com
(800) 361-3747
---
RELATED: How Weight Room Flooring Impacts Facilities, Users
---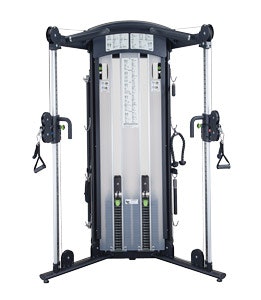 SportsArt
The DS972 dual stack functional trainer, part of the SportsArt Selectorized line, is designed with durability, performance and flexibility in mind. This machine offers low-maintenance reliability while delivering an effective workout experience. The dual weight stack design not only enables a single user to improve balance, but also accommodates two users at one time. An adjustable pulley ratio provides quick changeover of the effective weight for efficient workouts. The height of adjustable pulleys makes it easy for a wide range of users to set the appropriate height to meet their exercise needs.
www.gosportsart.com/product/ds972-functional-trainer
ab@gosportsart.com
(800) 709-1400
---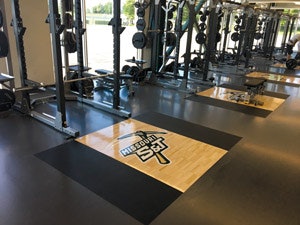 Robbins Sports Surfaces
Pulastic® seamless synthetic multipurpose and specialty sports floor systems are a durable and versatile solution manufactured to meet stringent environmental, quality and safety standards. Pulastic high-performance floors offer comfort and safety with the ultimate in shock absorption, seamless uniformity and optimal friction. Pulastic is perfect for competition as well as fitness and childcare facilities. It provides superior strength by maintaining its performance under everyday use of cardio equipment and free weights.
www.robbinsfloor.com
info@robbinsfloor.com
(800) 543-1913
---
RELATED: Find more solutions for your facility in the Buyers Guide
---
Aqua Creek Products LLC
The ProTone™ fitness machine provides 16 predefined exercises to improve the strength, endurance and overall health of people with disabilities. Additional exercises are only limited by the user's imagination and capabilities. Unique controls allow adjustment of the machine without the need for gripping, allowing users to make necessary adjustments without assistance from others.
www.aquacreekproducts.com
sales@aquacreek.com
(888) 687-3552
---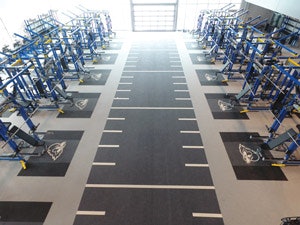 Abacus Sports Installations
Abacus partnered with suppliers to create the first inlaid platforms in weight rooms over a decade ago. This workout platform has been expertly redesigned and improved, offering the ultimate workout area while protecting any facility. Abacus is a leader in multipurpose surfacing — serving gyms, weight rooms and locker rooms. The company has the surface to help athletes play their best and the designs to help their trainers get them there.
www.abacussports.com
install@abacusports.com
(800) 821-4557
---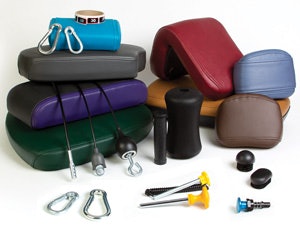 Full Circle Padding Inc.
Full Circle Padding has provided replacement pads, cables, parts and accessories for the fitness industry since 1985. FullCirclePadding.com offers search capability and thousands of pictures to identify equipment and find the right part. The made-to-order high-quality replacement pads, cables and parts can be purchased for up to 60 percent off original equipment manufacturer prices. Promo code AB21 gives customers 5 percent off their first online order.
www.FullCirclePadding.com
info@FullCirclePadding.com
(800) 875-7780
---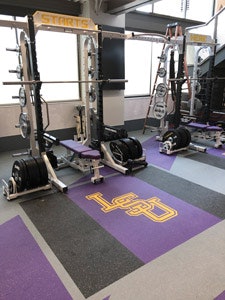 SportFloor by North West Rubber
ReAction Elite is designed to provide safety, comfort and durability. With a high-density wear layer composed of vulcanized virgin rubber installed over a cushion and base pad, this multilayer system is the ultimate solution for shock absorption, sound reduction, support and traction during strength-and-conditioning training. The base layer is available in two densities to accommodate high-impact, low-energy-return activities, or to lower the fatigue factor for plyometric activities such as box jumping.
www.northwestrubber.com/sportfloor/
sales@northwestrubber.com
(800) 663-8724
---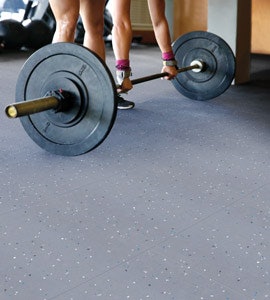 Protect-All Flooring
Protect-All Designer Series® flooring withstands the abuse of heavy use without showing wear. It's safe, slip-resistant surface is also resistant to microbes, chemicals, odors and fire. Made from over 90 percent recycled material, the series features a solid base color with varying accent colors. The flooring, which is available in four patterns, can withstand high-traffic areas while enhancing facility design.
www.protect-allflooring.com
CSR@protect-allflooring.com
(800) 544-9538
---
These products originally appeared in the October 2021 issue of Athletic Business, a free magazine for professionals in the athletic, fitness and recreation industry. Click here to subscribe.