The Medical Fitness Association's Fitness Center Certification isn't just for hospital wellness centers.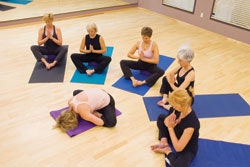 As one of five major organizations behind the American College of Sports Medicine's national third-party health club certification effort (see "Standard Time"), the Medical Fitness Association has been kept busy through standards document revisions, the public comment process and the like. All the while this was happening, though, the MFA's parallel effort - to certify what it calls "medically integrated health and fitness centers" - quietly made strides in its first full year, resulting in its current list of 10 approved fitness centers.
To qualify, facilities must have been in operation for a minimum of one year and meet a set of standards that the MFA published in 2009. Among the requirements are that fitness centers employ a medical director, have an active medical advisory board that meets at least quarterly, have in place written policies and procedures including safety and emergency response procedures, offer individualized screening, and run both disease management and prevention programs, as well as health-risk reduction and therapeutic lifestyle programs.
"Certain things are no-brainers," says Cary Wing, the MFA's executive director. "If they don't have a medical director and medical board, they shouldn't fill out the application. If they don't have a certain number of AEDs, they shouldn't fill out the application. They need to go back to the drawing board, put these things in place, and then we'd love to have them apply."
They also have to be able to demonstrate "a tie to some kind of healthcare system," Wing notes, but don't assume that a medically integrated health and fitness center is the same thing as a hospital wellness center. In fact, three of the first 10 MFA-certified centers are for-profit health clubs.
"We've created a medical fitness model that doesn't necessarily have to be owned by a hospital," Wing says. "A commercial fitness center - I hate that term - can fit the model. It's not necessarily just hospitals anymore."
Wing's disdain for the "commercial" label makes perfect sense in a corner of the industry in which hospitals can be either for-profit or nonprofit, and in which fitness facilities of all types - health club, YMCA, municipal recreation center and hospital wellness center - boast partnerships with healthcare systems. One of the for-profit clubs to gain MFA certification this year, the Dedham (Mass.) Health and Athletic Complex, has had such partnerships in place for more than 15 years; the club's current affiliations with New England Baptist Hospital, Beth Israel Deaconess Hospital and the Joslin Clinic (a leader in diabetes care) bring in 48,000 physical therapy visits a year. Another for-profit facility (and the first facility overall) to gain MFA certification, Roseville (Calif.) Health & Wellness Center, depends on medical referrals for roughly 70 percent of its business, according to Lisa Marrero, RHWC's club manager.
Wing describes the association as "inclusive," and its "big tent"-style certification program aptly demonstrates this. Yet, MFA's description of the program when it launched attempted the tricky business of drawing a distinction between medical fitness facilities and "traditional health and fitness centers," with the former offering "more than just exercise programming; its goal is the prevention and treatment of disease using a variety of strategies including nutrition, mental health, social interaction, safety and the spiritual aspects of health, through programming for all ages and stages of life." Reading this, many operators of health clubs, YMCAs and other fitness facilities would certainly experience a twinge of recognition.
"We don't look at whether something is for-profit or nonprofit or whatever," Wing says. "All hospitals are different - you've got fitness centers that are a for-profit arm of a nonprofit hospital. The tax status of a fitness center shouldn't be how you define it. It's the programs and services that are offered, and the standard of care it provides."
Although any fitness center operator can request an application - about 200 have, Wing says - the certification can't be won by just anybody. "It's a very stringent certification, and not a lot of fitness centers could pass it," Marrero says. Roseville was in a particularly strong position because it was conceived initially in 2000 as a medically based center; its president, Jeff DeRaps, in 1994 founded the Sacramento Spine & Physical Therapy clinic that resides under the same roof. "The medical director and board were in place pretty much from the beginning," Marrero continues. "Physicians and physical therapists own this club. We have the clientele that is just here for fitness, we have a big corporate market, but for the most part it's medically based."
As with the other for-profit MFA-certified clubs, Roseville owes much of its success to its symbiotic relationship with nearby healthcare providers including both local hospitals, with Sacramento Spine & Physical Therapy and RHWC together helping draw referrals. An important aspect of the club's courting of fibromyalgia patients in particular, Marrero says, is its full-size, warm-water, saltwater therapy pool.
"In my opinion, people get referred to the physical therapy clinic in large part because of the wellness center, and the pool is key to a lot of their referrals," she says. "It took us a few years to gain the confidence of physicians in the area, but now we have a really big referral network."
There's every chance that MFA's certification effort may get lost in the glare of ACSM's certification effort - and indeed, some in the industry may question the need for two certifications. But clearly, even though they share a focus on (for example) safety, a separate set of standards is vital for specialized facilities that will have more than their share of bypass patients on the fitness floor.