There are many ways your fitness center can make environmentally sound choices, and set a good example for members, staff and competition alike.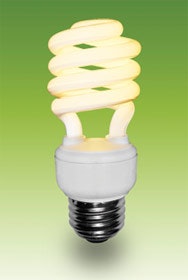 How big is your fitness center's carbon footprint? How many thousands of gallons of chemicals do you send into the water system each year? Everyone is talking about going green, and many of us are making big strides at home with energy-efficient light bulbs, natural cleaners and organic food products. But, how much do you think about going green in the workplace? Those energy-efficient light bulbs are probably used, where possible, and your members likely recycle. But then what? How can you make more of a difference? And, is it important to your members, in addition to being important to the environment?
Buildings across the United States account for one-third of energy, water and materials consumption, and pollution, according to the U.S. Green Building Council. Buildings also affect our health. In fact, the Environmental Protection Agency states that indoor air pollution is in the top-five for environmental health risks.
So, do your members care about going green? The answer is a big "yes," according to Advantage Fitness Products (AFP), Los Angeles, Calif. "Green is the ultimate in customer service," says Betsy Jasny, regional manager of AFP for Northern California. Plus, there are many things you can do to make your facility more environmentally friendly that aren't terribly costly.
---


250+ Exhibitors & 190 Educational Sessions | abshow.com.
---
Water and air
The air we breathe inside can be far more dangerous to our health than the air outside due to poor ventilation, mold, allergens, etc. Fortunately, many of the green design initiatives today include those that protect our air and water. One big thing AFP does to promote indoor air quality is "green clean" product maintenance in all of its service calls. "We use eco- and guest-friendly, biodegradable and no-odor products," says Jasny. AFP realized that when its technicians were servicing equipment, members didn't want to be in the vicinity of the products they were using. So, it made the switch. AFP now finds that this small change is one thing that sets the company apart in attractiveness to potential customers.
Kara Burdick, director of operations at L&T Health and Fitness, Falls Church, Va., also suggests natural cleaning products to clients. "It's not only better for our clients' members, but it is better for our staff, as well," says Burdick. The immense amount of cleaning required in a fitness environment demands gentler products for those who use them daily.
AFP also works to keep the outside air clean, and to reduce gasoline dependency, with the use of fuel-efficient vehicles. "We use some hybrids and some more efficient, smaller delivery vehicles instead of big box trucks," says Jasny. "It's made a tremendous difference." It also purchases primarily from companies whose products are made in the U.S. to reduce transportation pollution and, eventually, cost to the consumer. When it does buy products manufactured overseas, it buys in bulk, and requests that no excess packaging be used.
Ken Endelman, CEO of Balanced Body, Sacramento, Calif., is also leading the charge of going green by converting an old warehouse into a state-of-the-art facility to manufacture Pilates equipment. To save on heating water in the locker rooms, hot water tanks were installed right above the showers.
What other ways can your fitness center make a difference?
Green.
Install low-flow toilets and low-flow faucets (or aerators) in sinks and showers to save as much as 2.5 gallons of water per minute.
Choose landscaping that does not require significant watering.
Insulate all water pipes and heaters.
When you repaint, use Green Seal paints.
For renovations, choose products with minimal chemical emissions.
Really green.
Use "greywater," or recycled and collected water, for your laundry and bathroom facilities. You could save 35 gallons per capita per day, or 12,775 gallons per capita per year (source: www.H2ouse.org).
Collect rain water for use in exterior watering.
Equipment and flooring
If you are looking to save money on the electric bill, one way is to switch your equipment to the non-electric kind. Precor and Life Fitness are just two companies that design and produce climbers, cycles and ellipticals that require only your client's energy to power them (as well as treadmills that use less power than traditional models). And, some companies are beginning to develop cardio equipment that requires less energy to power it. For instance, SportsArt Fitness has developed a treadmill with an Eco-Powr motor that uses 32 percent less energy than traditional treadmill motors. You may also want to look for entertainment systems that allow the TVs to turn on only when the machine attached to it is in use. An added benefit to this is reduced wear and tear on the equipment, and a prolonged life - when they are not in use, nothing is expended from a maintenance perspective.
Ken Greenberg with Commercial Fitness Solutions, Highlands Ranch, Colo., tells his environmentally conscious customers to consider their flooring options carefully. For instance, even recycled rubber flooring has a high carbon footprint. "Floors like cork and bamboo are very sustainable and great choices," he says. Bamboo, especially, is beautiful and durable in group exercise rooms and as countertops, and is becoming a popular choice. Also up and coming is a newer product: hemp carpeting. Ask for products that have zero emissions or are non-toxic.
Lighting and temperature control
Indoor lighting costs for fitness centers can be huge. Why not install skylights or products like a Solatube? Not only will you save on energy costs, but you will have a much more inviting environment.
One of Endleman's favorite things in his renovation was the installation of 6-by-6-foot skylights so his workers have lots of natural light. Their space is lighter, brighter, happier - and they save a ton on electrical bills.
Burdick says clients of L&T Health and Fitness are beginning to request more natural light when designing and redesigning fitness centers. "Natural light is so much better," she says. "The impact it has on the feel and look of a fitness center is huge."
A newer product on the market, called Solatube, captures the outdoor light in a dome installed on your roof, then projects sunlight into your rooms with UV-protection, the ability to diffuse the light on really bright days with the flip of a switch and an added feature of installing a light bulb for light projection at night. Even better, Solatube uses recycled components in its construction.
Don't forget your HVAC systems and electrical equipment. Keep them well-maintained and, when you upgrade, choose Energy Star products. According to the U.S. Government's Energy Star program, replacing old heating and cooling equipment with Energy Star equipment can cut energy bills by 10 to 20 percent.
If you are installing a new HVAC system or are renovating, Greenberg designs buildings with an HVAC system that projects heating and cooling from the floor instead of the ceiling. "It is less in construction costs and more efficient because you have more controls for each area - not just one mainframe - that controls the temperature," he says.
What other things can you do to save energy?
Green.
Change all of your light bulbs to the energy-efficient kind.
Install motion sensors in areas such as storage rooms, stairways and hallways - even the group fitness room.
Program your thermostat.
Keep fans going in busy rooms to help with air circulation and a feeling of coolness.
Keep HVAC maintenance up to date.
Really green.
Make your own energy with solar power.
Check the "wind power" box on your electric bill to begin powering your fitness center using alternative power.
Choose wisely
"The customer has such power," says Endelman. "We ask our suppliers to maximize the amount of recycled materials they use and to make things more durable." Balanced Body went so far as developing recycled cardboard pallets to send its equipment to customers. Ask your suppliers and equipment reps how products are made, where they are made, how they are delivered, etc. The bottom line is important, of course, but so are our natural resources and our ability to protect them. Ask about company mission statements.
In subtle ways, you can make changes to not only your fitness environment, but to your members' fitness experiences. In new constructions or renovations, you can make huge differences with just your choice of materials. As the saying goes, think globally and act locally, and set a good example.
Group Exercise Studio Design

By Guy Brown October 2007

When designing a fitness center, attention needs to be paid to where the group exercise studio is located. "It would be best to have [it] on the main arteries to be able to move large numbers of members without creating congestion around entry points," says David Phillips from Fabiano Designs, Montclair, N.J., adding that entering through the back of the room is best, though not essential. Rudy Fabiano says exercise studios are social, by nature. "In designing these areas, we like to exploit this by making larger waiting areas, with seating [that looks] at the rest of the club," he says. A good "visual" in and out of the studio is also important.

Flooring Fabiano says the most suitable floor for a studio depends on the activity performed. "For large studios that will have a lot of diverse activity, I prefer suspended wood, or, at a minimum, cushioned rubber with a wood grain finish," he says. "Both perform well, look good and can take the wear and tear of the workouts." In general, carpet is avoided. "The performance is not really there, and it certainly does not hold up well, both in terms of activity and cleanliness," says Fabiano. Cork flooring works well for yoga studios. "Cork is softer, looks great and is an all-natural product, which is in keeping with the spirit of the activity," he says. For some classes, rubber flooring is suitable. "Rolled rubber usually works well with [group cycling] studios - the bikes stay in place due to friction, and it is fairly easy to clean," says Fabiano. "We have also been experimenting with faux rubber flooring in boxing studios."

Atmosphere Getting air circulation right is essential for a comfortable workout environment. Fabiano recommends hiring a mechanical engineer for this. "There are some rules of thumb for estimating, but there is so much more to take into account. ... When it comes to eliminating ... complaints, good engineers are your best friend," he says.

As for lighting, it "needs to ... reflect the activities that the studio will be used for," Fabiano says. "In larger studios, it is important to have diversity and some lighting choices so each room can change to accommodate the energy levels of the class in progress." In all cases, dimmable lighting is important.

Mirrors are a matter of debate. The "old school" supports lots of mirrors so the teacher can assess participants' form. "But the new thinking is that too many mirrors are not only overrated, but may be a deterrent for self-conscious members to participate," says Fabiano. Phillips adds that mirrors should be installed as seamless as possible, and not wrapping corners or columns. Helen Vanderburg, Can-Fit-Pro Delegates Choice Awards Canadian Presenter of the Year 2006 and IDEA Instructor of the Year 2005, recommends that fitness centers "go for a high-grade mirror so there isn't any distortion, and a minimum size of 8 feet."

Atmospherics are also enhanced by high ceilings, an excellent sound system, wall and floor coloring that add vibrancy, and good use of natural light.

Storage Equipment storage for group exercise is dependent on programming, and whether it is a multipurpose or dedicated class area, says Phillips. "The storage must be easy to access, in most cases without doors, and for multiple users returning and/or retrieving equipment," he says. "The room location is best centrally located to a full class, wide open with rack systems to house all exercise equipment and well-labeled to maintain an orderly room." Fabiano says that, ideally, 10 percent of the studio should be allocated for storage. Vanderburg recommends a storage cabinet for small equipment, movable bins for hand weights, and racks for steps and stability balls that are off the floor.

Sound Another consideration is noise management. "Insulated walls and ceilings can be used, as well as the subfloor having some acoustical properties, though there is no need to reduce the sound 100 percent, as a little energy (sound) from the group exercise room is beneficial to the club," says Phillips. Managing the reverberations can be tricky, given the hard surfaces typically found in a studio, says Fabiano. Sound-absorbent material, like acoustical ceiling tiles, can be used to reduce reverb to an acceptable level, he says. If a facility has more than one studio, Fabiano says that, where possible, they should be kept away from each other so noise from one doesn't interfere with another. If that's not possible, sound transmission should be reduced.

Noise spill is especially significant in fitness centers that do not have a dedicated fitness studio. "There are some personal training facilities that may use the open area, but I just think that is too distracting for both the people in the class and the other exercisers," Fabiano says. If a dedicated studio is not possible, at least create a sense of space by drawing a curtain. "You can run classes in the gym area; however, you will be competing with sound and traffic in this area," says Vanderburg. "My best advice is to determine a consistent area in the gym that classes will be held, and post the times of the classes so that non-class-users are aware."
Designing with Metal

By Charles Praeger October 2007

Fitness centers have always been a challenge to construct because of their unique requirements. Large clear spans, multiple uses and budget considerations are just some of the concerns owners and managers have to take into account when planning a new athletic facility. Because of these concerns, metal buildings can be a good solution for these types of buildings. Ranging from simple, single-purpose structures to vast multi-use buildings, metal buildings are both versatile and cost-effective. They are relatively easy to construct, can be erected within a tight schedule and are easy to maintain. Metal buildings can also be long-lasting.

In addition, there is the option to use various materials in conjunction with a steel frame. By using exterior finishes, such as masonry, concrete, tilt-up and glass, metal buildings can be visually integrated into existing communities where design consistency is prescribed. Metal walls can be coated in a variety of colors to reinforce a corporate brand, or to enhance specialized interior or exterior design elements.

The versatility of metal buildings includes how the building can be used. Fitness centers, gymnasiums and arenas all need a large amount of space, and steel frames can provide that. Steel frames can easily span large open spaces, but then be partitioned or segmented for other uses. Boise Peak Fitness Center in Boise, Idaho, has rock climbing as one of its core activities. A metal building system provided the height needed for the climbing wall, while offering plenty of open, column-free spaces for training equipment and other fitness activities.

By themselves, or in conjunction with a metal building structural steel frame, metal roofs are also often specified for fitness centers. Standing seam metal roofs are long-lasting and energy-efficient, and can have a lifespan of 35 years or more. Additionally, a standing seam roof can be any color. Because of recent technology advances, cool reflective pigments can be added to the roof coating system that will bounce heat off the roof surface and reduce heat build-up in a structure. Also, metal roofing is recyclable and is made of recycled material.

Versatile, cost-effective and good-looking, metal buildings and roofing offer strong building solutions for fitness center projects. When choosing a metal building manufacturer, make sure that the company is certified through the AISC-MB program, which offers a certification program for metal building manufacturers that is independently audited and administered. For more about this program, or for a list of certified companies, visit the Metal Building Manufacturers Association at www.mbma.com.