There's nothing like attending a good trade show, especially in the fitness industry. The equipment, the innovation, the music, the energy, the people… Whether it's our show or IHRSA, I consider attending these shows to be one of the perks of my job.
Last week I was lucky enough to join AB's contingent at IHRSA. With 371 exhibitors at this year's show, it was impossible to see everything, but I tried my best. Below are some notes from the event.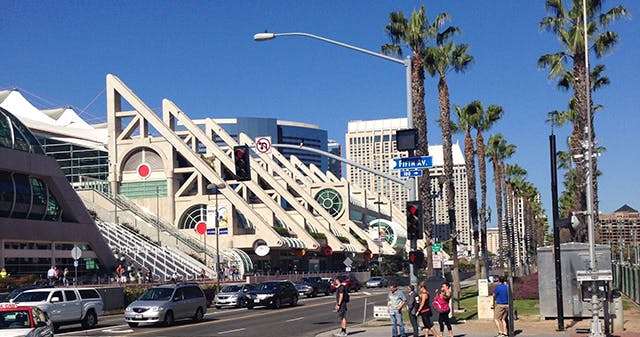 As it was for the Athletic Business Conference & Expo in 2013, San Diego proved to be a great host city for IHRSA 2014.


TRX was celebrating its 10th anniversary at IHRSA. It seems like just yesterday Drew Brees was touting the TRX Suspension Trainer in this Sports Illustrated feature story, but that was seven years ago. Although TRX now has products in more than 40,000 facilities worldwide, Randy Hetrick, the company's CEO and the creator of the TRX Suspension Trainer, told me his company is just getting started.

"We're about so much more than just selling straps and Rip Trainers," Hetrick told me on the show floor. "We can be the world's leading educational training brand. We're all about content now."

TRX CORE — the "digital portal" that the company introduced last year as a way for trainers to stay up to date on programming and marketing ideas — certainly backs up Hetrick's plan.

On a related note, Hetrick referred to Kari Woodall, whom AB featured in this December 2013 article, as "one of the top 10 TRX trainers in the world." High praise for someone we enjoyed introducing to AB readers.
---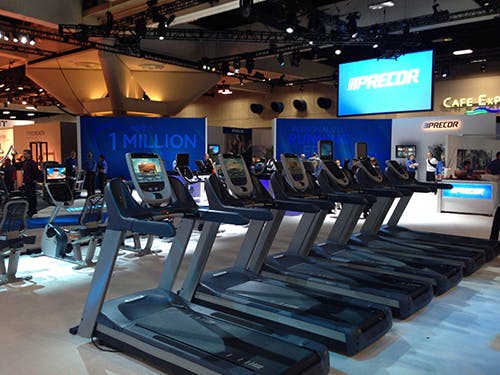 Precor's booth was one of the biggest — and best for meaningful discussion.Precor takes home the award for the most inviting booth at IHRSA. In an environment in which music blares incessantly and exhibitors fight for attention, often loudly, Precor's calm, comfortable atmosphere was perhaps the best for meaningful discussion. I had the chance to catch up with company president Rob Barker who is settling in nicely after taking over the role for the retired Paul Byrne seven months ago.

"I've worked for Precor for about 20 years, but people keep coming up to me as if this is my first IHRSA," he said. "Sure, it's a little different as president now, but it's not as if I'm a rookie."

With his jump from a vice president role to president, Barker and his family have moved from the UK to Washington state. He says he and his family are thrilled with the move to the United States.

On the equipment front, Precor, like many manufacturers is trying to strike the right chord with technology integration. At IHRSA the company unveiled its new Preva Video On Demand menu which will allow exercisers to choose genre-specific music video playlists to enjoy during their workout.

"Win with the exerciser and you'll win with the club owners," Barker said.
---

In January I had the opportunity to tour Cybex's manufacturing facility in Owatonna, Minn. for this ABtv video we published last month. One thing mentioned several times during our tour of the factory was Cybex's unique ability to customize equipment for its customers. That customization was on full display in Cybex's IHRSA booth.

The company had several large touchscreens set up where users could design their own equipment and the setting where the equipment would be used to see how Cybex's equipment would look in their facility. It was almost mesmerizing to touch the screen and mix and match different color combos. Users could choose the piece of equipment, its frame and upholstery colors, the facility flooring, the facility size and the colors of the wall. Look for this feature to be on the company's website soon.

Not to be overlooked, Cybex also debuted its revamped line of Eagle strength equipment. The 12-piece lineup of selectorized equipment will be available this spring.
---

Speaking of ABtv, I caught up with TRUE Fitness regional sales manager Dave Whitman, who starred in this ABtv product demo video several months ago. How has his life changed since appearing on ABtv?

"Well, my kids think I'm famous now that I'm on YouTube," he told me.

Okay, so it's not quite like appearing on "The Tonight Show," but it's a start.

---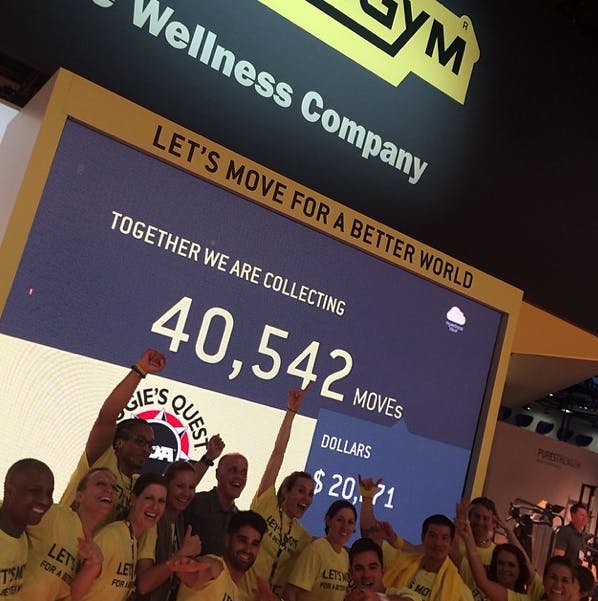 Technogym raised more than $20,000 for Augie's Quest.Technogym's booth, as usual, was also a popular destination during the trade show. The company's "Let's Move For a Better World" campaign, where exercising on their equipment led to donations to Augie's Quest (more on that later) raised more than $20,000.

On the product front, Technogym introduced WELLNESS ON THE GO at IHRSA 2014. WELLNESS ON THE GO will allow facility operators to track, manage and leverage their member's lifestyle and tailor their business model to meet the needs of those members.
---

Fitness On Request is now Wellbeats. The video-based group fitness programming company announced its name change at IHRSA. Personally, I like the new name and it helps distinguish the company from fellow Minnesota-based competitor, Fitness On Demand.
---
Speaking of Fitness On Demand, the company introduced a beautiful new touchscreen at IHRSA. Fitness On Demand is an innovative system that helps facility operators reduce costs, eliminate vacant studio time, and simplify how they manage group fitness. For more on Fitness On Demand, visit their website.
---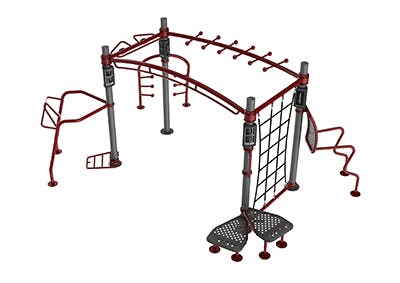 Life Fitness's Synrgy BlueSkyIf the theme of the 2013 IHRSA trade show was technology, a theme of this year's show was functional and group training. Many new products have been introduced to meet the demand for this new trend and Life Fitness's new SYNRGY BlueSky has to be among the best.

Introduced at IHRSA, SYNRGY BlueSky is Life Fitness' first small group training system designed specifically for outdoor use. SYNRGY BlueSky offers 12 bodyweight training stations for exercisers. Think of it like a jungle gym for adults. I tried it out during the show's early morning workout period and while it may resemble equipment you loved when you were a kid, the workout you get while using it is definitely not child's play.

Life's sister company Hammer Strength also debuted some new group training options for its popular HD Elite system.
---

Star Trac announced a new promotion at IHRSA: no payments on its equipment until 2015. That — combined with the fact that NFL legend Jim Brown, a friend of company owner Michael Bruno, stopped by the booth — had crowds in the Star Trac booth every time I walked by.
---

WOODWAY Treadmills and Octane Fitness teamed up to create a fun circuit-training course between their two booths. Although it was introduced in 2012, Octane's LateralX trainer continues to wow crowds at trade shows. The Octane booth was a popular destination, especially during early morning workouts.
---

Away from the show floor, the American Council on Exercise and Genavix Wellness Network announced a new plan they believe will help health clubs attract more of the roughly 80 percent of Americans who don't belong to a gym or health club. The new partnership will place certified health coaches at the center of workplace wellness.

"Research shows that instilling sustainable healthy behavior patterns, including regular physical activity and sound nutrition, is key to addressing the obesity epidemic," said ACE CEO and president Scott Goudeseune.

The hope is that ACE Certified Health Coaches will deliver programs to help corporate enrollees not only with fitness, but also with nutrition, stress management and behavior modification plans.

"Our goal is to get to the point where health coaches are just as common as personal trainers," said ACE's chief science officer, Cedric Bryant.

The ACE and Genavix system is already in place in several clubs in the Northeast. They hope the program will be nationwide within a few years.
---

Another thing I love about fitness trade shows is the variety of companies on display. For every industry giant with a massive booth, a proud history and dozens of employees hovering around, there is a young company tucked away in a modest booth hoping to one day become one of those giants.

ROCK 360 founder Tommy Saunders is one of those young guns. For more on him, check out his blog (or the video above), but fans of his will be happy to know he's coming out with a new product. The Omni Balls take the concept of his ROCK 360 ab roller, but apply it on a smaller scale. The exerciser straps one palm-sized ball to each hand allowing for advanced movements like chest flies, all while strengthening the user's core. Pretty cool to see Saunders continue to grow his company and Omni Balls seem like a natural complement to the ROCK 360.

---

Best for Last
Perhaps the best, and certainly most emotional, part of the week was Augie's BASH on Friday. There was seldom a dry eye in the house as Life Fitness founder Augie Nieto walked onto the stage to a thunderous applause. With the help of an assistant, Augie coolly walked across the stage as Aerosmith's "Walk this Way" blared from the speakers.

As Augie's wife Lynne Nieto once said, and repeated on Friday, "They call it Lou Gehrig's disease, but they'll call it Augie Nieto's cure." Seeing Augie on that stage, it is hard to doubt it. As usual, Lynne gave a touching speech, introducing Augie as her "best friend" and "hero."

Jann Carl of "Entertainment Tonight" did a great job emceeing the festivities and Smashmouth had the dance floor rocking to cap the event. By the end of the night, more than $1.7 million had been raised to help ALS research. Since 2006, Augie and his supporters have raised nearly $40 million.

After the BASH, the AB staff relived classic Augie stories told only the way our president, Peter Brown, knows how to tell them. Brown is a former Life Fitness sales rep who worked under Nieto. The two remain very close friends to this day.

Almost as inspiring as Augie's performance on stage, is to see how the fitness community continues support him. Once heated business rivals are now among the biggest backers of Augie and his quest to find a cure for ALS. It is truly an incredible thing to see.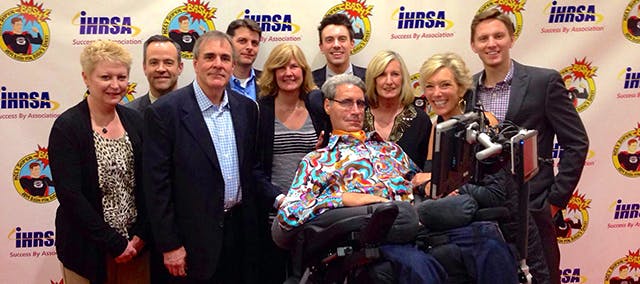 Athletic Business Media staff members pose with Augie and Lynne Nieto on the red carpet at Augie's BASH. The event raised more than $1.7 million for ALS research.

And finally, on behalf of the AB staff, I'd like to give a quick shout out to everyone who stopped by our booth. We always enjoy meeting our readers and discussing the goings on here at AB. Next on the trade show circuit for us is NIRSA. We hope to see you there.

Those were some of the highlights of mine. Of course, at a show that big I think it's humanly impossible to see every single thing the show has to offer. So what did I miss? Share some of your highlights in the comments section.