Cardio equipment is the heart of any fitness center. It's the most popular type of equipment, unintimidating and easy to use for fitness newbies, but also a powerful workout tool for enthusiasts. Befittingly, manufacturers are constantly seeking out new ways to improve their products, from design tweaks to make equipment more user-friendly to consoles featuring integrated technology to keep up with users' expectations. Today's cardio equipment is compatible with a range of wearable technology, offers a variety of virtual-reality programming, can record a long list of workout data, and can even alert operators to specific maintenance needs.
This is all great, unless you own or operate a facility with cardio equipment that can't do any of these things, watching members migrate to the facility across town with the latest technology. "Owners start to look pretty consistently at turning over their cardio equipment every three to five years," says Lu Rasmussen, director of leasing at Woodinville, Wash.-based Precor Incorporated. "It's not an issue of the equipment not lasting, it's an issue of keeping up with the bells and whistles. You've got to be competitive."
Very few startup health clubs have the capital outlay necessary to outright purchase all of the cardio and strength equipment to outfit their gym, nor, in most cases, would they want to if they did. "Cash is always a great option, if you have it," Rasmussen says. "Financing is the other option. I would estimate that at least 75 percent of the equipment being purchased is being financed in some form."
Financing boils down to two categories: traditional bank loans, which tend to come with a more rigorous set of qualifications in exchange for a potentially lower interest rate, and leasing. Leasing can be further broken down into a variety of options, depending on the goals and priorities of the fitness club owner.
"You have to sit down and consider a couple of things," says Rasmussen. "Number one, what is your turnover strategy? Are you looking to buy every three years? The other issue comes down to cash flow — if you spread the cost out over a three-year term, what is your cash flow? Can you support the payments to replace the products?"
THREE LEASE CATEGORIES
Once a business owner has a good understanding of his or her cash flow and long-term goals, he or she will have a better idea of what type of lease — if any — is right for the business. "One of the most common leases in fitness is a dollar-buyout option," says Keely Gnewuch, leasing coordinator with Cottage Grove, Wis.-based Matrix Fitness. Also called a capital lease, the terms specify a fixed monthly payment over the course of the lease, after which the lessee pays a nominal fee to purchase the equipment, says Gnewuch. "Basically, at the end of the term of the lease, the lessee owns the equipment."
RELATED: Financing Used Equipment
The cash flow allocated to leasing the equipment is then available for whatever other expenditures the business owner may have.
Other common options include fair-market value leases and residual leases. A fair-market value-lease, also known as an operational or true lease, gives the lessee the option to purchase the equipment for a depreciated price at the end of the lease, or simply return it to the vendor.
"There are very few operational leases done in the fitness industry," says Rasmussen. "It's really more of a downside to the vendor and the finance company. If you do a true operational lease, the club owner doesn't have to worry about maintenance and liability — that all falls back to the finance company."
Residual leases, however, are becoming more common, especially among clubs that plan to swap out old equipment on a routine basis. At the end of the lease term, the lessee has the option to buy the equipment for a percentage of the original purchase price or opts to return it and begin a new lease with new equipment. "YMCAs and other nonprofits like this because their equipment gets a lot of use, and they like to be able to flip that equipment every three years," Gnewuch says. "We would come in, remove the equipment and begin a new lease term."
Residual leases are popular not just because they allow businesses to stay at the forefront of technology, but they can help stave off potential maintenance issues. Typical leases for cardio equipment are three years, generally the same length as the manufacturer's warranty. But for businesses looking for a longer lease or a little more security, vendors also offer extra coverage. "Several companies, Precor among them, have started to include the option of buying a preventative maintenance plan as well as an extended warranty," Rasmussen says. "A guy will come in every six months, clean the product, check the belts and everything."
Depending on the type of lease, there are tax benefits to be had, Rasmussen says. "We try to avoid being people's tax advisors, but there are advantages, deductions you can take. Look into everything with a good tax attorney."
 
LONG-TERM SPENDING
Leasing fitness equipment is not a one-time expenditure for most fitness businesses, but an ongoing part of the budget. Adding to the complexity of financing is that not all equipment will have the same lease terms. "Most established clubs will stagger their replacement over a time period," says Rasmussen. Cost is the major reason, of course, but there are other reasons. "Equipment gets used at different levels, depending on what's hot in the industry. Treadmills are always hot in the industry, and every few years, steppers make a comeback. Then it might be bikes. Those things cycle through different use. You may have bought steppers five years ago and they haven't gotten used a lot."
Then there's perhaps the most important reason: keeping up appearances for members. "If you do everything at once, next year when you haven't done anything, members walk in and ask, 'What have you done for me lately?' " Rasmussen says. "Most owners tell me they have more impact doing small amounts of staggered upgrades than replacing everything at once. They want to show that they're constantly updating and showing they're putting money into the facility."
When seeking out financing for equipment, it's not enough to know what the options are and which is the best fit for a business — you also have to be prepared to demonstrate that you are a good fit for the financial institution. "The number one thing we instruct people to do as they consider financing equipment is to be prepared as you go into it to provide your financial information," Rasmussen says. "If you're really considering financing, talk to the finance division, get a list of the required info and go in prepared."
---
This article originally appeared in the January/February 2015 issue of Athletic Business with the title, "Temporary Assets."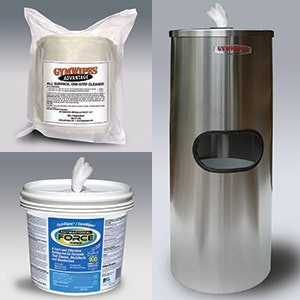 2XL Corp.
The GymWipes product line from 2XL offers full-spectrum protection and cost-effective solutions to safely clean and sanitize all fitness equipment surfaces. Bactericidal, virucidal and fungicidal, the EPA-registered disinfecting/sanitizing formulas protect against more than 50 dangerous pathogens, including CA-MRSA, HIV and H1N1. GymWipes contain no alcohol, phenol or bleach, and have been tested and approved by leading manufacturers. Thick, generously sized towelettes come in counts ranging from 800 to 1,200, and attractive dispensers and stands are available. Enjoyed by an extensive customer base, GymWipes products will make a positive impact in any facility.
www.gymwipes.com
(888) 977-3726
---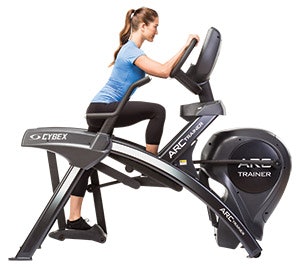 Cybex International Inc.
With its broad incline and resistance ranges, the Arc Trainer is three machines in one. At lower incline levels, it glides like a cross-country skier; at mid-level, it strides like an elliptical; and at the higher inclines, it's a climber or stepper. Because the legs travel in a biomechanically correct path of motion, there's less stress on the knees, allowing more activation of the glutes and hamstrings. The Arc Trainer is scientifically proven to burn 16 percent more calories than an elliptical in a 30-minute workout. Moreover, it raises an exerciser's heart rate, activates the entire body, tones muscles and builds power, all while minimizing joint stress.
www.cybexintl.com
(774) 324-8000
---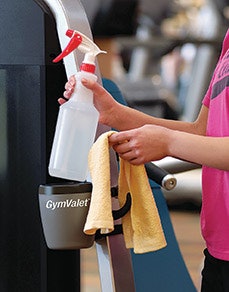 GymValet
GymValet is the industry's leading holder for equipment-sanitizing disinfectant spray bottles and towels. GymValet attaches directly and easily to equipment, fitting virtually all frame shapes, angles and circumferences and eliminating expensive waste from disposable wipes and paper towels. Placing equipment-sanitizing supplies on the equipment itself, at every exerciser's fingertips, reduces the likelihood of user-to-user germ and virus transmission. GymValet-based spray-bottle and towel equipment cleaning has been microbiologist-tested and validated as an effective equipment sanitizing method. The GymValet product line also includes hospital-grade sanitizers, spray bottles and sprayers, high-quality towels and sanitizer dilution containers.
www.gymvalet.com
(866) 435-2009
---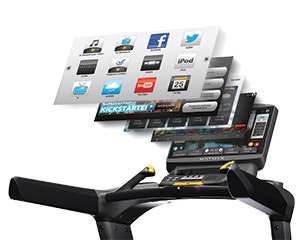 Matrix Fitness
The 7xi console is a revolutionary way to link members to stunning entertainment, social media favorites, effective fitness tracking and brand-building communications on behalf of the facility. The console also allows operators to expedite maintenance and service, maximizing machine uptime. All data collected by the 7xi is available on an open platform, giving owners complete control over its use.
www.matrixfitness.com
(866) 693-4863
---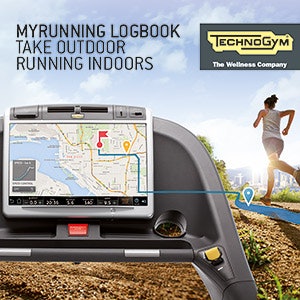 Technogym USA Corp.
MyRunning Logbook is the first app that allows users to replicate their favorite outdoor run on Technogym's ARTIS and Excite+ treadmills equipped with UNITY. Users can track their outdoor runs with a preferred mobile app such as Runkeeper, Mapmyfitness or Strava, or with a tracking device like FitBit, Polar or Garmin, then replicate them on Technogym's treadmills, challenging themselves and comparing with past performance. MyRunning Logbook adds another solution to Technogym's WELLNESS ON THE GO, a revolutionary vision for the future of fitness that allows users to connect with their personal wellness data anytime and anywhere.
www.technogym.com
(800) 804-0952
---