It's springing up on top of basketball courts and inside hockey dasher boards, and thriving within a new workout environment that emphasizes sprints and agility drills alongside atypical strength training. But to say that synthetic turf is taking root in a variety of indoor spaces these days would be missing the point, or at least misusing the metaphor.
This turf is temporary by design, boasting an ability to be rolled up, removed and later reapplied, or — if you prefer smaller puzzle pieces — stacked and stored for future reconnection.
The past five years have seen a growth spurt of portable products available through synthetic turf suppliers, with new models hitting the market only within the past six months. "It is a niche market," says Sydney Squires, director of sales support at AstroTurf, makers of three different removable turf products. "But it's really useful for a lot of facilities to have that conversion ability. There are a lot of options out there that I think potential buyers don't always know about."
Leading manufacturers have taken notice of the new market demand. "FieldTurf historically did not place a tremendous amount of development effort on removable system options," says Jason Smollett, director of product management at FieldTurf, which offers changeable solutions for high-end football fields and indoor sports facilities alike. "But due to the increased demand for these types of systems from customers nationwide, we have accelerated the level of innovation being brought to this category."
"It's one of the fastest-growing segments of our business," says Matt Riggs, business director at Sporturf, pointing to portable turf's popularity among ice arenas in particular. "During the summer months, these facilities are finding that they can have an entirely different revenue stream. The upfront cost to purchase this turf is minimal compared to the cost of the facility just sitting there empty."
PORTABLE TURF COMES IN TWO BASIC FORMS:
Rolls
Rolls can vary in width from 6 feet to 15 feet, the latter an ideal width for assembling a temporary football field. Says Riggs, "If we're going to make an indoor football practice facility, we can go ahead and tuft that white line in on the 15-foot roll."
Rolls offer an advantage over much smaller panels in that there are fewer seams in the finished product. However, rolling and moving strips of turf that can measure 15 feet wide and nearly 200 feet in length (the approximate width of a football field) requires specialized machinery. Seams also need to be secured, typically with strips of Velcro that unite the turf rolls underneath the padding layer along their entire length. One strip of Velcro laying face up on the existing substrate shares half its hooks with a strip of Velcro loops stitched face down to the padding's edge of one turf section, and the other half to the same on the abutting turf section.
Rolls also allow for the portability of a variety of styles of infill turf. Some portable turf systems consist of densely knit nylon pile mixed with shorter, crimped and textured fibers, which support the longer fibers while also helping hold crumb rubber infill in place during conversion. Other systems rely solely on traditional long fibers and an infill mix of rubber and sand that is groomed for optimum playability once secured.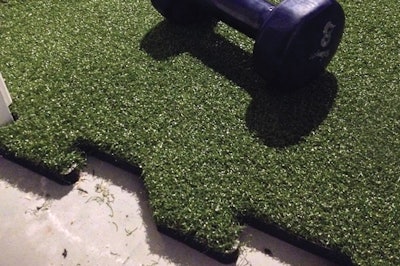 Panels
The alternative to rolls are turf panels ranging in size from seven and a half square feet to 32 square feet, depending on the manufacturer. One makes an 18-square-foot variety. An advantage to using panels is that they can be moved with relative ease, with two or three individuals able to handle even the largest panels, which weigh roughly 30 pounds each.
Bo Barber, vice president of sales and marketing for Ecore, makers of turf tiles on the small end of the scale, recalls one case study in which an ice rink was converted for indoor soccer. "It was for a kids' soccer league, and moms, kids, everybody was out there throwing this down," he says. "It took them three hours. This is a big deal. Three hours to do an entire hockey arena."
But size and weight aren't the only specifications separating turf panels on today's market. The thickness of padding beneath each turf surface can vary from 3 millimeters to 45 millimeters. The latter example, manufactured by FieldTurf and suitable for a variety of conversions and activities, incorporates a vertical peg-in-hole fastening mechanism within the overlapping pad system to affix one 21-pound turf panel to the next — without the need for Velcro. "They're pretty lightweight," says Smollett. "It's a good balance between being able to handle the panels easily and assemble and disassemble the field, while also having something that's very substantial and stable that ensures the safety and performance of athletes."
As with rolled goods, Velcro is a fastening alternative in turf panels. A third means of securing pieces of a field together is to precision-cut each tile to form interlocking edges, much like weight room flooring. However, the process is a bit trickier when the wear layer in question is synthetic turf. Says Barber, "To get a product to interlock, it has to be a true edge, and to get that true edge you have to have a really densely packed, texturized wear layer."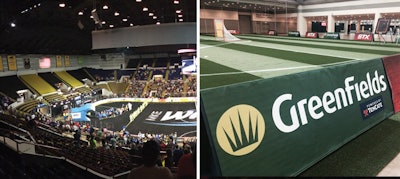 ---
APPLICATIONS Rolled turf products have seen high-level competition. AstroTurf's AstroHopper system has been used to convert Houston's Reliant Stadium from the natural grass on which the Texans play (removed in trays) to a temporary synthetic turf field suitable for high school games. The Edward Jones Dome in St. Louis features the company's Magic Carpet system, which allows an entire seamless infilled surface to be unfurled with help from air forced through holes in the substrate. FieldTurf's ChangeOut product, a system of 15-foot-wide infilled rolls, converted the field at Lucas Oil Stadium in Indianapolis from the Colts' home turf to one with end zones befitting the 2014 Big Ten Conference championship game. Sporturf serves as the removable home field of the Major Arena Soccer League's Milwaukee Wave.
But on a much larger scale, portable turf is designed to maximize programming variety in much smaller venues. Says Danielle Byrd, marketing and communications specialist at GreenFields, "Offering such products is convenient for our customers and helps to provide different surfaces in the same locations — for example, covering a basketball court or volleyball court or even overlaying an ice hockey rink."
One area in which panel products in particular have found a home is personal training space. "With the move to CrossFit, a lot of facility owners want some weight room flooring on one side, maybe some running track material in the middle, then some turf on the other side," says FieldTurf's Smollett. "A lot of those facilities are using all sorts of flooring materials, and having a modular removable turf option is very convenient. Facility owners can play around and do a variety of different activities in their space."
"Fitness is changing, and the type of drills and exercises being done is getting away from weights and equipment and heading more toward a lot more bodyweight-type training," says Barber, pointing out that Ecore's panel product allows for brick-pattern layouts for added stability during drills and includes interlocking transitions to the surrounding flooring. "We have people who are taking this product and running it all the way along the side of a big open area and then transitioning it down to the court or whatever the other surface is, and now people are pushing sleds on it, people are flipping over tractor tires, they're doing sprints on it."
Portable turf is valued not only when it's in place, but when it's in storage. "The indoor soccer facilities love it if they can't justify having 100 percent soccer 365 days a year," says Sporturf's Riggs. "They're buying these removable systems and then renting out the facility space for other events."
And conversion doesn't have to be burdensome. According to Squires, installing one AstroTurf panel takes two people roughly three minutes. "A coach can say, 'We're turning the gym into turf,' and it's so easy to assemble that kids can do it," she says. "Great applications for it are high schools, private soccer facilities, and we're even seeing some interest in it from universities, where they want to host camps during the summer and they're able to do that indoors. They can throw the turf down in a gym — anywhere, really."
---
This article originally appeared in the April 2015 issue of Athletic Business with the title "Pick-Up Games."