This article appeared in the May issue of Athletic Business. Athletic Business is a free magazine for professionals in the athletic, fitness and recreation industry. Click here to subscribe.
The means to the end could hardly be more straightforward: employ primitive tools and one's own body weight to achieve personal-best fitness results. It's a modality popularized in CrossFit boxes and similar specialty studios, but for established health clubs, getting a grip on the functional strength training phenomenon can be as difficult as deadlifting 300 pounds while standing on a stability ball. More than one mainstream chain has tried and failed.
"That studio segment is the fastest growing segment of our industry right now," says Rick Mayo, owner of Atlanta-based North Point Fitness, which licenses its Alloy functional strength model to 400 clubs worldwide. "When you look at a large club owner, he is maybe not even losing members to these smaller brands, but he's losing revenue if he doesn't capture functional training in his own club. They may keep their gym membership to come and walk on his treadmill, but they're going to go and handpick a boutique specialist to handle their functional training needs."
According to fitness lecturer and author Thom Plummer, a 30-year veteran of the industry, it's a tale of two gym operations worlds — one that takes functional strength training seriously, and one that pays it lip service.
"The training gyms' business solution is to provide solutions-based training — meaning you're going to have a chance to stay longer, you'll have coaching, and you'll probably get in better shape. It's gone holistic," Plummer says. "The mainstream guys look at functional strength as this week's hot aerobics."
Plummer points to dedicated functional strength gyms, including Mayo's, with less than 10,000 square feet and fewer than 600 clients that are financially outperforming mainstream gyms three times their physical size and boasting 6,000 members. One reason is that many functional strength gyms can package their training with tiered pricing, ideally offering unlimited sessions for a flat monthly fee. At 550-member North Point Fitness, for example, individuals pay $320 a month on average for personal training.
So what does it take for gyms of all varieties to take full advantage of the functional strength training trend?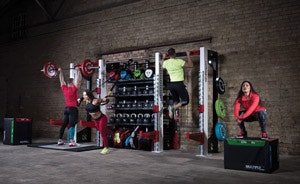 SPACE
This is the very first consideration, according to Mayo, who adheres to a 75-square-feet-per-person formula. That in turn becomes "uber important," as Mayo puts it, when calculating how to accommodate as many individuals as possible at once.
"If you have greater than 1,500 square feet, now we can create an unlimited model," he says. "As an example, some of the clubs that we work with in the Northeast — big clubs, like The Edge — they've got these really large areas, and the great thing about that is then you can bring to the market a value proposition. If you can put 25 or 30 people in there, then you can say, 'Okay, you have a $9 membership, and for an extra $79 you get unlimited large group training. So you're all in — membership and training — for less than a hundred bucks.' That is a really great value proposition."
There are two options for creating the requisite space in existing clubs. "Some clubs are just inefficiently laid out, so they can rearrange what they have and create open space, or they purge some equipment," Mayo says.
For mainstream clubs such as LA Fitness or 24 Hour Fitness accustomed to cramming as much equipment as possible under one roof, making room for functional training can be a challenge. "They have to go through and take out probably a third of all their single-joint, fixed-plane equipment," Plummer says. "They just have to take it off the floor, because they just don't have any space. You have to have turf areas. You want to be able to push sleds up and down, run up and down. You want to be able to do high kicks and other sports performance moves. You need that space."
It can be a painful transition for smaller independent clubs, too. Elevations Heath Club recently made room for CrossFit Pocono classes to be held in 1,000 of the 15,000 total square feet at its Scotrun, Pa., location. A huge selectorized leg press was given the heave-ho, as were several benches that were popular among some members. There were complaints and a few cancellations amid a CrossFit "culture clash," according to club co-owner and regular AB contributor Rob Bishop, who explains, "Our weight room had always been set up to allow for a lot of extra space. We didn't have two of everything, and when we bought new equipment we threw away the old stuff. Now, there isn't as much space as before, so people were unhappy about that. It became a matter of how to maximize the open space while preserving as much regular workout area as possible. It was a balancing act and a little bit of a guessing game."
Creating boundaries, at least visually, serves a purpose. "One thing that's important in a conventional club, if they're retrofitting, is to delineate space — not necessarily with walls," Mayo says. "That's a question we always get: 'Should we build a room for this?' It doesn't allow enough flexibility. One group might be 30, the next one's 20. Why would you put up hard structural boundaries to your area if you didn't have to? One way to delineate the training space from the regular space is with flooring, and one nice visual way to do that is with turf. It just looks more athletic. You see it in a lot mainstream facilities now."
One such mainstream facility is The Edge, a low-priced chain that has sold functional training better than most, according to Mayo. In addition to a private room for large group training, The Edge makes available to regular members a 5,000-square-foot turf area in the middle of the otherwise rubberized fitness floor. "When you walk in the gym, the selectorized area is like a ghost town and the turf is packed with people doing myriad functional things that they might be seeing in Men's Health or Women's Health — whatever is popular right now," Mayo says. "Turf can be a really nice visual breakup in your flooring and it can define the areas of your gym. You're basically saying, 'This is where we do our functional training.' "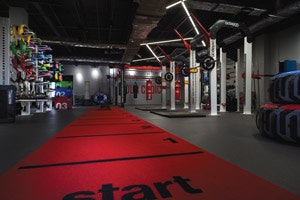 EQUIPMENT
Turf of the short-pile nylon carpet variety is the preferred surface for such functional strength exercises as pushing sleds, but other flooring options exist specifically for functional training areas, too.
Modular systems exist that create the ideal footing for such functional training aspects as movement, mobility and stability, performance and strength — all in one package. In addition, flooring graphics are now a popular means to visually assist exercises and instructors in delineating different activity areas and individual movements.
As for the exercise equipment itself, the list of popular functional strength tools includes (but is not limited to) suspension training rigs, racks for squats and pull-ups, battling ropes, kettlebells, medicine balls, sandbags, plyometric boxes and the aforementioned sleds. Collectively they represent a renaissance of sorts. "You look at kettlebells and sandbags and these sorts of strongman tools from the turn of the century, and you realize what's old is new," Mayo says. "Things are very tech-driven now, but the tech is all in the tracking and the accountability. The actual implementation — the tools and how you actually do it — is very old school. I don't see that going away."
Bishop advises to buy wisely in terms of quantity. "If you plan to hold CrossFit or functional training classes, you need enough of each implement for the entire class," he says. "And you need even more than you think, since some days you might have more women or more men, or experienced people or beginners. You might be looking at $10,000 in equipment."
Moreover, think ahead. "If I build a free weight area in a traditional gym, it's almost all bodybuilder-driven. It has too many benches, too many Smith machines," Plummer says. "Or I can now build a free weight area that's much more functional in nature by doing half racks, more open space to put kettlebells, suspension training. The choice of tools would have to change as the gym is redesigned. Most owners order out of habit, but most equipment companies do have alternatives. Rather than ordering everything you did for the last 10 gyms, instead ask, 'What's the consumer going to want in the next five years?' "
Machinery isn't entirely endangered in the functional space. More than one manufacturer has developed pieces of equipment that not only simulate freestanding functional training experiences, but track results as well. These include non-motorized, high-intensity training pieces designed to simulate sled work from a stationary position. "Now what you see is the mainstream equipment manufacturers coming out with equipment that will mimic something that you would do functionally, like a seated rope-climb machine," Mayo says. "You could just tie a rope to the ceiling and climb up and down it, but it's not as cool and maybe it doesn't have the same appeal to a club owner as a machine that allows him to say, 'Look at what we just purchased.' "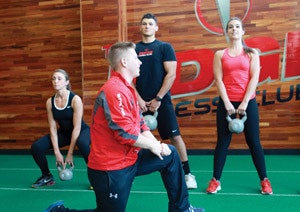 CULTURE
Perhaps the aspect that separates functional strength training from typical mainstream club programming is the sort of culture that movements such as CrossFit have engendered among their true believers.
"The biggest advantage we have is that we push functional fitness in a format that works, that keeps people engaged and excited for their next workout," says Kristian Larsen, one of several owners of Milwaukee's Cream City CrossFit. "Each class is led by a professional coach who works with you to overcome your weaknesses, keep your form correct and help you to progress. The workouts are hard, but manageable. A community is formed around the gym. Each class is supportive, with people encouraging everyone."
Larsen admits that CrossFit has "a strange, cult-like stigma to it," but functional strength training doesn't have to be intimidating. "Our gym tends to focus more on regular people trying to challenge themselves," he says. "We are laid back, but dedicated."
How do mainstream clubs emulate that? "If they're going to do this, they should integrate it throughout the gym — never just in one room. You have to walk in and know this is different than all the other mainstream gyms in the world," says Plummer, adding, "My big advice would be that you have to change how you think about what you're trying to do with the client. There's room for $9 gyms, but that's getting pretty crowded at that end. The discerning gym, with a layered price structure, will have about 40 percent of its clients paying to be part of training instead of the typical six percent. I kept waiting for these mainstream guys to get it, so to speak, and to change it, but what I'm seeing is just a whole generation — a new generation — of gyms being built to replace those old gyms."
One notable exception to that notion is Retro Fitness, the chain that has grown to more than 130 locations nationwide under the leadership of Eric Casaburi. "He's been in four of my workshops" in the past nine months, Plummer says. "They're launching a new initiative in which they're trying to take about half of their existing franchisees and open them up to where they will have that training component embedded — not just casually, not just in a back room — but have it actually become a big part of the culture in their gyms. When you see guys as good as he is and with that kind of power start to do these things, I think it will start to change."
"Consumers are looking for it, which of course is what's driving the demand," adds Mayo. "That is why the large club owners are looking to get rid of some equipment or at least rearrange to create some space for functional training. Studios are making a lot of headway in that area, and the traditional mainstream health clubs are responding by retrofitting their clubs or building new ones with more functional space to make sure that they offer something modern and that they also don't lose that revenue. It is a very popular trend, and you'll see it continue."
---
This article originally appeared in the May 2016 issue of Athletic Business with the title "Flexing with the times"