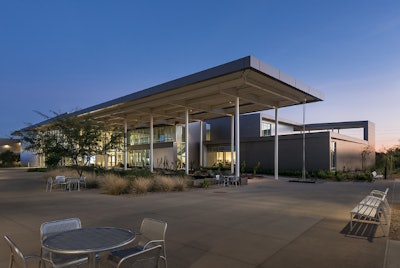 Coyote Center | Chandler-Gilbert Community College
Judges were impressed by how this large structure not only succeeds in housing disparate functions under one roof, but also how it harmonizes architecturally with its desert environment.
One went so far as to say the combination of athletics and enrollment services "redefines the campus approach," adding great value at reasonable cost. But it was the design's use of color and materials that made this project truly stand out, even as it blends perfectly within the surrounding landscape.
"Sensitive relationship to the Sonoran Desert environment," noted one judge. "Color and texture combined with lush outdoor space is very pleasing."
View the full photo gallery>>>
---
Judges' Comments:
"Cleverly massed to hug the desert landscape." — David Body
"I appreciated the rockscape response to the desert combined with utilitarian and accessible materials." — Jeff Penner
"A well-planned project that relies on dedication to a big concept. In addition, thoughtful details and desert colors provide a quiet oasis within the desert." — Tracy Carusi
---
Design Architect:
Opsis Architecture | Portland, Ore.
Architect of Record:
Dick & Fritsche Design Group | Phoenix, Ariz.
Cost: $20.6 million
Square Footage: 74,900
Funded By: State bond
Major Facility Components: 1,100-seat gymnasium, locker rooms, equipment and laundry area, fitness/sports performance center, human performance lab, offices, classroom, financial aid advisor offices, processing workstations, veterans lounge
---

A big thank you to our seven judges: Katie Barnes, Barker Rinker Seacat Architecture; David Body, David Body Sports Planning Consultant; Tracy Carusi, Collins Cooper Carusui Architects; Greg Houston, Marmon Mok Architecture; Philip Laird, ARC/Architectural Resources Cambridge; Dave Larson, TMP Architecture.; and Jeff Penner, Stantec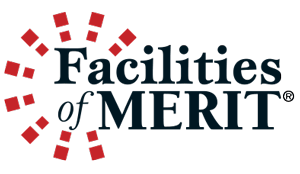 The 2016 Athletic Business® Facilities of Merit® awards were selected by a panel of sports and recreation facility architects during two days of judging in Madison, Wis. The 10 winners are being announced during these two weeks, and profiles of all 10 will appear in the October issue of Athletic Business. The awards will be presented to the facility owners and architects at the Athletic Business Show in Orlando on Friday, Nov. 18.
See more of the 2016 Facilities of Merit