Recognizing the role of physical activity in preventing and treating medical conditions, the American College of Sports Medicine launched its Exercise is Medicine® campaign in 2008. Since then, the program has worked to bring together the medical and fitness communities, as well as the general population, to work toward a united healthcare continuum. It's a difficult process. Despite the recognized role of physical activity in overall health, healthcare providers have been reluctant to refer patients to a fitness facility. "They can control their patients within the healthcare system walls, but once they leave, the doctors generally didn't trust community programming because there was no reassurance, no quality-control component," says Adrian Hutber, vice president for EIM.
"Like it or not, the fitness industry doesn't carry the most sterling reputation with healthcare providers," agrees Bob Boone, president and CEO of the Medical Fitness Association. Realizing that bridging this gap between fitness and healthcare was a goal shared by many different organizations within the industry, ACSM, MFA and the American Council on Exercise came together last spring to bring down their internal barriers, launching a collaborative wherein the organizations recognize the same standards for certifications.

"The fitness industry as a whole is too small to be as fractured as we are," Boone says. "If we hope to have any impact on national health policy, raising professionalism of the industry and building trust levels, then we have to find a way to work together and create a standard that we can all live by.
"All of us independently looked at the standards and agreed that these are the benchmark standards," Boone continues, noting that the three organizations are also looking to expand the collaboration to include other top fitness organizations. "We have agreed to recognize the EIM Level 2 and 3 credential as the top-level credentials, and recognize the Medical Fitness Director credentials as well as Medical Fitness Facility Director as the top-level management and facility credentials. It becomes a 'Good Housekeeping' seal."
FACILITY INTEGRATION
The initiative isn't just about assuring healthcare providers, but also preparing those in the fitness industry for the inevitable merger. "Sometimes the fitness side of this bridge of trust is not so aware of what's going on in healthcare, and there are massive, once-in-a-lifetime changes going on in healthcare now," Hutber says. "Doctors are looking to be able to refer their patients and employers refer their employees to identified programs that are done in the right way and meet their needs."
MFA has been the standard-bearer for medical fitness facilities since 2009, when it debuted its Medical Fitness Facility certification. The new certifications announced last fall at its annual conference (collocated with the Athletic Business Show) — the Fitness Facility Director credential and Medical Fitness Facility Director credential — create more opportunities for commercial and nonprofit fitness organizations to get involved. "The key differentiators are that each of our certified medical fitness centers has medical oversight and an identifiable connection to the local continuum of healthcare," Boone says. "There are 209 standards that we measure facilities on over the course of a two-day site visit. It's not an easy process to go through."
Population Health Management refers to the aggregation of patient data across multiple resources to create a single, actionable record to improve clinical and financial outcomes. Healthcare providers focus less on treating symptoms as they arise and more on taking a holistic approach to preventing disease
The new certifications are essentially stepping stones to increasing levels of medical-fitness involvement. The Fitness Facility Director certification is designed with the broader fitness industry in mind, says Boone, including everything from YMCAs to commercial gyms. "Health systems are moving toward a population health-management model," Boone says. "Community-based care is going to be an important part of efforts in prevention and intervention in patients who are at risk for chronic disease or those who have already developed chronic diseases to keep them from becoming high-risk — and high-expense — patients.
"The MFFD exam will be focused more on medically integrated fitness centers looking at building physician-referral networks — building those internal relationships and integrating the facility as part of a local continuum of care by becoming an extension of the primary care physician's office," Boone adds. "We're much more involved in the day-to-day of health."

KEYS TO CLIENT CARE
While MFA provides avenues to address incorporating medical fitness at the facility-management level, ACSM's EIM credentials serve as the common platform for exercise professionals and trainers to develop programming for patients. "As a general statement, this program is open to folks who have a general training certification, and then they need the EIM certification on top of that," Hutber explains. "Their NCCA accreditation has taught them to train with clients who are apparently healthy, and we have to teach them the other components to help them expand their base of clients."
The EIM credential includes training in three core areas:
1. Working with special populations: The potential for harm is greater when working with clients who have an underlying condition. "It could be anything from a mild musculoskeletal strain to the worst-case scenario of having a heart attack," Hutber says. "That's one of the main things that the exercise profession has to watch for and make sure doesn't happen."
The EIM credentialing process includes educating professionals on the most-common chronic conditions, including diabetes, prediabetes, hypertension and heart disease. "If they have any risk factors or signs or symptoms that would preclude the trainer from working with them, and they haven't been referred and just walk in, they have to go get medical clearance first," Hutber says.
---
RELATED: College Training Facilities Marry Functionality, Experience
---
Recognizing the unique needs associated with individual conditions helps inform a group programming plan. "Typically, the EIM-credentialed professionals are taught how to design and lead 12-week programs, because the evidence seems to suggest that's the minimum time needed to change self-efficacy," says Hutber.
Such programs are generally conducted in a group exercise format, which is a more cost-effective model for most fitness organizations. "Similar clusters of non-communicable chronic diseases need similar exercise conditions," Hutber says. "You can put a type 2 diabetic in the same sort of physical activity group as someone with hypertension or an obese person. There are some tweaks, but in terms of physical activity, there's a cluster of cardio-metabolic diseases that allows you to have a similar type of exercise prescription."
---
RELATED: Designing a Sports Performance Facility
---
2. Collaborating with the healthcare system: Exercise professionals need to know not only how to communicate with a healthcare professional, but communicate in the same language, which includes an understanding of basic medical terminology as well as how medications might affect a patient's fitness outcomes. For example, says Boone, "If a relatively deconditioned adult comes to us with hypertension or prehypertension and over the course of a few months of working with us we can see their pressure is reduced, we want to communicate that to the physician so they can titrate medications as necessary so we don't have anyone with too low blood pressure."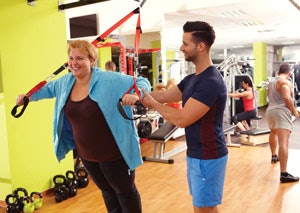 Communication of medical information can be a sensitive matter, subject to Health Insurance Portability and Accountability Act (HIPAA) regulations. "As a routine course, medical fitness facilities always seek patient permission to communicate with primary care physicians and get permission to access records as well as hospital records that are relevant to whatever condition they're being worked up for," Boone says. "Or we ask to communicate to get restrictions, to share trends that are going on with the individual."
Understanding what information can be conveyed under HIPAA guidelines can be more difficult for non-medical-based facilities, but it doesn't have to be, according to Boone. The trick is to focus not on personal data but on trends. "Most physicians want to see trend data, and you can avoid a lot of the HIPAA issues if you're able to download and track in a separate system the individual results," he says. "What you're looking for is the long-term trend in what the tracker is showing. Is there net improvement?"
3. Demonstrating behavior-based outcomes: The goal of a medical fitness program is ultimately to have clients take responsibility for their own health. "The single biggest thing that the healthcare system wants us to do is show that we can change the self-efficacy of the patients," Hutber says. "Can they leave your program and continue to engage in activity that meets the national physical activity guidelines?"
"We want to help the general fitness world to understand the lower-level people, the 'worried well' or those who are at risk of developing a chronic disease," Boone adds. "The general fitness world is where those people belong."

The secret of HIPAA compliance
When working with a medical provider, patient privacy and security becomes a major concern. "HIPAA compliance is a big deal," MFA's Bob Boone says, noting that HIPAA can take different forms for different types of organizational structures. "First, hospital-owned fitness centers, can get by without a whole lot of extra effort because they fall under the hospital's HIPAA efforts. They are a department of the hospital and have access to the appropriate portions of a patient's medical record."
For facilities that partner with a medical provider, ensuring HIPAA compliance takes a little more work. "For a commercial facility to get routine access, it would need to sign a business associate agreement with the health system and/or each physician's office, as well as get individual patient permission to access those records and send records to the physician's office."
Sharing of a client's personal data should be restricted to only what is necessary; in many cases, trend data can provide better information to both entities without putting a patient's personal information at risk. This concept is driving development among fitness equipment manufacturers, as well. "We've been talking to Technogym for the past several years about this," Boone says. "They're making the trend data available to put into HIPAA-compliant systems, and this is partially in response to feedback from medically integrated facilities. It's a positive step forward."
HEALTHY GROWTH OPPORTUNITIES
Beyond preparing for their role in a population-health-focused medical system, the benefits to fitness facilities are myriad, especially for early adopters. "Some facilities and the people making the business decisions are seeing this as an opportunity to distinguish themselves from competitors," Hutber says.
MFA is developing relationships across the fitness spectrum — from non-profits such as YMCAs to high-end commercial health clubs, even lower-cost chains. "Several of the chains are looking at ways to get involved in this," Boone says. "Higher-end chains are expressing interest and trying to figure out if this fits within their business plan, and a growing number of commercial facilities with multiple locations are taking active interest."
The more involved a fitness organization becomes in medical fitness programming, the more work will be required, but the payoff is worth it — not just in added program revenues or increased memberships. "Those facilities that go through the process will routinely tell you they become a stronger organization for having gone through the process," Boone says. "It will streamline operations, improve communication up and down the line, and require the facility to become focused on outcomes."
The concept is also finding its place among college recreation programs, as they reposition themselves as sources of health and wellness. "We've got this bridge where we connect clinical and community care, and there are different situations that can represent that community," Hutber says. "One of them is a college campus — it's a microcosm of society where you often have health centers with nurses."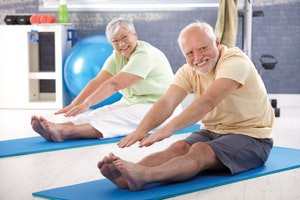 The college environment is rife with learning opportunities as well as teaching opportunities, adds Hutber. "You've got the perfect situation in which you can have students, faculty and staff getting the same recommendations to meet the national activity guidelines as they would from an outside doctor or clinic, and then the kinesiology students as part of an internship can help lead students through a program."
The EIM campus initiative works at different levels, depending on the resources and goals of the university. At the low end, campuses can take advantage of resources to build awareness and educate students on living healthier lives. "The next level up is teaching — events on campus that help put this into practice," Hutber says.
The highest level of buy-in would be to develop a referral relationship with the local healthcare system, a move that's proving more popular with higher-ed institutions, Hutber says. "It gives the administration a distinguishing factor they can promote to parents and students."
Preventing disease isn't typically a priority among students, Hutber admits, but there's still an opportunity to promote the more-tangible and timely benefits of exercise — better mood, increased energy levels, improved sleep. Developing healthful habits at a younger age will pay off later in life, when they do have to begin worrying about chronic diseases.
"The idea and whole concept is that we build a firewall between people who are a rising risk and those who are at high risk — first through education, then prevention and individual intervention," Boone says. "By understanding their health risks and managing them actively, we can postpone those individuals from becoming more acute. We won't stop them all, but we can slow them down."
---
This article originally appeared in the January | February 2017 issue of Athletic Business with the title "Bridging the gap between the medical and fitness industries" Athletic Business is a free magazine for professionals in the athletic, fitness and recreation industry. Click here to subscribe.