Perhaps nowhere is evidence of 40 years of industry growth stronger than in the area of commercial fitness equipment. To illustrate just how far the industry has come, we've collected examples of the first pieces of equipment produced by some of today's best-known manufacturers, as well as some of their most-recent products. When viewed side by side, the differences — from technological advancements to the influence of a shifting fitness culture — are stark.
---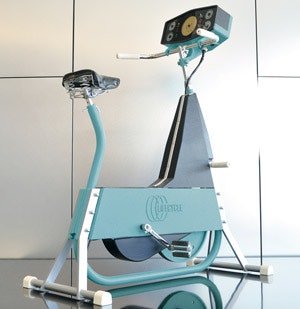 Then:
1968: Dr. Keene Dimick created the first piece of electronic exercise equipment — the Lifecycle stationary bike. The bike provided simple workout information, such as pulse rate and average calories burned per hour. The original model was priced at $4,000, which at the time was roughly the same price as a Corvette coup. The success of the Lifecycle launched the brand known today as Life Fitness®.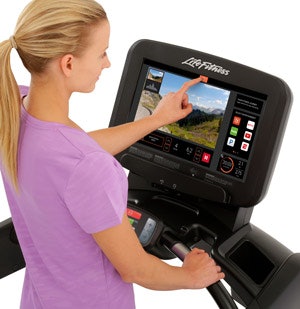 Now:
The basic concept of the treadmill has not changed greatly since its innovation, but the expectation has. In 2017, Life Fitness' newest line, the Integrity Series, includes digitally connected Discover SE3 consoles that interface with popular fitness apps, music and other entertainment options. Users can access workout results, TV programming, the internet and interactive courses, and Bluetooth connectivity makes it easy to synch workouts with other devices.
---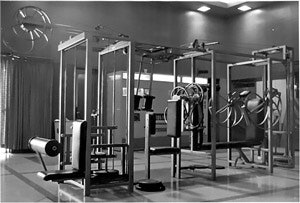 Then:
1970: The Nautilus® Blue Monster was introduced at the AAU Mr. America contest in Culver City, Calif. The variable-resistance cable machine — invented by Arthur Jones and featuring nautilus-shell-shaped cams — was a revolutionary development that changed how people exercised, and how clubs presented products to the market.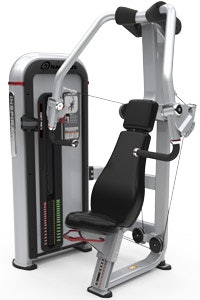 Now:
Since the '70s, strength equipment has become more fine-tuned. In 2015, Nautilus introduced its Inspiration™ strength line. Offering a complete strength circuit, the line captures natural human movement. Modern aesthetics and uniform towers help to make a powerful visual impression.
---
Then:
1975: Woodway produced its first treadmill two years before the first issue of Athletic Purchasing and Facilities was published. Wood sides were covered in green carpet, creating a unique visual appearance. Users' speed, displayed on a mechanical speedometer, was adjusted with an accelerator cable. The running surface was comprised of aluminum slats covered with synthetic grass.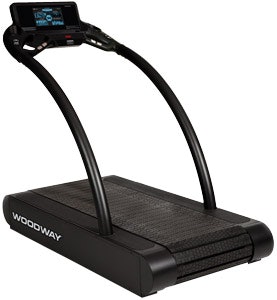 Now:
Forty years later, Woodway's latest treadmill line, the 4Front, is almost unrecognizable from its predecessor. The 4Front features a patented slat-and-ball-bearing surface and provides a smooth, quiet and comfortable workout. With the addition of the ProSmart touchscreen display, users can take advantage of different pre-programmed workouts, all while streaming TV, internet content and music.
---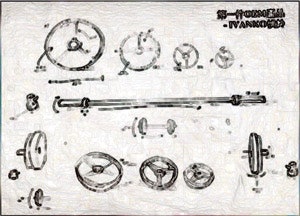 Then:
1975: Johnson Health Tech — then Johnson Metals — produced sketches for its Ivanko line. Johnson Health Tech is now the parent company of Matrix Fitness.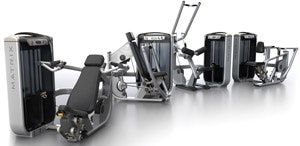 Now:
From those sketches, the strength line was expanded and refined, culminating in the latest iteration, the Ultra Series strength line, which combines advancements in aesthetics and operation with a uniform low-profile stack height and intuitive features for a better experience for users and facility owners alike.
---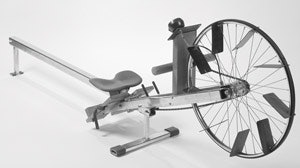 Then:
1976: Concept2 founders Peter and Dick Dreissigacker were originally focused on developing composite racing oars. It wasn't until 1981 that the brothers decided to create a winter training device for rowers. The Model A Indoor Rower was born after an experiment in which an old bicycle wheel was nailed to the floor of a barn, and one end of the chain was left free for pulling. The bike wheel remained an element of the Model A's design throughout its manufacturing run, which ended in 1986.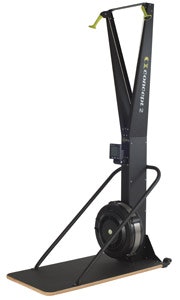 Now:
Concept2 expanded its expertise from rowing to skiing with the launch of the SkiErg in 2009, bringing another popular sport indoors. By mimicking the movements of Nordic skiing, users can work their arms, legs and core using either a double pole or alternating arm technique.
---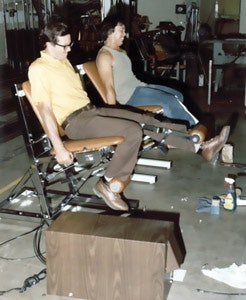 Then:
1978: Keiser debuted its Leg Extension machine — the first machine to use pneumatic resistance instead of iron to build strength and power. Dennis Keiser applied for a patent on the concept of compressed air variable resistance, which Keiser continues to use in its products in 2017.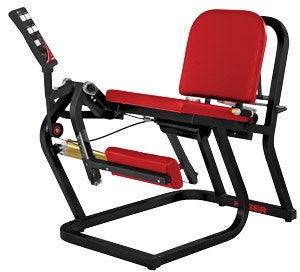 Now:
Today, Keiser's line of strength equipment still includes a Leg Extension machine. The AIR250 Leg Extension features a more customizable strength training experience, with adjustable leg cushions, seat backs and buttons on hand grips for controlling pneumatic resistance.
---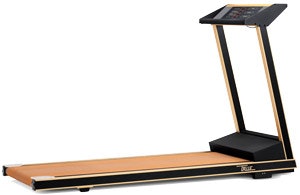 Then:
1981: TRUE® Fitness Technology Inc. was born after founder and CEO Frank Trulaske set out to launch an improved, higher-end treadmill product. After several prototypes, the company launched with three treadmill products in 1982.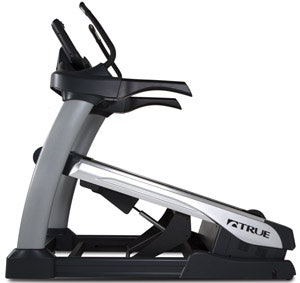 Now:
TRUE's latest product is the Alpine Runner Incline Trainer treadmill, featuring an incline ranging from minus 3 percent to 30 percent. Programmed workouts can immerse the user into virtual climbing experiences, such as the Eiffel Tower and Mount Everest.
---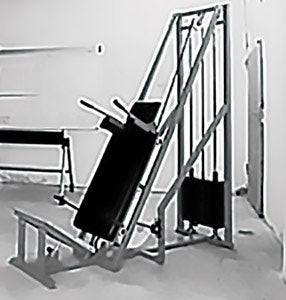 Then:
1983: Technogym president and founder Nerio Alessandri developed his first piece of fitness equipment, a hack squat machine, in his garage at the age of 23. Since then, Technogym has grown into a global wellness company, and one of the leading high-end fitness equipment suppliers.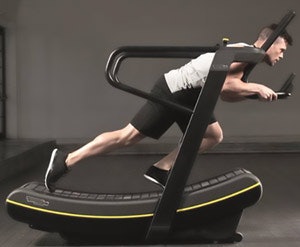 Now:
Technogym's latest innovation, the SKILLMILL, offers users workout options for power, speed, stamina and agility training, while providing facilities with a non-motorized piece of equipment that enhances sustainability and reduces carbon footprint. With the SKILLMILL's MULTIDRIVE, users can select different levels of resistance, allowing for resistance-free running and all-out sled pushes on the same piece of equipment.
---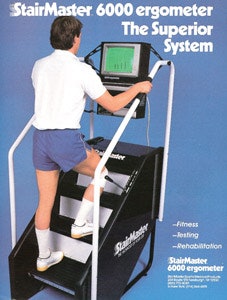 Then:
1984: The StairMaster® was arguably the most groundbreaking fitness equipment innovation of the 1980s. The first StairMaster featured rotating stairs. The unit was functional, but not sleek, and so a commercial artist was hired to assist in redesigning the product. The result became the StairMaster 6000.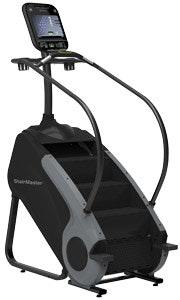 Now:
In 2013, StairMaster launched the redesigned Gauntlet®, representing the brand's best design combination of cardio and strength training yet. The machine features a deeper, wider step surface constructed with rust-free polypropylene, and offers three different OpenHub™ console options.
---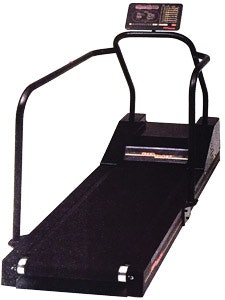 Then:
1987: Star Trac® introduced the Star Trac 2000, the first DC-powered commercial treadmill exclusively for health clubs.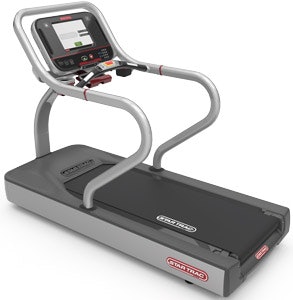 Now:
The latest line of Star Trac treadmills, the 8-TRx, was launched in 2016. A wide running surface with shock-absorption capabilities ensures user comfort, while the quick key controls allow for speed and incline adjustment with the push of a button.
---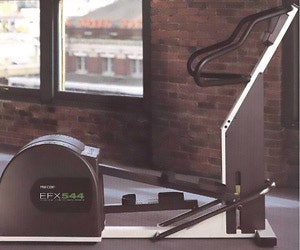 Then:
1995: Precor, which got its start with a rowing machine in 1980, made its biggest splash in the fitness industry when it introduced the first elliptical. The Elliptical Fitness Crosstrainer, or EFX 544, became the first new mainstream cardio product since the Stairmaster. Its low impact and ease of use made it a hit among club members, and the product took off among early-adopter club owners.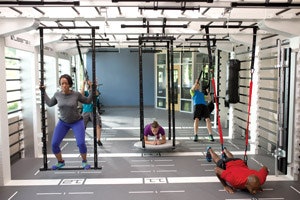 Now:
Precor's latest product reflects how today's fitness consumer has changed. The Queenax™ Functional Fitness unit offers a flexible training option for users. It can be reconfigured to accommodate many types of functional training, and its space-efficient, modular design makes it a valuable addition to a fitness facility. Operators can use Queenax to maximize floor space, as well as offer group training to exercisers of all fitness levels.
---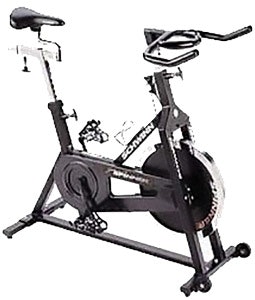 Then:
1995: After a century of being known as a leading producer of recreational bicycles, Schwinn® partnered with Mad Dogg Athletics to introduce the original Johnny G Spinner® line of exercise bikes, developed by Johnny Goldberg, at that year's IHRSA Convention.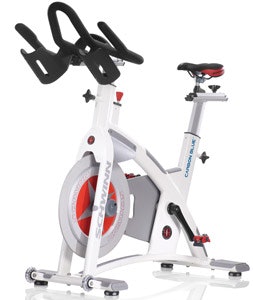 Now:
In 2013, Schwinn introduced the AC Performance Plus™ exercise bike. The bike creates an authentic outdoor riding experience with its Carbon Blue™ belt-drive system, originally developed for outdoor bikes.
---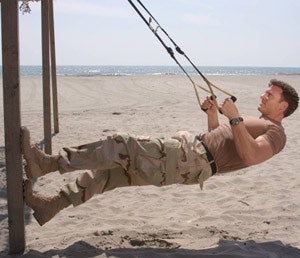 Then:
1997: Randy Hetrick constructed what would eventually become the TRX Suspension Trainer™ after noticing that he and fellow SEALs lacked proper facilities and space for workouts during deployment. The first design used a jiu-jitsu belt, a carabineer and parachute materials looped over a beam or tree to allow for basic movements such as rows and presses. These early prototypes quickly proliferated as fellow SEALs took them on deployments and began discovering new strength exercises and functional movements, thereby expanding the range of capability to train the entire body.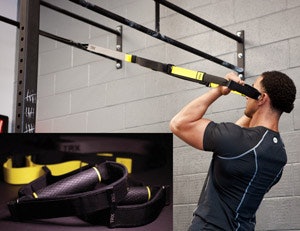 Now:
Hetrick built TRX into a category leader in suspension training, and the brand now boasts a comprehensive line of functional training tools, including the new TRX Duo Trainer™. Developed with MobilityWOD founder Kelly Starrett, the Duo Trainer represents an innovation on traditional gymnastics rings. Featuring straight wooden handles for ease of use and easy and accurate height adjustment, it's designed for use anywhere.
---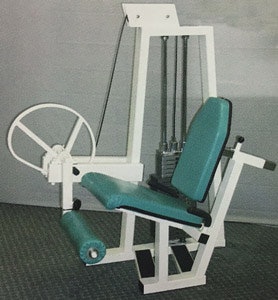 Then:
1998: While one could argue that Legend Fitness' original 911 Performance Series Leg Extension offers the same strength-building potential as its present-day counterpart, the older version lacked a certain visual appeal, featuring straight- or angle-cut square tubing and plates, liberal use of plastic end caps, no weight stack shrouds, and upholstery finished with a black welt to hide the seams.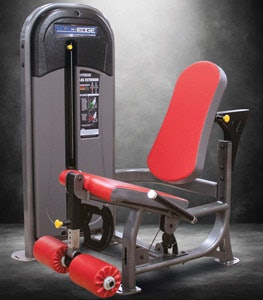 Now:
Today's 1108 SelectEDGE Leg Extension is much more aesthetically pleasing, with ovalized tubing, polymer weight stack shrouds, an instructional placard, laser-cut steel and more neatly finished upholstery on contoured pads. In addition to the updated look, the newer product also advances flexibility and safety features.
---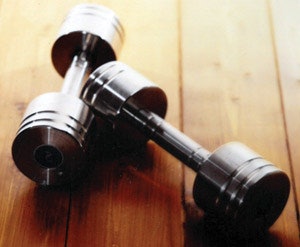 Then:
1998: A relative newcomer to the fitness landscape, Escape Fitness began when Matthew Januszek combined his interest in bodybuilding with his father's engineering and passion for design. The company's first product, stainless steel dumbbells dubbed Beauty Bells, established it as a premium dumbbell supplier. Beauty Bells were offered in sets with a custom-made 'XRACK' storage option, which was a hit with discerning clubs. The latest incarnation still sits at the top of Escape's dumbbell range.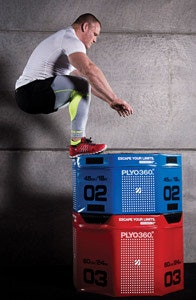 Now:
Riding the functional-fitness wave, Escape Fitness entered the plyometric equipment market and now supplies the Escape PLYO360. The colorful, soft and durable plyobox was designed to help users get more out of plyometric workouts, allowing them to push beyond single-plane movements. The PLYO360's octagonal shape allows for multidirectional jump patterns, and makes it a fit for partner and team workouts.
---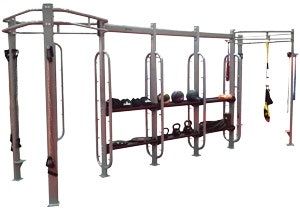 Then:
2005: Torque Fitness was founded and began to produce its first training systems, going on to introduce the XLAB, a functional training system intended for group use, in 2012. With storage for accessories and suspension training capabilities, facilities could train multiple people, even within limited space.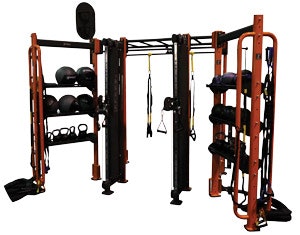 Now:
Today, Torque's XLAB has evolved into different packages and customizable options, including the XLAB Monkey, which allows for custom-colored uprights, adjustable pulley stations, monkey bars, dip stations and more.
---
This article originally appeared in the April 2017 issue of Athletic Business with the title "Stronger with age." Athletic Business is a free magazine for professionals in the athletic, fitness and recreation industry. Click here to subscribe.