There she was, all 90 years of her, doing push-ups with P90X founder Tony Horton on stage at the IDEA World convention in Los Angeles.
Those six push-ups were not easy for Elaine LaLanne, but it has nothing to do with her age. Days prior to the event, she fell out of her truck, landed on some stones and tore her rotator cuff. But she went ahead and did the push-ups — full-body ones, too, as our iClubs Facebook page video shows.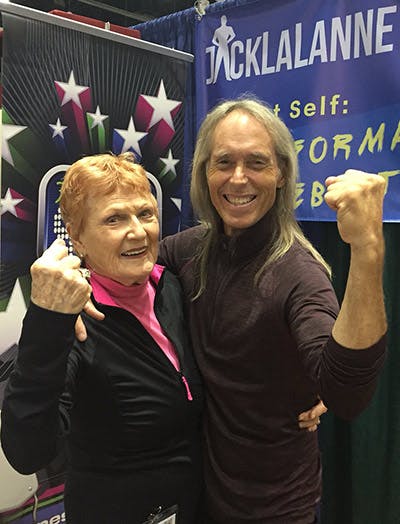 Elaine LaLanne and her son, Jon, do the famous Jack LaLanne muscle pose in their booth at the IDEA World convention last July in Los Angeles. (Photo by Stuart Goldman.)
"A few years ago, I never thought I'd make it to 90," Elaine LaLanne, wife of the late fitness legend Jack LaLanne, told me on the IDEA World show floor last month. "Well now here I am at 90, and I don't feel any different than I did 20 years or 30 years ago."
Among several highlights from the show — hearing inspiring words from Amy Van Dyken-Rouen and Jack Canfield, getting a chance to see "Gleason" and Augie and Lynne Nieto, catching up with TRX founder Randy Hetrick, chatting with group fitness leaders and speaking with other industry leaders for a September issue Athletic Business magazine story — catching up with Elaine and son Jon was at the top of the list.
I first got to know Elaine and Jack LaLanne seven years ago for a profile I wrote for Club Industry, which recognized Jack with its Lifetime Achievement Award. Both he and Elaine were the keynote speakers that year, too. Jack thought — we all thought — that he was going to live to 100. And we were all shocked when he passed away in 2011 at the age of 96. He almost made it.
But the LaLanne legacy lives on, thanks to Elaine and Jon, now 55 and a spitting image of his old man. Officially, their business is listed as Be Fit Enterprises, but you can find photos and videos of Jack in action preaching the virtues of fitness at JackLaLanne.com.
In addition to exhibiting at IDEA World in July, the LaLannes attended The Fit Expo last weekend in Anaheim, Calif., working with Canadian-based fitness equipment company CoreStrength1, an all-in-one strength training system. Elaine also served as a spokesperson and Jon was a judge at Fitness Star International's first-ever model search and My Best Self event at the expo.
"I've been attending these expos since dad passed away," Jon said at IDEA World. "I've been noticing and observing from outside the bubble the impact that dad has had on so many lives.
"Growing up with him, he was just dad. So when I see the lives that he's impacted and the results that he's created and the lives that he's saved, we want to help spread his message along and keep his name and legacy alive. We want to get dad's name into the 21st century. We don't want to let him die. We don't want to let his name die. He changed the whole country. I'm not bragging, I'm just stating a fact. We saw it happen first-hand."
The LaLanne family has been working on a book about Jack. It's about 75 percent done, but the project is "on hiatus" right now, Elaine says. Perhaps after the book, there will be a movie made on The Godfather of Fitness. (A documentary came out in 2015.)
For now, the LaLannes are concentrating on their business. Jon wants his mother to go on a speaking tour, perhaps to colleges and corporations.
"She's got a lot to say, and she's very inspiring to a lot of people," Jon says.
"Honey, I've been there, done that," Elaine adds. "I have a lot of energy. I've always had a lot of energy, probably because I work out. I haven't let myself go."