As reported by Athletic Business yesterday, a recent study published in the Wall Street Journal shows that participation in the top four youth sports are on the decline. While that could be seen as an alarming revelation given the current obesity epidemic, it can also be viewed as an opportunity for club owners to help pick up some of the slack and keep America's youth moving.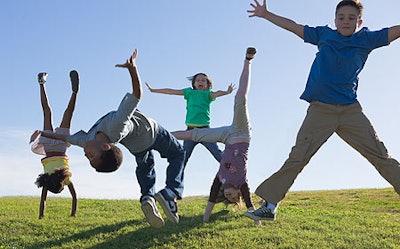 The obesity numbers in children overall — 20 percent of 6- to 11-year-olds are obese, while 18 percent of 12- to 19-year-olds are obese — indicate a pervasive sedentary culture. However, the numbers also indicate a societal need that can be met by health clubs. Health clubs have an opportunity to address America's problem of youth inactivity by programming especially for this group of potential exercisers.
Obese children and adolescents are likely to be obese adults, and are therefore more at risk for adult health problems such as heart disease, type 2 diabetes, stroke, numerous types of cancer, and osteoarthritis, according to the Centers for Disease Control (CDC).
RELATED: Weight Control and the Workplace: A Valuable Opportunity for Clubs
With that said, it's not easy to get unmotivated kids up and moving. While some health clubs may provide space and activities for kids, it may take more. Scaled down equipment and programming, may be effective for kids with the right motivation, but it may not be enough to get the unmotivated kids excited and committed to a healthy lifestyle.
"The disconnect is that we (and our kids) live in an environment that encourages unhealthy behaviors and makes healthy choices more difficult. Kids face this on a daily basis," says Dr. Steve Daniels, Professor and Chairman, Department of Pediatrics University of Colorado School of Medicine. "The recommended level of physical activity is 60 minutes of moderate to vigorous physical activity each day. To get kids to do this on a regular basis and stick with it the physical activity must be fun."
Another consideration is the quickly-changing tastes and shorter attention spans of the younger crowd.
RELATED: Obesity is Considered a Disease: What Does That Mean for Clubs?
"Fitness centers can help their young members by offering a variety of different activities for kids to try," says Daniels. "Some kids need to learn skills in order to be more comfortable with, and enjoy, activity."
And, keeping that group and team mentality may still resonate with children, even if it doesn't mean joining organized sports leagues.
"Continuing to provide new opportunities and new challenges will help keep kids motivated. Kids get bored quickly, so providing them with new challenges and new ways to stay active is ideal," says Pat Rigsby, Co-Owner, CEO, Fitness Coach, Director of Fitness Marketing and Fitness Business Development at Fitness Consulting Group. "Secondly, making sure that there is a social aspect to their activity will help keep them engaged and excited."
3 Ways to Get Kids Active:
If you have the space, run house leagues in the top four sports, and more. Many kids still want to play, but under their own terms.
Add programming that trains kids as athletes for the sports and activities that are on the rise such as lacrosse and rock climbing.
Competition is still fun. Have "fitness" teams and individual events that allows kids to compete for prizes and bragging rights. Remember, you are competing against video games,

which WebMD classifies as a real addiction

. Your programming could try and emulate the kind of stimulation that video games provide through gamification.
RELATED: Playgrounds Need More Elements of Risk, Experts Say
John Agoglia has spent nearly two decades either working in health clubs or writing about them. He currently writes for several digital and print publications in and out of the fitness industry.