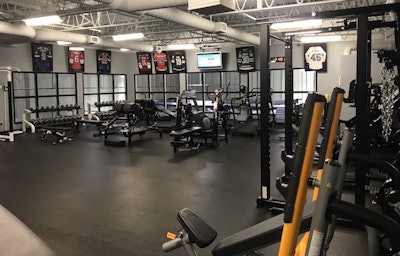 Jon "Crash" Benne is a strength trainer and owner of Elevated Performance in St. Louis. He started out as a stick boy for the NHL's St. Louis Blues, an experience that would shape his career path. Today his gym specializes in turning out strong hockey players. Aside from a line of NHL veterans that have passed through Elevated Performance, he continues to shape new talent. Five local athletes from Benne's gym went in the first round of the 2016 NHL draft, including four in the top 15. Athletic Business sat down with Benne recently to talk about everything from the equipment he uses to his overall coaching philosophy.
Can you tell me a little about the kinds of athletes that come through your facility?
With my background in hockey and working in the NHL, a lot of my clientele are hockey players, but we have all kinds of athletes that come through the facility. Whether it's a 10- or 12-year-old client beginning his strength training to an NHL draft pick, we have every caliber in between. My focus is mainly on strength, as well as on conditioning. But hockey players are my bread and butter.


How have you collaborated with Matrix to outfit your facility?
I've been a really involved with Matrix for a number of years. I like that they'll ask what I like and what I dislike about certain equipment. And I might get back to them and say this is how this helps my athletes, or this doesn't help my athletes, or it can help if we fine tune it a little bit. One of the things that Matrix does is they have guys like myself that they trust, and that they talk to, and we have open communication. They've been nothing but great to me and help me with my business and development over time. And their products are bar none, top in the country. Obviously there's tons of competitors out there but when it comes down to my business it's their customer service, their taking my opinion and helping their product, as well as helping my product. And it's really been a great relationship.


How does their equipment factor into your coaching process?
I'm not a huge machine guy, you know where we're going to do leg extensions all day long, although have a leg curl machine, I have a leg press, but there are certain pieces you need to target certain muscle groups for certain clientele. Matrix helped me furnish my facility about seven years ago, and over time I've added a few pieces over time that either they've suggested or I feel like I need to add. But I don't have a 10,000-square-foot facility with three-hundred thousand dollars of equipment, but I have the pieces that we need.


What's important to you when it comes to customer service?
With Matrix, their attention to detail and their communication, as well as when I give Matrix contact information to a client, or to a friend in the industry, they look out for them as thought they're looking out for me. It's trust, and with any company there's going to be a hiccup here and there. They are quick to have someone out there, quick to have anything fixed and fixed properly. It's really their attention to detail and the way they treat their customers, and if there's ever an issue, they make it right, that's what I like about what Matrix does. So if there's anything I need, I really don't go outside the bubble of the Matrix family.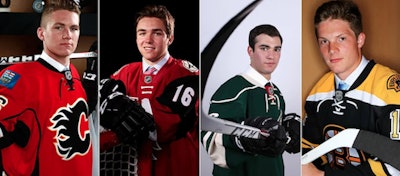 Why do you think your athletes have been so successful?
I've just had the opportunity to work with some really talented athletes who have trusted me with their training and their careers. Obviously having the facility that I do and the equipment that I do at our disposal that's helped. But I've just been really lucky to work with some talented and gifted athletes. It's also the character of these young men and the way they carry themselves. It's not just about being an elite athlete but the way they treat people and the way they handle themselves.


What do you think is most important for an athlete to succeed and meet their goals?
I think it's both mental and physical toughness. They all make a lot of sacrifices in order to get to that level, and they're commitment, to training, to nutrition, to rest, to recover is second to none. You tell these guys to do something and they're going to do it. That's what's nice, they believe in what I'm doing, they've seen our track record of success and it transfers to their sport and their lifestyle. But they're top 700 hockey players in the world, and it's pretty neat to work with such gifted and talented athletes.
---
For more information on Matrix Fitness' strength equipment offerings, visit matrixfitness.com.