Climbing gyms are quite literally popping up all over the country — from Manhattan to San Francisco and points between, such as Pittsburgh, Memphis, Milwaukee and Salt Lake City. In Englewood, Colo., just outside of Denver, an old Sports Authority complex has been converted for indoor climbing. In Durham, N.C., a big box built for Walmart and never filled became a commercial climbing destination. "On the renovation side, there's this push toward all the dead strip malls," says Adam Koberna, president of Walltopia USA, a climbing wall manufacturer. "Everyone is popping roofs on the dead retail."
The existing roofs in such established structures may be 20 feet high, less than half the height typically needed for rope climbing, and well short of the 55-foot clearance needed to train for Olympic speed climbing. Some gym developers are raising the roof on a portion of what might be a 30,000-square-foot footprint to make vertical room for the tall walls while flanking them on the floor with bouldering structures. In other cases, they're buying up property, leaving it as is, and opening bouldering-only facilities in relatively short order. "If you do a full-scale gym it takes probably a year," Koberna says of the timeline from purchase to open. "But they can go into a dense urban area and open a bouldering gym in six months. They don't have to pop a roof, they don't have to get a permit, and they're rolling."
The market is progressing at such a pace that Big Stone Publishing, producer of Rock and Ice magazine, in September launched a publication dedicated to indoor climbing. Slated for quarterly print issues by 2020, Gym Climber will be distributed among the nation's 700 indoor climbing gyms and target an audience of five million indoor climbers. "Gym Climber is the only media in this market, which is the fastest-growing in the world of climbing," says publisher Duane Raleigh. "Most climbers get their start indoors."
"Private gyms are definitely a segment that's taking off right now, and it's definitely easier to see in the news," says Todd Chester, sales and marketing director at climbing wall manufacturer Entre-Prises. "There's more notoriety than with other facilities because private gyms are purpose-built to make a profit, and they need to get to the word out."
At the Climbing Wall Association Summit in May, conventional wisdom held that today's commercial climbing gyms don't exist to merely complement the health club experience, but to compete directly with it — as one-stop-fitness destinations offering HIIT classes, yoga studios, cardio and fitness equipment, kids and party areas, and fancy locker rooms. "For sure, the industry is going in that direction," says Hilary Harris, founder of the EVO Rock + Fitness brand of climbing gyms. "I don't think that the cost of entering a climbing gym reflects that yet. We're still trying to dig ourselves out from the days when we were a bunch of dirtbag climbers going into lower-grade facilities."
A licensed architect, Harris designed EVO Rock's Concorde, N.H., and Portland, Maine, locations and had a hand in the design of the gym she currently co-owns in Louisville, Colo. All share the same architectural language, a unifying color scheme and an array of fitness amenities. Membership to her Louisville location costs $75 a month.
While the comparisons to health clubs are no longer a reach, they only extend so far. Climbing gyms carry design considerations unique to their namesake activity and its culture. Here are a few:

A hold on the health market?
Racks, rigs and rowers. Balls and bells. That's how Lance Brock describes the fitness offerings inside his Climb Nashville gyms. The functional strength phenomenon has landed squarely in commercial climbing facilities, and one could argue it's a perfect fit. Brock's Nashville location runs 50 yoga and fitness classes per week.
"We always said we wanted this to be the only gym membership people needed, unless they wanted to play basketball or swim. We don't have a pool, and we don't have a basketball court, but overall, we want this to be where people can do all the fitness they need to," Brock says. "It's not a good fit for everybody, for sure. We recognize that. But part of it is we do want climbers to have good all-around fitness, because just like any other sport, being well-rounded through cross training is good for you. Some people who climb too much and too hard, they're going to get hurt. So some injury prevention through general fitness and cross training is helpful there, and we just want to provide that outlet."
How much of a dent this puts in the number of traditional health club memberships purchased in the United States is hard to determine, but what is clear is that fitness is increasingly seen as a must-have in the climbing gym. "Every new gym that's going in now, if they don't have more of a full fitness structure, then they're probably behind," says Todd Chester, sales and marketing director at Entre-Prises, a climbing wall manufacturer. "Nobody wants to join multiple gyms. So the new gyms are making sure it's fully encompassing. Your potential clientele can tell. If you don't have enough of that other stuff, it's definitely a deterrent."
Volume
Today's climbing gyms represent a departure from the cramped, canyon-like facilities of old. Koberna observes that most gyms come close to a 1:1 ratio in terms of square footage of floor space and climbing surface. Deviate from that ratio in either direction and a facility will begin to feel tight or spacious.
Spacious is certainly preferred. At minimum, a climbing gym floor needs adequate fall and swing zones for safety, but enough room may also be needed for a mechanical lift to navigate among the walls for maintenance or route setting. For the most part, climbing gyms are broadening to accommodate non-climbing functions, such as fitness, retail and social gathering. "Climbing's a social activity," says Eldorado Climbing Walls CEO Kevin Volz. "Some places put in benches or overstuffed couches so people can hang out, observe the climbers and have a coffee, perhaps."
Climbing gyms are getting taller, too. Rope walls in most gyms top out around 42 feet, but if a gym wants to join the Olympic speed climbing movement — the sport will debut at the Tokyo Games in 2020 — it will need a ceiling height closer to 60 feet, accounting for clearance needed for sprinkler heads, lighting fixtures and HVAC ducts (an alternative solution is placing ducts, which can measure three feet square, in front of or behind the wall). To make such heights possible in a former grocery store in Murfreesboro, Tenn., Climb Nashville owner Lance Brock watched as renovators constructed a building within the original building's 30,500-square-foot footprint. "That's where we put the tall climbing," says Brock, who as a one-time licensed architect drew up the schematic design.
Often, a mezzanine surrounds a climbing gym's tallest wall feature, allowing fitness offerings, as well as office and storage spaces, to be concentrated on a second, less-trafficked level of the facility.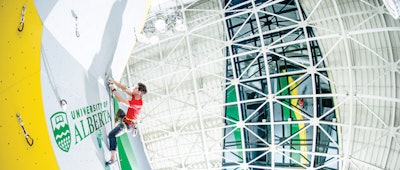 Air handling
Climbing gyms pose air-quality issues unlike other indoor facilities in that few facilities see physical exertion taking place 55 feet off the ground. "You have so much verticality in them that you have to deal with the destratification of the air in the space — it's really hot up high and it's really cold down low," says Harris, who successfully stirs the air in her Louisville location with only two large ceiling fans, which have "completely changed the climate in our gym."
A robust HVAC system helps, as well. "The way you need to move that air around is just different," says Brock. "We use standard commercial ceiling fans and have pretty good luck with those, but a lot of people like those really big fans and Air Pears to destratify. We just try to supply high and return low and just really keep those fans pumping, and that seems to work pretty well for us."
Airborne chalk is another concern. Some self-contained filtration systems are designed specifically to remove chalk from the air, but because they must be positioned within the activity space, architects like Harris prefer instead to regularly clean the HVAC system's bag filtration. Brock's gyms employ metal pleated filters that in some cases get washed every four days. "We have to stay on top of them," he says. "We have a contract for quarterly maintenance, but it's still not enough. The units just take a beating. You can totally demolish a mechanical unit in just a few years if you're not careful."
"You talk to a climbing gym owner and he'll spend a half hour — two beers — just on HVAC," says Koberna, adding that mechanical suppliers have gotten the message regarding the special needs of the climbing gym environment. "At the first CWA conference, you saw guys who sell climbing shoes and guys who sell climbing gear, and now you see the guys who sell fans and the guys who sell HVAC units."

Load bearing
Most existing buildings — be they a closed Borders Books or a never-opened Walmart — were not designed to support climbing walls, much less multiple people hanging on them. Renovation may require reengineering, which can add months to the conversion process, or a rethinking of the climbing solution. An increasing number of gym owners specify freestanding walls within the building shell, thus bypassing much of the time, expense and bureaucratic red tape of renovation.
In cases of ground-up construction, gym owners can consult with their chosen wall manufacturer to ensure the building envelope is up to the task. "Exterior walls are load-bearing, but we like to make sure they're beefed up a little bit just as far as headers to attach to," Chester says. "Any climbing wall manufacturer needs to be included pretty early in the process so that we can look at those loads and make sure you're not designing something at the front end that then has to be reassessed and redesigned as soon as you bring in your climbing walls."
Building stress can occur in multiple directions, Chester adds. "You're going to have vertical and horizontal loads," he says. "When you're engineering, you have to load for all the people falling at once."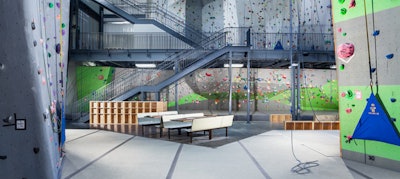 Flooring
Because climbing involves falling — in fact, it's inevitable when bouldering — safety is a key design consideration. Once an afterthought, safety flooring around climbing walls has gained greater attention to the point it has spawned some climbing-specific flooring products.
"There's no ASTM standard," Volz cautions, noting that thickness and density of flooring can vary greatly. "Right now, the entire industry is kind of operating on best practices, but the industry has never really come to any conclusive formula that says this works better than that."
That said, six inches of padding is common at the base of rope walls, while padding 12 to 18 inches thick often surrounds bouldering walls, because, as Volz puts it, "The activity is such that failure is the objective. You're pushing, pushing, pushing, and you climb to the point of failure and fall off the wall."
"There's no standard for flooring in the U.S. for climbing walls, but it's a big deal," Koberna says. "People are putting a lot more money in flooring than they used to. When we install flooring, it's almost as much as the climbing wall cost-wise."

Lighting
Natural lighting is desirable in any indoor recreation setting, and it's particularly fitting in a gym that simulates an outdoor activity. Nonetheless, design care must be taken to maximize lighting effectiveness while mitigating its drawbacks. Harris favors clerestories over skylights, which under a high sun can bake the space and during rain may eventually leak, and she typically places clerestories on a building's southern exposure, where the light can be controlled by a brise-soleil or other shading mechanism.
Likewise, at least some percentage of a gym's artificial light, which is commonly LEDs, should be indirect — perhaps reflected off the ceiling. "Nobody wants to be looking up into some 1,000-watt-equivalent high bay while they're climbing," Brock says. "We try to use as much natural light and indirect lighting as we can to keep it friendly on the eyes."

The future of campus climbing
Even in an era of private climbing gym proliferation, college and university campuses still embrace climbing — if slightly differently than they once did.
"Years ago, we built everything in atriums in real rock and it looked super cool," says Todd Chester of Entre-Prises. "The way I like to explain it is we're working a sport backwards. If you compare it to aquatics, we all built the lazy rivers first, and now we're seeing the need to build the Olympic swimming pool."
Climbing has shifted from the campus rec center lobby, where walls were displayed like a showpiece, to more secluded spaces offering visual privacy to wall users. There has been an undeniable migration of students to off-campus gyms offering a more dedicated, even hard-core, approach to climbing, but the sport still dovetails with current collegiate recreation trends.
"We see that climbing sports have reached a temporary plateau, but they are poised for continued strength in the collegiate marketplace," says Jack Patton, a principal at RDG Planning & Design. "This position of strength is founded in wellbeing, a holistic focus on recreation, changes in wall styles and systems that are promoting more use, and their continued beneficial alignment with outdoor adventure programs."
Facilitation of real-world climbing outings remains uniquely collegiate. "I see climbing gyms not really willing to do that," says Walltopia USA president Adam Koberna. "They're like, 'We're indoor climbing. We want you to know how to go outside, be a good steward when you're out there and not kill yourself and all that stuff, but we're going to focus on the indoor environment.' "
Colleges, meanwhile, remain committed to combining experiences. "We see these walls — the most successful ones — as part of bigger, more-than-just-climbing programs," Patton says. "Campus Adventure and Outdoor Pursuits programs typically offer great alignment, support and beneficial pairings for climbing sports. They go together well. One begets the other."
Back of house
Like most commercial spaces, climbing gyms can never have enough storage. " Even in this gym, which is our biggest one, there's not enough," Harris says of her Louisville location. "That's a really big deal, because you don't want to be spending all this money for storage space, but the bigger your gym, the more storage you need."
Gyms need space to store holds, ropes, harnesses and chalk bags, to name a few items — and sometimes the wall itself can be used to house them. But actual closet space will be needed for such things as marketing materials, janitorial supplies and retail inventory.
Harris also likes to dedicate space for her route-setting staff, as her philosophy on business offices in general continues to evolve — from the collaborative, open-office concept she carried over from her architecture studio days (though it devolved into a chronic clubhouse atmosphere) to a greater emphasis on privacy (hence the mezzanine location) and professionalism.
"Climbers are just very different creatures than people in corporate America. It's a big reason why I got into this industry. I really enjoy being around free-spirited people and having a lot more flexibility in my job than I did before," she says, adding, "If you have an open office with the feeling people can just come and go and have that clubhouse attitude, then the professionalism is something that's really hard to manage. It's hard to manage anyway with climbers. I haven't really figured out the solution yet."

In fact, climbing gym design in general is still evolving. Harris traces the concept only as far back as the 2009 opening of Movement Climbing + Fitness in Boulder, Colo. "It really was a revolutionary idea. Before that, climbing gyms were being built by climbers, and they didn't understand all the nuances of design and how important it was," she says. "They would just go into these warehouses with terrible daylight and horrible air quality and they'd just throw a bunch of climbing walls in them and that was it. I would say Movement really changed all that."
Harris recalls a CWA session hosted by Movement architect Jamie Logan, at which the importance of color, light and space was discussed. "This climber dude in the audience raises his hand and he goes, 'I don't know, you guys are talking about all this stuff, but the reality is you just walk into a gym and it either feels cool or it doesn't.' And it was like, 'Yeah, dude. It feels cool or it doesn't because of all of those details that we're talking about.' A layperson who hasn't been trained in design doesn't realize that there's been all this thought put into the space to make it 'feel cool.' That's what designers are trained to do."
---
This article originally appeared in the October 2018 issue of Athletic Business with the title "Climbing gym design ascends to new heights." Athletic Business is a free magazine for professionals in the athletic, fitness and recreation industry. Click here to subscribe.