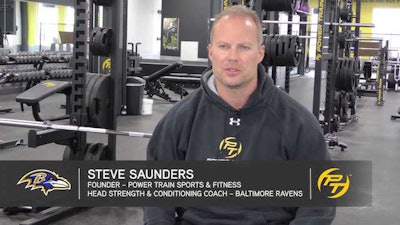 In the highly competitive world of the NFL, Steve Saunders stands out. He's not only the head strength and conditioning coach of the Baltimore Ravens, but also the founder of Power Train Sports and Fitness, a chain of training facilities with locations in six states. We recently caught up with Saunders to discuss his strength training philosophy, how he revamped the Ravens' approach and what he looks for when it's time to upgrade his facility's equipment.
How do you balance your role with the Ravens and with Power Train Sports & Fitness?
Well, I don't do anything with Power Train anymore. We've got a great infrastructure in place with those facilities and my time with the Ravens is non­stop. With five kids and a wife at home, there is only so much time in a day so I'm completely focused on our team.
You started with the Ravens in 2016 and revamped their training approach. What went into that?
Philosophically, it was just a different approach. They were doing more machine-­based training. We're trying to work in smaller groups, as small as possible, with more individualized workouts. We believe that every exercise we do should transfer to the field. That's not necessarily imitating sports movements, but everything should apply. So as a coach, you have a short amount of time and need to prioritize what you think is best.
The players have been great. I think they appreciated the new approach, especially when they saw results quickly.
How important is having the right strength equipment to your job with the Ravens?
I think it has to fit into your philosophy of how it fits in with the players. We're using more free weights and cages and things like that. Because of the [NFL's] CBA, you really need to grasp the time restrictions you have, so in a facilities sense, it needs to be laid out well. You can't have any wasted time. It's this organized chaos.
The equipment is an important part of that ­­ having cages in a certain area, half racks in certain areas. Various dumbbell areas. We have a turf area now. Nothing is overly fancy, but we need equipment that is reliable and practical and the space to go along with it.
Why did you choose Matrix?
I used Matrix for all the Power Train facilities, so I've been with them for 15 plus years. I love the dependability, the service aspect, the relationships are there. It's just great equipment.
I think a lot of it is the reliability and customer service. They go above and beyond for whatever we need. They're always flexible and easy to work with. It's a big company with all the resources, but at the end of the day there are people there that you trust and are easy to reach if you ever need anything.
If someone is considering upgrading their strength facility, what factors should they consider?
Their specific needs, what's their space, what's their budget. I've seen some of these collegiate weight rooms where they can't burn enough money away. At this level, we have a budget we have to stay within. Same on the private side. So you can't spend just for the sake of spending. So for anyone upgrading their facility it's about prioritizing, 'here are my funds, what do I really need to make the most of it?' You can spend money, but it's not always practical, and most places don't have that unlimited budget. Is this cage good or do I need the ones with all the bells and whistles even though I might only use it once a year? Really think about the value of what you're getting and what's going to make the biggest impact for your program.
What's it like working with some of the best athletes in the world?
It's fantastic. I've always enjoyed it, whether it's here or in the private side, having an impact on an individual, seeing someone progress and achieve their goals. But then you get to do that in the team environment and it takes that satisfaction to a whole different level as you improve and win as a team.
How does that trickle down to your training facilities?
Philosophically, it's the same system, same approach. Results oriented. In the private side they get a chance to have the same things that are provided here. It's individually oriented to gearing toward getting results.
---
To learn more about how Matrix can help power your training facilities, visit their website.