This sponsored content was provided by Matrix Fitness. What is sponsored content?
School pride, high school or collegiate, comes in many forms. From school apparel to school-sponsored community events to facility décor, there's ample opportunity to take pride in being a part of something.
Your school's unique character can extend all the way to your recreation and athletic facilities, where strong community ties nurtured by your students represent one of the biggest motivators of all. Facility customization does not just stop at painted walls and branded floormats, and fitness equipment suppliers are stepping up their own game to prep your athletes for theirs.
Identity is a core value that heavily ties into the formative years that students navigate in high school and college. A well-outfitted athletics facility adorned with your school's insignia gives students a place to belong and engage with people they identify with, and gives your staff a sense of ownership over the quality products and services they provide. For all, it's a chance to experience being a part of something bigger. To its core, a customized space makes students feel at home and delivers on the wellness culture promoted at your facilities.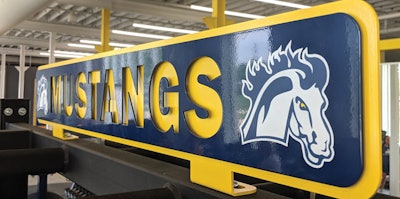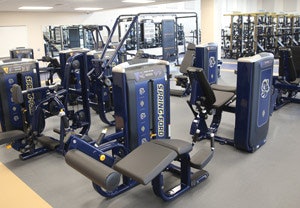 Equipment donning your school name, colors and logos adds a next level "wow" factor to your investment, encouraging students to feel welcome as they practice wellness habits, which further promotes facility and equipment use among students. In cases of universities, colleges and prestigious high schools with open enrollment, proud fitness facilities are highly valued recruiting tools. Aspiring athletes looking to join a team can feel empowered and motivated by the culture and character. Recreation regulars or beginners can find outlets to perfect their niche. A custom space not only fosters team pride, but also community pride. In many cases, school boards, booster clubs and other community support are heavily involved in business decisions regarding school initiatives. Exemplifying the community's pride using custom pieces, backed by their trust in the school's mission, solidifies an atmosphere of inclusivity.
"Decals and logos are the thing that makes this place pop. With all the custom logos on our racks and bars, I think what they gave Marian is the ability to have a voice. Every time you come in here, you know it's Marian University, you know it's Knights Strength."

"It symbolizes a home. It's not bare walls – this weight room has an identity for our athletes and our athletes identify with it."
Vernon Smith, director of Strength and Conditioning at Marian University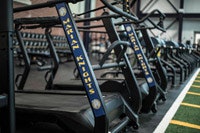 As previously mentioned, school pride comes in many forms — especially in athletic and rec facilities. Matrix wants to help you exude the pride you have in your team in a way that fits your needs. Your equipment can be embellished with branded platforms, laser-cut steel uprights and nameplates, embroidered logos on upholstery coverings, custom frame colors and decal sets for placement on j-hooks and more. Making a lasting impression with a facility that pops is what our representatives strive to achieve.
The mention of equipment customization typically makes people think of the cosmetics — custom colors and logos. However, Matrix can help you go the extra mile to create an inclusive space with multifunctional equipment that can transform to cater to the needs of many users. Athletics and recreation can mesh to offer options for both a beginner and an advanced user. Optimizing your product mix for the space and depth of your facility is another advantage of custom-built equipment.
In choosing to customize your facilities, both students and community members alike can walk in, be in awe of the presentation and identify with the community roots they've grown to be proud of. With pride comes name and brand recognition, expanding into your community and beyond to prospects interested in your school's identity. Promoting your team and rec initiatives can be made easy when your equipment speaks for itself. Aesthetically pleasing and multifunctional equipment motivates community members of any skill level to use your facilities, reach for their goals and be proud to do so.
---
To learn more about custom solutions that can work for your facility, send us an email at info@matrixfitness.com or visit matrixfitness.com/athletic-performance
---
This article originally appeared in the July | August 2020 issue of Athletic Business with the title "Teeming with School Spirit: The Customization Game." Athletic Business is a free magazine for professionals in the athletic, fitness and recreation industry. Click here to subscribe.