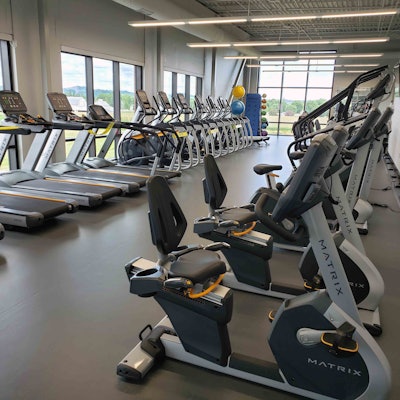 Wanek Center in Arcadia, Wis., is an $18 million project that opened January 4 to serve the School District of Arcadia and the surrounding community. The Ronald and Joyce Wanek family, owners of Ashley Furniture, donated more than half the funds to complete the impressive community center, and the remaining proceeds came from the school district's referendum and other donations. Bruce Schweisthal, School District of Arcadia athletic director and Wanek Center co-director, spoke with Athletic Business about how the facility came together and the goals for the future.
What's your role in the School District of Arcadia and the Wanek Center? And how long have you been involved?
Bruce Schweisthal: I've been in the district for 34 years. I've taught in special education, economics and government, and I've been athletic director for 23 years.
How did the Wanek Center come about?
BW: There were some miscalculations when building the middle school, so they weren't able to build a gym. Ron Wanek, the CEO of Ashley Furniture, said, "Hey, let us help with that. Let's come up with a strategy to get a gym for the middle school." Me, Jason Lockington who is the Ashley Furniture advisor, and Louis Ferguson, the Arcadia superintendent at that time, started talking with Ron about that. There was some discussion four years ago and then the dreaming started happening… Well what about this? What about a bigger gym, a competition gym, and using the high school gym for the middle school because the schools are connected?
"The Wanek Center serves as a model, especially for rural communities, to provide important health-related resources and activities to all ages…The management and staff have done an outstanding job catering to adults and students, creating a very special 'club feel' that is uniquely family friendly."
- Jason Lockington, Ashley Furniture Advisor
BW: The brainchild just kept growing, where we've got to now: this state-of-the-art fitness center with free weights and select machines, a full cardio room, and public locker rooms with steam rooms in each. We've got a running track all the way around the outside, a batting cage that softball and baseball can hit in, a golf room, we've got two golf simulators, a couple studios we can have classes in, and those can be split into two smaller studios or be opened up with a movable wall into a larger studio. There's a lot of programming that goes through that.
There's also a community room that meetings are held in — governor Tony Evers actually came and did a little Q & A session in there. We've also got a public library and the district office there, so you've got a lot of versatility. You've got a gym that's associated with a fitness center, with a movable wall where you can open up and have an arena basically — seating on all sides for high school athletics that seats right around 2,000 and there's standing room up above on the running track.
It required basically four entities. The Ronald and Joyce Wanek family donated $12.5 million for the project while the school district passed a $4 million referendum and $1.5 million came through a fundraising campaign for the library. Ron is a pretty generous man, and he saw some things he'd like to see added, so that donation went up a little bit more. Also, in kind, he had his people in charge of his buildings worldwide, they were kind of our rep. The Ashley design team was part of it every step of the way, so we had their expertise in terms of selecting colors, all the interior amenities and so on and so forth. It's really a beautiful building.
Could you summarize your goals with the facility and why you think it was important?
BW: We wanted a fitness option for a rural community our size that it didn't have before. Also, to promote habits that increase the longevity of their life. Matrix did a great job because we visited facilities, we selected equipment, we changed it, we went back and forth, we increased some pieces on their recommendations. They were fantastic. The ones that they recommended, they said the elderly are going to gravitate to this, and you're going to have young people on them too, and they were spot on. We were able to match and blend that to help with that goal of a lifetime fitness option, so that people can think about their health. We know now more than ever with this pandemic that the more you do, the better you're going to feel.
How has the community responded prior to closing in mid-March due to the pandemic? And after reopening in early July?
BW: When you start looking at a rural community of our size, to have something like this, we kind of joked that it's a change in dynamic. By no means is anything bad about Friday night fish fries, they're fantastic in Wisconsin, but it's kind of changing that dynamic. How does this fit into Packers, Badgers, Friday night fish fries, snowmobiling, hunting and fishing? How does a fitness facility fit in?
What we found is that people in the community were like, "Eh, I don't know, but you've got a golf simulator up there? … Well, you know I'm going to try that." Then they come in and see the walking, running and lifting going on and they say, "You know, I'm going to try that. I'm going to try this." We saw a lot of people that had different reasons for coming in that ended up using a variety or many of the things that we offer.
How does it work combining the school functions with community needs?
BW: You've got all these people… never an argument but there was a 'well, I look at it this way,' and 'we see it this way.' And then being able to talk through that and come up with the best plan. The design team was able to look at how it looks aesthetically. We looked at it from, how does this function? How do we have community members coming in, buying memberships and being able to work out at 5 in the morning until 9 at night? How does that work when from 8 o'clock until 6:30, you've got school functions, and on game nights, you're going until 10? So we were able to really talk it through there step by step.
One of the things that we wanted to do was have the high school kids get approved and "certified," so they realize there are some behavior expectations. Our staff in the Wanek Center spend time going through the machines and showing the proper use of it, so the kids understand the equipment and the behavior protocol.
We want to teach the little social things at the center like don't be afraid to say hello to somebody and smile at them. It's a great opportunity for us to leverage this facility to teach that. Really, the focus of physical education is changing – from the games at the high school level to personal fitness, and being prepared to enter a facility like the Wanek Center for lifetime fitness.
If a practice or physical education class is going on, does anything get blocked off from the community?
BW: There are two huge garage doors that come down. On one side, it's all free weights and that's where the class goes, divided from the community side. Anything they'd do in there would be available on the other side too. We haven't run into a problem yet. We're monitoring it, so if we ever need to, we could get more of that equipment.
Does the older community like having somewhere to go where they know people will be around?
BW: Oh, yeah, the social aspect. We have places you can go read a book, or there are tables you can sit at. There were some people coming twice a day. This elderly couple confronted me once and said "Why do we play music in gym class?" and I thought, "Oh no, here we go." I said, "Well, it kind of motivates them and they get lost in the music and whatever they're working on in their fitness. It helps them." And they said, "Man, I sure like it. I love seeing those kids running around. I wanted to start dancing, but I thought I'd better not."
It's just too bad we hit the pandemic, but it is what it is and we'll get back after it. We've already got it open and we're seeing people come back in. We're excited to get some of the classes going. We've got a phased plan that matches what the county health department and CDC guidelines are suggesting.
Jason Lockington, a 1992 graduate of Arcadia High School and a current Ashley Furniture advisor on what the facility and the Wanek Center staff provide the community:
"The Wanek Center serves as a model, especially for rural communities, to provide important health-related resources and activities to all ages. As great as the facility is, its astonishing success lays squarely on the shoulders of its management and staff. Taking a page out of 'The Disney Way,' they are incredibly customer-centric, knowledgeable and innovative. Rural facilities such as this one are subject to more scrutiny. For example, although this $20 million facility (and its equipment) was financed primarily by private donations, it is still a school district facility. The Wanek Center management and staff have done an outstanding job catering to adults and students, creating a very special "club feel" that is uniquely family friendly."