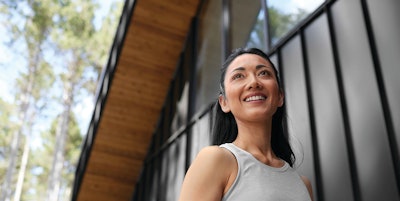 Photos courtesy of Matrix Fitness
Did you know that depression is a leading cause of disability worldwide? It affects more than 5 percent of the global population, and while severe depression can be difficult to treat because of unknowns about its root causes, those of us in the fitness industry can be part of the solution. Recent studies demonstrate that exercise encourages a more positive, energized mental state. Better still, visiting a fitness facility has been shown to provide relief from the symptoms of depression by providing an opportunity for social engagement, community building and a positive way to cope with stress.
Depression and daily routines
One of the difficulties in understanding depression is identifying its causes. For example, depressed individuals experience changes to their sleep that can worsen daily fatigue. But does depression cause sleep problems, or do sleep problems cause depression? New research that explores the connection between what we do and how we feel has identified physical activity as a powerful mood regulator. The insightful new study tracked depression-prone individuals using activity monitors to find out how much they moved and slept. For two weeks, mood and energy levels were assessed four times per day. Participants were much more likely to get restful sleep on days they were more active, which led to improvements in daily energy and further encouraged exercise as a habit. The results showed that physical activity significantly improved both mood and energy in a quick, reliable way.
Rapid, reliable results
Those of us in the fitness industry can use these research findings as an honest and effective way to drive retention. While most people who frequent fitness facilities are eager for results, all too often they're looking for physical outcomes such as weight loss and strength gains. Transformations like these take weeks to achieve. Though the physical changes caused by exercise do matter, mood and energy changes are far more rapid and reliable. These instant benefits create a positive association with exercise in contrast to the difficult parts of a workout that can make us procrastinate. Furthermore, nothing beats immediate rewards when it comes to reinforcing new habits, including the habit of regular fitness facility visits. Perhaps most importantly, feeling better is quick and guaranteed, unlike goals such as losing weight or building muscle that take far longer, if they are achieved at all. As studies have shown, linking actions to instant results improves workout consistency better than focusing on long-term outcomes.
Fighting procrastination
When members avoid returning to a fitness facility, it's not because they no longer want to improve their fitness. Instead, it's often because they don't believe their current energy or motivation level is high enough that day. "I'll do it tomorrow" becomes an unfulfilled promise, and research confirms that this kind of procrastination worsens wellbeing and mood, leading to patterns of low workout motivation and follow-through. However, the promise of improved mental health as a result of fitness facility visits can help members of all kinds fight procrastination. It can give new members the necessary push to join a fitness facility and start their health journey, and it can give current members the motivation they need to follow through with their workouts. Fitness facility visits even increase exercise motivation after the workout because of the associated mood- and energy-boosting effects.
Emphasizing mental health
By focusing our messaging on mental health benefits, those of us in the fitness industry can help members understand that regular facility visits can prevent daytime fatigue and low mood. Instead of an occasional thing, exercise must become a regular practice to maintain or improve day-to-day energy and wellbeing. In the end, mental health can only be at its best when physical health is a priority.